by: Raine
This episode dropped 5.1% according to AGB Nielsen Nationwide. I totally don't get it. The show just got cuter. A few not-so-surprising secrets were revealed, but I feel close enough to the characters to let the mundane tropes slide. Hyomin was particularly adorable this episode. (Boo T-ara scandals. Just enjoy the show, peeps). Lee Cheon-hee's smile makes me all giggly and Kang Ye-won has a wicked smirk.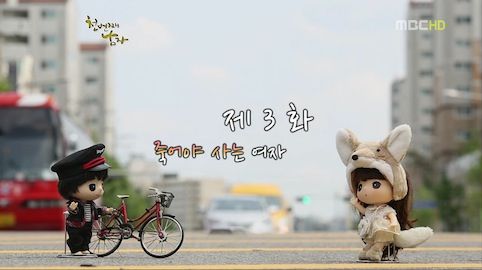 Episode 3 - A woman who lives on death
episode 2 recap
Shameless Mi-mo gets scolded by Mi-sun for hitting on Eung-suk at dinner the night before and seriously pissing Mi-jin off. Mi-mo explains it away as survival of the fittest, their family motto, even though she is no longer a gumiho. Besides, Mi-mo points out, humans are worse than she is. Heehee.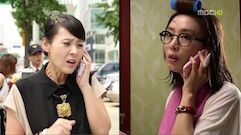 Sirens suddenly sound outside and the two former gumihos go to check it out. There's a heartbroken man (Lee Jae-won) threatening to jump off the building unless someone calls "Hye-young", the woman who brought him to this extreme.
Mi-sun, the ever-scheming mother, immediately calls Mi-jin who is blow drying her hair. Mom has found Mi-jin's one-thousandth man and she needs to get down there quick. Mi-jin shows up before her mother is able to count to ten and freaks her mother out.
Man, I wish I had gumiho speed powers...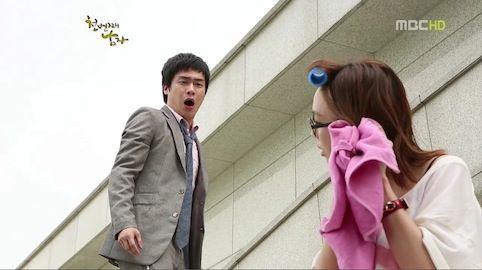 Mi-sun orders her daughter to get to the roof and make the desperate man fall in love with her before he jumps. Reluctantly, Mi-jin heads up to the roof and surprises the suicidal man by nonchalantly sitting on the wall drying her hair as though he wasn't about to throw his life away. He threatens to jump and she waves him off because she needs to finish drying her hair. When he doesn't jump, she calls him a wimp.
It shouldn't make me laugh, but it does. Lee Jae-won's face is priceless.
Mi-jin plays games on her phone while the man runs the gamut of emotions before sitting beside her and spilling his pathetic heart out to her. He has no job, no friends and no girl. She was his last hope. Ignoring his sad tale, Mi-jin asks him if he wants to eat.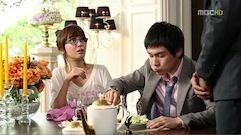 Of course, she takes him to Last where he snarfs the food like a dying man. Eung-suk is beside himself with annoyance, but Chef Seo is in heaven watching someone enjoy his food so thoroughly.
Eung-suk calls Mi-jin outside for a chat and discovers that she just met the stranger as he was attempting to suicide. Understandably, Eung-suk is disgusted. Is dating all she thinks about? Yes, she replies. He brings up the fact that she's dying, but cuts himself off.
That must really bug him...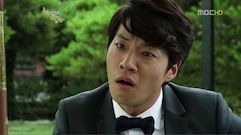 Anyway, she explains that she needs to find a man and tells Eung-suk about suicide man's reason to die. Eung-suk says that only people with no reasons to live kill themselves. Mi-jin points out that she's fine because her reason for living is to find a man and is quite serious. This angers Eung-suk who doesn't take her seriously wonders how she can take death so lightly. There are those who want to live but can't.
Hrm...sounds like he's taking this a little TOO personally. What do ya'll think?
They head inside where Chef Seo has given the suicidal man bouillabaisse, which is so delicious that it makes suicide man cry.
I think everything makes suicide man cry...
Eung-suk kicks Mi-jin and her new man out, pissed that the chef let them in just because Mi-jin called. Chef Seo is, of course, disappointed that Eung-suk kicked out yet another customer.
As they are leaving, Mi-jin and suicide man get stopped by Mi-sun. Mi-sun invites suicide man to stay with them, which surprises Mi-jin, although it REALLY shouldn't.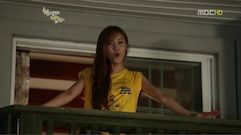 At the gumiho residence, Mi-mo has a chat with hottie Nam Woo-hyun (Nam Woo-hyun) from her balcony. He calls her "noona" and she wants to sneak a peek of his body.
YES! This girl is amazing! I cracked up so badly.
So they both pull up their shirts and cover their faces. He admits that he lost the "sexy game" and asks her what she is up to. She's out to hit on men and he swears to stop her.
You tell her you little noona killer you!
It's dinner time and Mi-jin is chowing down on some ribs while Mi-sun encourages suicide man to eat but he can't after seeing ribs; his Hye-young loved them. Mi-sun wants him to give his life up for someone better, someone pretty, like Mi-jin. Suicide man hasn't caught Mi-jin's name and is confused at first; then he says she ain't his style. Pffft. Of course, she ain't his either.
The gumihos start speaking in what I think is dialect or Korean from back in the day. In any case, suicide man can't understand them as Mi-sun reminds Mi-jin that she NEEDS to be human soon or bite the dust...er, foam.