By: Raine
"Big" keeps getting better. I was so emotionally invested in the episode that when it ended, I didn't know what to do with myself, so I watched it again. It has so much soul and I didn't even think about the conventional tropes used until I wrote the recap. Nothing stood out as cheesy. It just flowed. Bravo Hong Sisters. My heart is hanging on the line until next week.
Ratings dropped to 7.9% but they don't reflect the awesomness of this episode. (AGB Nielsen National).
"Big" stars Gong Yoo, Lee Min-jung and Suzy.
Episode 4 recap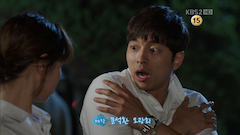 Kyung-big realizes how close their faces are and pulls away, wondering why Da-ran wasn't avoiding the kiss. He covers his chest with his hands. It may be Yoon-jae's body, but inside is an eighteen-year old.
BWAHAHA. You know you wanted it, stop denying.
Da-ran isn't paying attention to him. Instead, she's marveling at how it felt to be so close to Yoon-jae, which shocks Kyung-big. She's never gone that far?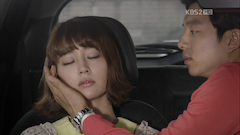 Apparently, she has but she didn't get to see it. After a long day, she fell asleep in the car while waiting for Yoon-jae to buy coffee. When he returned, he leaned over and kissed her. The kiss woke her but she was unsure of what to do so she kept her eyes shut. She should've woken up naturally, but she missed the " timing ". She's pissed at herself for ruining an opportunity that could've made things happy.
Heehee. I would be kicking myself, too. But then again, I woulda jumped him...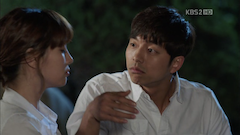 Kyung-big wonders how she knew it was a kiss. It could've been his hand touching her lips, or his thumb wiping away some drool. Heh. Heh. Da-ran doesn't think it felt like either of those, and tests them out.
The best part of this, besides Gong Yoo and Lee Min-jung's facial expressions, are the sound effects. Lurv.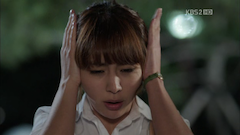 Suddenly, Kyung-big leans in for a quick kiss and asks, "Did it feel like this?" Stunned, Da-ran nods and murmurs, "Yeah".
You go Kyung-big! Go get her!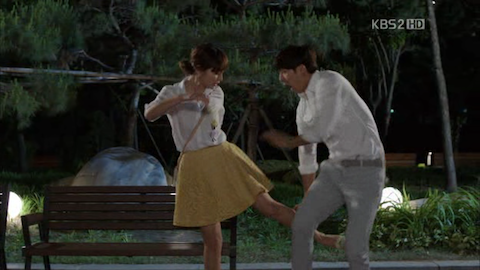 It takes her a moment to recover from the kiss and then she flips out, smacking him and calling him a jerk. He warns her that if she keeps hitting him he'll smack Yoon-jae's lips wherever he wants. Besides, why is she getting angry? She kissed Yoon-jae's lips. She missed the preview so she caught the re-run. BWAHAHAHA! Was it that good? he wonders and she hollers that he's Kang Kyung-joon, not Seo Yoon-jae.
Honey, you liked it. No excuses.
With one last threat to leave him alone or he'll so something bad with Yoon-jae's body, Kyung-big heads home to Kyung-joon's house.
Kyung-big is crushing so badly. I think she likes him and it may blossom, but he's definitely super into her. She's still too gaga for Yoon-jae for her to feel much more than sisterly affection. But I can hope!
At the hospital, Choong-shik tells Ma-ri that Da-ran is his noona and Yoon-jae is his brother-in-law who also happens to be a doctor at this hospital. Ma-ri wonders why "Yoon-jae" deceived her.