by: Raine

---
We most definitely have improvement this episode. Our heroine gets a massive shove towards the dark side and Park Si-hoo gets even more insane. Is it great? No. But that's okay. Park Si-hoo is pretty enough for me.
"Cheongdam-dong Alice" features Moon Geun-young, Park Si-hoo, So Yi-hyun and Shin So-yul
episode 2 recap
Seo Yoon-joo, henceforth to be known as Tick Girl, fakes surprise at seeing Se-kyung who remembers that cat fight back in school. Tick Girl comes in, makes fun of her for standing, because they were school pals and all. She'll even take care of the warranty.
How nice of you.
Se-kyung says she'll take care of it and also that she plans to resign. Tick Girl pretends to empathize that her sister-in-law, In-hwa, is a bit much. Because she's worked in the field, she understands. But if Se-kyung quits now, news will travel fast and she may not be able to get another job.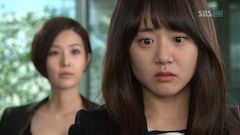 So Se-kyung meets with In-hwa who heard she was classmates with Tick Girl and also that the warranty issue will be overlooked. But girls like Se-kyung with no fashion sense are all the same, they quit. Shouldn't they at least have backbone if they have no fashion sense? In-hwa walks out and I like her a little better.
She bumps into Tick Girl and it's clear there is no love lost between them. In-hwa snidely remarks that Tick Girl seems to be focusing on other things rather than the very, very important meeting with Artemis. Oh, and she's not REALLY close friends with Se-kyung is she? In-hwa notes
Okay, I like In-hwa even more, now. Even if she's going to compete for Park Si-hoo's affections later on.
Se-kyung meets with Ah-jung who, like a good friend, freaks out that Tick Girl is the big boss's wife, the company's madam. They even call her names, "Seo Yoon-bal" (Seo Yoon-foot!) Ah-jung wonders if Tick Girl hired her on purpose but Se-kyung says that the madam sincerely seemed not to know. Well then what about the man she was living with in France two years ago, in that luxury apartment? Ah-jung promises to dig around a bit more to find out the scoop!
Ah, trusty, nosy friends are the best!
In the car, Tick Girl gloats as Se-kyung tells her friend that she'll continue to work for the madam and Ah-jung freaks out. She understands that Se-kyung needs to make money, but doesn't seem thrilled at all.
Se-kyung calls In-chan again and then Tick Girl calls to meet at an art gallery. Tick Girl thanks her for coming to help her plan the meeting with Artemis because she is oh-so-nervous to do it by herself. Se-kyung answers in formal speech that she's only doing her work duty, which shocks the hell out of Tick Girl. HAHAHAHAHA! Take that!
I love the power of jondae to floor a bitchy woman and I don't even speak Korean!
Tick Girl asks her to relax her speech but Se-kyung points out that in a work situation, it's inappropriate. You have to do things you don't want to and smile when you don't want to. Tick Girl agrees and Se-kyung massages her cheeks when Tick Girl ain't looking. Too much smiling!
The painting they were looking at gets hung in Tick Girl's home and Se-kyung delivers a few more items said to be liked by the mysterious president of Artemis. Se-kyung wonders if it has to be that high-class to eat one meal. Tick Girl says that the man is the youngest CEO of Artemis in Korea in history and has made ridiculous sales. It's not just one meal.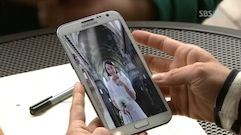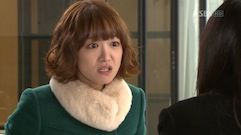 Ah-jung brings news that Tick Girl lived as "Yoon-joo Cha" rather than "Yoon-joo Seo" when she was in France. Se-kyung is confused at the name change and Ah-jung explains that in France women take on their husbands last names when married. They had an unofficial private ceremony at a Catholic Church. And then it hits Se-kyung: Tick Girl's husband's name is "Shin", not "Cha".
BAM! She kicked her Cha husband to the curb to marry rich, Ah-jung says, but Se-kyung thinks her friend is just being envious. Tick Girl did say that conniving and deceiving was her ability.
What's going on with In-chan? Ah-jung wonders next. He was absent from work without reason so Se-kyung goes to ask for the refund on the bag. But it was illegally distributed so they are checking into it. On her way out she bumps into a fashionably-dressed ahjumma with a 'tude.