by: Raine

---
As Psycho-jo gets more adorable, Se-kyung falls further into the pit of evil. I see the impending train wreck of doom racing towards me and I dread it so, so, so much. But Park Shi-hoo is so flippin' cute as Psycho-jo that I bear with the pain just so see him giggle and smile.
"Cheongdam-dong Alice" features Moon Geun-young, Park Si-hoo, So Yi-hyun and Shin So-yul
Episode 7 recap
Se-kyung sits on a bench, as she is wont to do during times of distress, and distresses over the fact that she's falling in love with Psycho-jo. Coach Tick just warned her that the first crisis on her road to Cheongdam-dong would be love and she's hit it already. Se-kyung clutches her chest over her heart, wishing she didn't feel as she did. At the same time, Psycho-jo clutches his chest, feeling the same thing, but he is so adorably happy. He twirls around trees, makes airplanes with his arms, and loves the feeling of falling in love.
Min-hyuk, In-hwa and Daddy Cha meet to discuss "business", but we all know that the potential in-laws are checking each other out. In-hwa suggests that Daddy Cha build shopping outlets on the outskirts of Seoul to bring in all the people who like to shop as part of an excursion: outings, leisure activites, amusement parks, movies, etc. Daddy Cha thinks she's clever with this one-stop shop idea and she pretends to be modest. He offers to allow her to look for a potential site herself.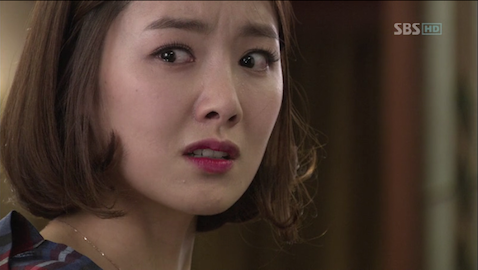 Coach Tick remembers her encounter with Daddy Cha in Paris and asking to finish studying and for the recommendation letter. He asks if she really loved Psycho-jo and with tears in her eyes, she asks him how that is important now.
You did love him! You DO love him!
Se-jin tries to run away when her parents ask her to take some time off school to help pay for a class for their mom. Their parents think mom needs to get a job too to give them some financial stability. I think it's a great idea; Se-jin is just being a baby and wants to do what her friends are doing. Se-kyung bribes Se-jin into accepting by promising a designer back once her stylist's job is done.
Guh, I don't like that kind of selfishness. I'm the oldest child, so I naturally sympathize more with Se-kyung, but can't Se-jin help out? She's just whined this entire time! I know, I know, things are hard.
Se-kyung thinks that Se-jin is immature, but then scolds herself for allowing Psycho-jo to creep into her heart.
Yeah, because falling in love is SO immature.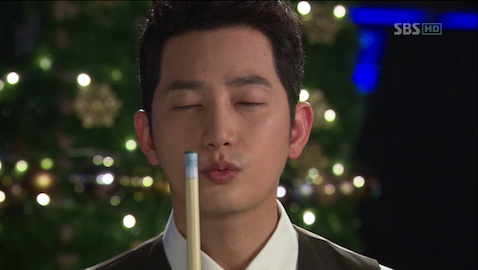 Ah-jung drunkenly calls Se-kyung and invites her out drinking with Secretary Moon. She says that she's gathering information on the president, because it's weird that Se-kyung can't meet him. She also warns Se-kyung away from Secretary Kim. Apparently, Se-kyung only falls for pathetic guys.
When they hang up, Se-kyung broods over the bow Psycho-jo gave her and Ah-jung and Secretary Moon play drunken truth or dare with a soju bottle. Se-kyung promises that a situation like In-chan would never happen again to her.
Psycho-jo, in the meantime, declares that he never thought something like "this" (love) would happen again. He explains what happened with Se-kyung to Dong-wook (and acts it out with a cue) and laments how he couldn't bring himself to "do it". He touches his cheek and says it was because he was nervous. Dong-wook says it's a good sign that his heart was able to develop such feelings. When Psycho-jo nervously asks what to do, Dong-wook advises him to just do it the next time he meets Se-kyung, even if he's nervous.
At first, Psycho-jo seems scared of the idea, then he sinks his eyes shut and practicing puckering up with his cue. BWAHAHAHA! Dong-wook stops him from fantasizing and tells him to just do it, then come back and tell him all about it.
You just want to hear the gory details! You are SUCH a guy.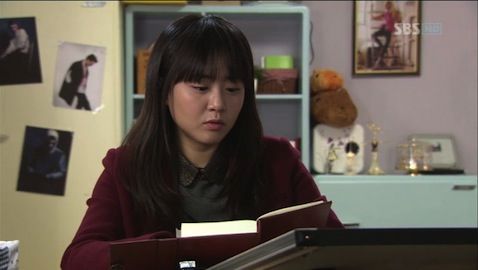 Se-kyung is reading Coach Tick's Wonderland journal. It advises against everything involved with love. Business and love cannot be mixed because love clouds everything.
At home, Psycho-jo listens to the "Love Affair" soundtrack, fake conducting in his chair. THEN HE PULLS OUT THE HAPPY BUNNY FROM UNDER THE COVERS! Yes! I am so happy. He's conducting, singing and hanging out with a happy white rabbit!
If Se-kyung can resist him, she is not a woman. There is just no way. Look at how cute this is: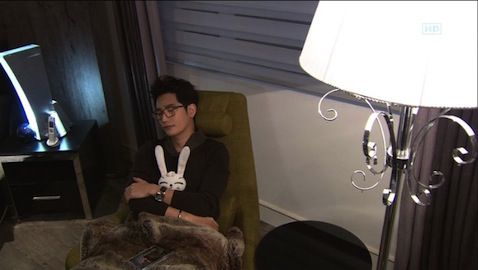 He dramatically declares love is worth all the danger is comes with and dances and sings all crazily. I think I'm in love, too. Then, he falls asleep hugging the White Rabbit and Se-kyung puts away her ribbon from Secretary Kim.