by: Raine

---
And it has begun! My very first family drama recapping project. Fifty episodes. EEEK! At least I get Jo Jung-seok the whole time...
There really wasn't anything new about the set up, but hey, it's the first episode! I'm not judging. IU is adorable and Jo Jung-seok...hehehehe.
Oh yes, the AGB Nielsen had this episode coming in at 22.2%, 2nd overall.
"Lee Soon-sin is the Best" is directed Yoon Seong-sik by and written by Jeong Yoo-kyeong and features IU, Cho Jung-seok, Go Doo-shim and Lee Mi-sook.
Episode 1 recap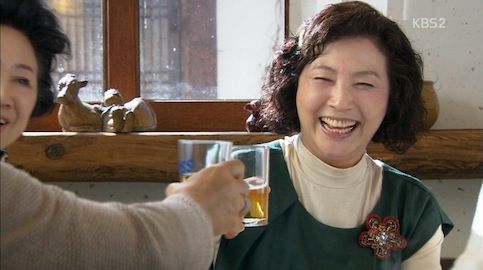 It's party time for a group of ahjummas. There is a whole table of delicious food and lots of drink to be had.
Why must they open like this when I'm hungry? It was very inconsiderate of the director...
Anywho, an ahjumma, Jang Gil-ja (Kim Dong-ju) singles out another, Kim Jung-ae (Go Doo-shim), to treat them because she has a rich, fund manager son-in-law even though another woman "won" something, presumably a game. Jung-ae's exemplary, brilliant oldest daughter, Lee Hye-shin, is the lucky wife of said fund manager.
The director's very obvious attempt at introducing Jung-ae's kids continue with the ahummas asking about the second daughter, Lee Yoo-shin the beauty and newly promoted to manager..
Well-flattered, Jung-ae agrees to pay for the meal and then they ask about the third daughter, Lee Soon-shin, who has just graduated. But Jung-ae is really quick to gloss over her and suggests they dig into the delicious looking meal.
Um, what about me? Sharing is caring, ahjummas!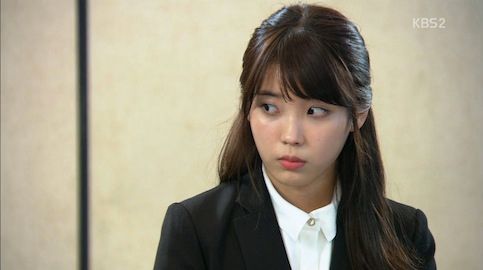 Skip to youngest daughter Lee Soon-shin's (IU) job interview where she looks like a nervous wreck as she listening to one job hopeful rattle off some fancy schmancy Chinese while the other candidate has an impressive resume. Like Jung-ae did at the lunch, the panel of severe-looking businessmen completely gloss over Soon-shin because of her less-than-impressive resume.
Of course, our plucky heroine pipes up and says that although she may not be better qualified, she will work hard. But the panel isn't listening. Instead, they're more fascinated by the fact that her name is the same as a very famous Korean naval commander and have a really unprofessional laugh at her expense.
Jerks.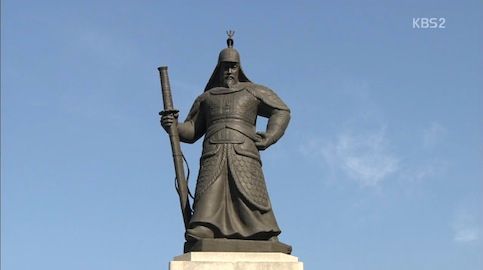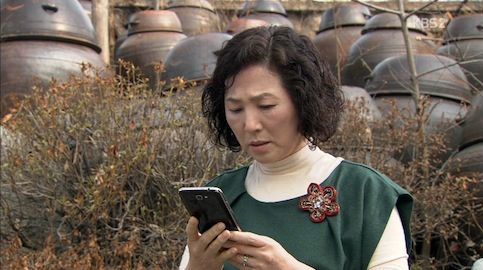 After her interview, a dejected Soon-shin walks by a statue of Lee Soon-shin the commander and asks that he not tell her family that she was rejected. That was a nice touch. Shows that she respects him even if their shared name causes her grief.
Jung-ae calls to find out how the interview went, but when the call is ignored, she wonders if Soon-shin got rejected....again.
Also, zgzgirl pointed out that Soon-shin's ringtone is the theme for the anime Candy Candy, a very telling character hint. Yeah, Soon-shin is supposed to be a Candy type.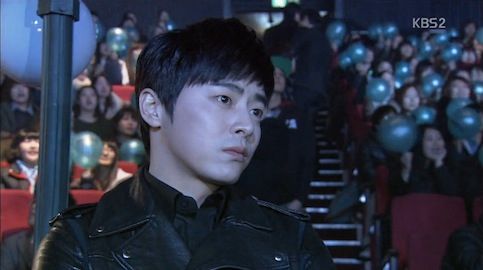 Cut to an idol concert where our MAIN MAN, Shin Joon-ho (Cho Jung-seok !!!!!!!!!!!!!!!!!!!!!!!!!!!!!!!!!!!!!!!!!!!!!!!!!!!!!!!!!!!) is watching and observing the whilst bobbing his head adorably.
Yes, I like Cho Jung-seok, get used to the fan girling. It's going to happen...for 50 episodes.
As Shin Joon-ho chaebol walks down the halls of a swanky entertainment company, Gabi we find out he is it's president. He receives a call from "Old Man/끈대", his daddio, which he ignores with mild exasperation.
Hehe. Old Man. Hehe....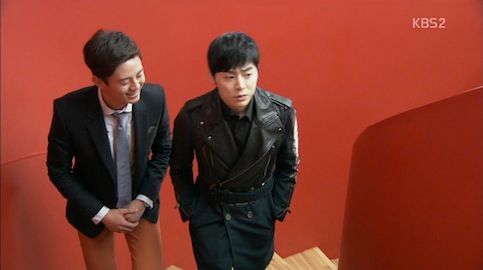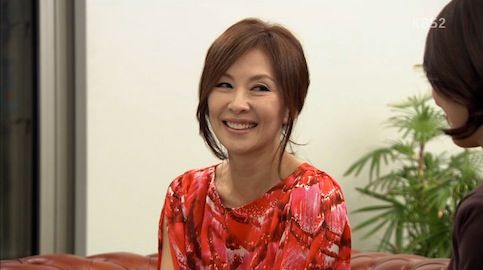 Out of the blue, his cheery assistant Jo In-sung (Lee Ji-hoon-I) comes to tell him that his father called about an important meeting. Gloomy Joon-ho ignores him and asks about the event welcoming famous actress Song Mi-ryeong to their company. Then he oh-so-nonchalantly inquires if a certain Choi Yeon-ah will be attending...and then brushes off the question with an awkward expression.
Ooooh, not so cool are we you adorable fool you!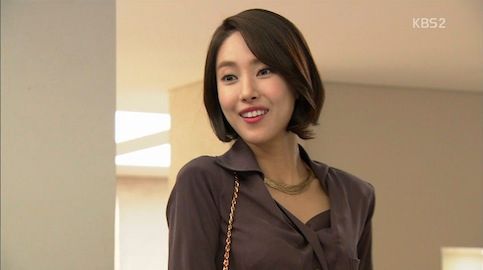 Enter Choi Yeon-ah (Kim Yoon-seo) who has come to visit her teacher, the aforementioned actress Song Mi-ryeong (Lee Mi-sook) at her swanky new digs. It seriously looks more like a museum. Creepy.
Anywho, an old film is playing on a projector when Yeon-ah comes in with flowers and greets her teacher amicably. She comments on the film, which was one Mi-ryung was in ages ago. Yeon-ah flatters Mi-ryung and wishes to be an actress as good as her teacher.
More flattery.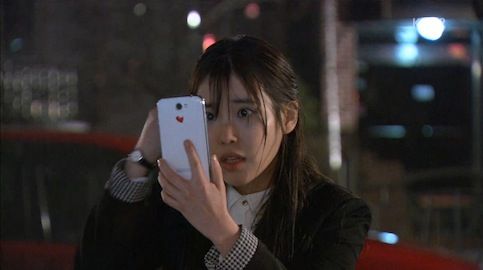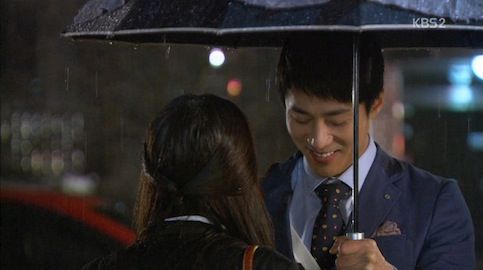 And onto sad little IU (strike) Soon-shin who trudges home in the rain without an umbrella. She spots Park Chan-woo (Ko Joo-won) and quickly hurries around the corner to call his sister, Park Chan-mi (Lee Seul-bi), desperately wondering why Chan-mi didn't warn her that Chan-woo got out of the army.
Soon-shin primps in time to greet him with a cheery "Oppa!" in all of her rain-soaked glory. He seems happy to see her and asks after her. She admits to unemployment and job hunting but he comforts her by saying a company will be lucky to have her.
She wonders when he"ll start working at the hospital, and he's already begun. Of course, another person to make her look completely incompetent. There is an awkward moment and they both speak at the same time: she invites him for coffee; he asks after he beautiful older sister, Yoo-shin. With disappointment, she says that Yoo-shin just got promoted and she's popular with the menfolk.
Passed over again, our poor Lee Soon-shin is.
They come across Chan-woo's mother, Jang Gil-ja, who is happy to see her son, but unhappy to see her son with Soon-shin. Gil-ja order Soon-shin to take her drunk unni home and we get to meet the infamous beauty, Lee Yoo-shin (Yoo In-na). She is drunk off her ass and tells the man with her that if he passes out first, he can't hang out with her anymore. The man looks like a goner. Truth be told, so does she.
The unstoppable Yoon-shin and her friend have gone through ten bottles of soju. Eek! Soon-shin tries to stop her sister and then Chan-woo's father, Park Bok-man (SONG MIN-HYUNG), tells him to piggyback the drunken beauty home much to Gil-ja's horror.
Man, this show really shoves characters at you. I'm still trying to get my head around all the names. I guess family dramas need, y'know, families. In any case, I'm updating my character introductions as I write this. Check it out if you're as confused as me...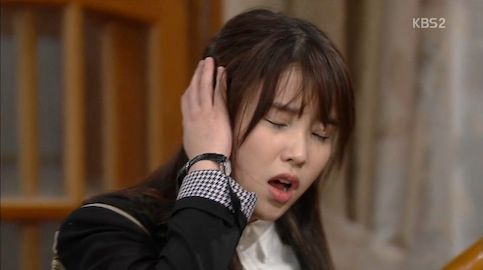 (Hehe, welcome home Chan-woo...)
Despite his mother's protestations, Chan-woo volunteers to carry Yoo-shin who flops back and knocks them both over. Attempt number two is more successful and soon they arrive at Soon-shin's home and greet a worried Jung-ae. She sends Chan-woo to deposit the noisy drunk upstairs and they depart, but not before Yoo-shin slaps Soon-shin.
Ah, what a friendly dynamic they have already...