by: Raine

---
How proud am I of Soon-shin this episode? She did a few things that really made me gloriously happy. I also loved watched the couples progress and the hilarity that went along with said progression.
AGB Nielsen Nationwide had this episode coming in at 27.3%. Yeah, it deserves it, y'know, that #1 status.
"Lee Soon-sin is the Best" is directed Yoon Seong-sik by and written by Jeong Yoo-kyeong and features IU, Cho Jung-seok, Go Doo-shim and Lee Mi-sook.
Episode 10 recap
We begin with Mi-ryeong sweetly greeting our little Soon-shin and ignoring annoying Yi-jung. HOORAY! I love the meanness. Well, from Mi-ryeong, not the attitude that Yi-jung gives Soon-shin. She can shove that down her throat. Mi-ryeong informs the girls that they will be studying together and that both girls should call her "teacher (seonsaengnim)" instead of "ahjumma" as Yi-jung has been addressing her.
HA! You getting beat, girl!
Yi-jung complains about working with Soon-shin (who scoffs at her whining), but the whiner has no choice but to SUFFAR! Then Mi-ryeong rags on Yi-jung's attire, y'know, the dress that looks like a rose garden threw up on it. The girl should come dressed as a student and arrive promptly - Yi-jung was late because she got her hair did. Mi-ryeong says tardiness is also a "no-no" as an actor and so she gets punished!
THIRTY LASHES WITH A WHIP!
No...she just has to clean, in her rose regurgitation dress and heels. Yi-jung hates the idea but she chooses cleaning over being sent home.
Then the most awesome scene:
Yi-jung cleaning with two fingers touching the rag in her getup. The maid ahjumma brings her plain clothes and watches Yi-jung have a total hissy fit.
HEEEEE!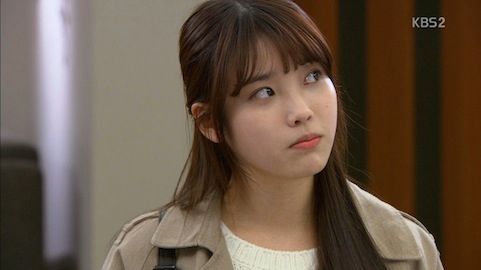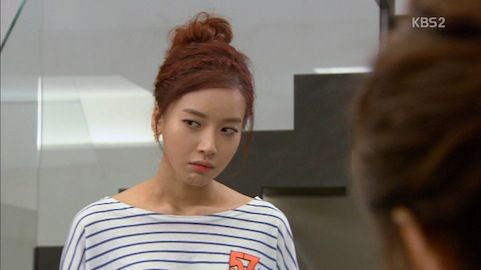 While Yi-jung cleans, Mi-ryeong asks why Soon-shin wants to be an actress. Soon-shin admits she doesn't think she can even be an actress and that she doesn't know why Joon-ho signed her. She signed because she made life financially difficult for her mother. Mi-ryeong is surprised by this answer.
Yi-jung stalks in and glares at Soon-shin. She doesn't get a word in before Mi-ryeong sends her off to clean another room - she's lucky she doesn't have to clean the house. Mi-ryeong is going easy on her because it's the first day. Soon-shin is loving the show and smirks.
When Mi-ryeong gives Soon-shin a script to read, Yi-jung whines, "Ahjumma" and gets a very stern scolding, "It's Seonsaengnim!" If she wants to participate, she needs to come on time. Soon-shin raises her chin proudly when Yi-jung glares.
I didn't see that coming, Mi-ryeong helping Soon-shin's self-esteem. That's cool, yo.
Okay, remember I didn't like mopey Mi-ryeong? I love bossy, confident actress/teacher Mi-ryeong. Of course, I can't forget that she's a coward about Chang-hoon's death, but the whole thing ain't her fault and she didn't really see who hit him. In any case, I'm going to consider Mi-ryeong the mopey and Mi-ryeong the actress two different people for my state of mind. Or I won't be able to reconcile the like and hate.
Jung-ae apologizes to her husband's photo for harboring suspicions. She puts the old photo of him and Kyung-sook away as well as the scarf.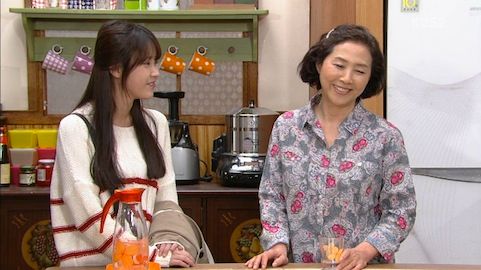 Soon-shin comes home and finds her mom in the kitchen. She's unable to tell Jung-ae that she's really late because of acting lessons. But she does tell her that she went to Mi-ryeong's home; Soon-shin lies that Mi-reyong wanted a home delivery so she got to see her gorgeous home and experience the actress' coolness first hand. Jung-ae admits having seen Mi-ryeong as well.
Soon-shin sees her mom's insecurity about being next to such a glamorous woman and tells Jung-ae that she's more beautiful in her eyes. Then she gives her a huge hug.
Aww, Soon-shin. You're so cute. The truth is going to be hard on you, won't it?