by: Raine

---
SMILES! Glorious, SMILES! Cuteness, relationship development, more people in on Soon-shin's secret, Jung-ae delving deeper into her husband's secret. Lots of good Soon-shin/Joon-ho development, which is what I was a-hankering after!
AGB Nielsen Nationwide had this episode coming in at 24.0%. Although the rating went down, it still holds 1st place amongst weekend dramas!
"Lee Soon-sin is the Best" is directed Yoon Seong-sik by and written by Jeong Yoo-kyeong and features IU, Jo Jung-suk, Go Doo-shim and Lee Mi-sook.
Episode 11 recap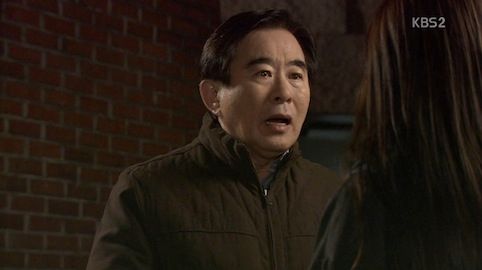 Lee Soon-shin, with quiet desperation, asks Song Mi-ryeong one last time if she's talented. Mi-ryeong says that she is, which earns her a beautiful, tearful smile from Soon-shin. They amicably part and I'm thinking I love their rapport (despite Mi-ryeong's cruel intentions) even though I hate what the truth is going to do to Soon-shin. I don't much care what it will do to Mi-ryeong, even though I've been liking her more as of late.
Hwang scopes out the street in front of Mi-ryeong's house because he had, in fact, noticed the not-so-stealthy Bok-man poking around. He doesn't find Bok-man who has managed to slip around a corner before being caught. Hwang goes back into the house in time to see Soon-shin thank Mi-ryeong with several enthusiastic bows.
She skips out into the street and is surprised to see Bok-man. He asks why she came out of Mi-ryeong's house. Soon-shin admits Mi-ryeong is her acting teacher, but that her mother doesn't know about it. Bok-man blows a gasket and tells her that she shouldn't be doing this. She is confused by his adamancy.
Hwang asks Mi-ryeong why she didn't refuse Joon-ho's request to train Soon-shin. And Mi-ryeong reiterates what we already know: she's using Soon-shin to make Yi-jung quit. Hwang better not tell Joon-ho. I don't think he would, since he finds the situation amusing enough to smirk at. Jerk!
Mi-ryeong better be nice to uri Soon-shin.
She admits that she likes her for some unknown reason and finds her cute. Yeah, but you're still lying to her. Grr. But I like Soon-shin smiling...but I hate lies.....ACK!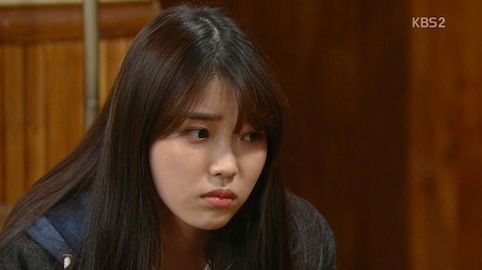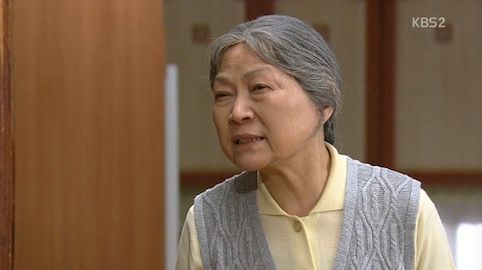 Soon-shin returns home and her mother immediately asks if she canceled the contract with Joon-ho and returned the money. She sits her mother down to ask if she can at least try acting. It's only for six months and she already got the money.
This goes over about as well as we expect it would: not well at all. Granny will freak out; Yoo-shin will freak out. Soon-shin is probably getting swindled again. Jung-ae doesn't want her to do it.
But Soon-shin wants to do it. She's been encouraged and has a spark of hope.
The next morning Soon-shin looks for her mother, but she's at work. Granny wonders what trouble Soon-shin is making now, thinking about her "...ing" her manager.
Seriously, what is up with all these judgy people. Shut up, grams!
Soon-shin rocks the treadmill and I give her two thumbs up for not giving up. Then she takes a picture to prove that she's still in the game and sends it to Joon-ho.
Mr. Joon-ho is not very happy and even crumples up Soon-shin's profile, disappointed it ended this way. I think he may also be disappointed on her behalf. But then he gets the text with a cute little caption that says, "Here's a picture of me". Then we get:
And I've decided I'm going to marry that smile. *Watches for too long* Happy Joon-ho tells a confused In-sung that he looks handsome today and then smiles more. MOAR!
He heads down to the restaurant, grinning like a fool. He finds her and tells her the picture was pretty. Did she get permission from her mother? Nopes! But she's gonna try anywayz. His face falls a little at that, but then he clinks glasses with her and tells her, "fighting". Aww. I loves them.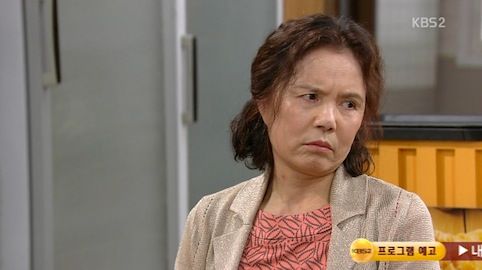 Jung-ae is cleaning the stairs and her boss tells her that taking two days sick leave in a row is bad. Then he sends her to clean a spill. Gil-ja walks in just as Jung-ae's boss scolds her for cleaning the wrong spot and calls her useless.
Gil-ja drags her to the chicken restaurant to tell her friend to quit. Everyone's against it and they don't need the money anymore. Jung-ae lies that she likes her job and that all jobs are honorable. Gil-ja offers her a job and I'm thinking, "GREAT!" but then Jung-ae turns it down. Maybe she is thinking of the fish vending ahjumma's advice: don't work at a restaurant.
Then Gil-ja starts in on her own problems: she thinks Bok-man is cheating on her because he's acting really strangely. He's never home. She says that she even wishes he was dead - then she realizes it was a really bad joke.
No duh.