by: Raine

---
I'm pretty sure this is the last episode before the next plot threads start emerging. All I have to say is THANK GOD. If I have to deal with more mommy drama I will pull all my hair out. The sisters start taking steps towards their own romances and also help Soon-shin out. I've been waiting for them to step up for ages.
AGB Nielsen Nationwide had this episode coming in at 26.7%.
"Lee Soon-sin is the Best" is directed Yoon Seong-sik by and written by Jeong Yoo-kyeong and features IU, Jo Jung-suk, Go Doo-shim and Lee Mi-sook.
Episode 16 recap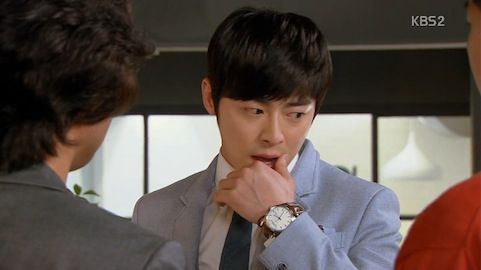 'Cause what you see you might not get
And we can bet, so don't you get souped yet
You're scheming on a thing that's a mirage
I'm trying to tell you now, it's sabotage
I used to Beastie Boys to help me describe poor Soon-shin's situation at the beginning of this episode. SABOTAGE!
Soon-shin has been practicing and standing firm against her mother's cruel idiocy, but it was all for nought!
Shortly after Soon-shin and Joon-ho arrive at the audition, In-sung delivers the news that Soon-shin is not signed up. Joon-ho assures her it will be okay and goes to save the day. He yells at the man who has all the auditionees paperwork, but that doesn't help.
Instead, he goes after the big fish: Director Choi. He tells Choi there has been a mistake, which confuses the guy. Then Choi realizes Joon-ho must be complaining about Lee Soon-shin. Didn't Mi-ryeong tell him what happened? She had Choi pull Soon-shin's name from the audition list.
O.O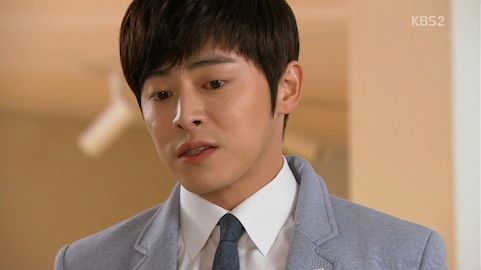 Off he goes to confront Mi-ryeong who is oh-so-casually filing her polished nails.
Pet peeve: I hate when people do that! It ruins the damn polish! Another reason to hate her, RAWR!
Mi-ryeong pretends not to know why he's there and he angrily demands why she pulled Soon-shin from the audition. She had liked the girl a lot before. Mi-ryeong says that she overestimated Soon-shin's ability and realized she wasn't any good. She gave up on her.
That's going to come back to bite you in the ass and I'm going to LAUGH.
Mi-ryeong says Soon-shin would've humiliated her and advises Joon-ho to give up on trying to make her a star. Joon-ho is furious and reminds Mi-ryeong about how excited Soon-shin is about acting. Mi-ryeong stirred her hopes and now plans to quash them? She acts all high-and-mighty about using her precious time to teach.
And then she reminds Joon-ho about his bet, which makes his jaw work in anger.
He may have a bet, but at least he ain't messing with her feelings like you are, wench!
Mi-ryeong says it looks like he has feelings if he defends Soon-shin this way. He doesn't deserve to be angry at her. She wonders if he can't win without her help.
Wow, talk about 180. I hate people like that, who can change so quickly.
In her practice room/temporary home, Soon-shin tries to call Mi-ryeong, to no avail.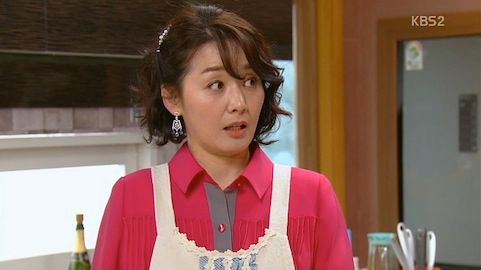 Yi-jung asks about Soo-jung's meeting with Chan-woo and she breaks the news that he's seeing someone. Soo-jung laments that he was so nice and humble, unlike the men in their family. If she could turn back time, she wouldn't marry a man like Dong-hyuk.
I wonder if the writer is going to work on their marriage at all or just leave it as a source of minor contention.
Soo-jung promises to find Yi-jung a new man, but Yi-jung is going to steal Chan-woo. Heh, this should be funny. She goes to the hospital, but Chan-woo isn't there. However, she spots Mi-ryeong who has come to meet with Dong-hyuk and ducks behind a wall to hide.
Great, two evils meeting. They will birth new evil.
Dong-hyuk thanks Mi-ryeong for her help with Yi-jung and invites her to dinner. When Mi-ryeong mentions his wife, he says that she always makes too much and he feels obligated to eat it.
Hrm, complaining about your wife to another woman..not a good sign. I SAW this coming, guys. I did.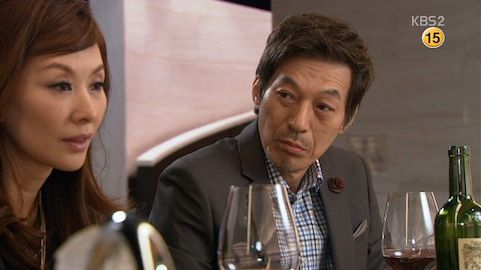 Instead of dinner they go for drinks. There is jazz playing in the background and Mi-ryeong gets pensive. She doesn't think her life has ever been lucky and that God hates her. Perhaps that's why she started acting, so she could forget her unluckiness while pretending to be another person. Dong-hyuk is interested in her self-pitying speech and so she continues.
Her misfortunes make her who she is; she always has to fight. People think she's lucky, but she knows better.
Stop whining. People have it worse than you.
But Dong-hyuk feels for her. People may think he's lucky because he married rich and took over his wife's father's hospital. They talk behind his back and bow to his face.
Mi-ryeong smirks at his story and says she knew they had something in common. Isn't that why he hated her? He laughs.
She admits that the man he saw her with that day died. Isn't Dong-hyuk curious as to who the man was. Dong-hyuk says that if she knows they are similar, she should know that he doesn't care about that. The man is probably her past and she shouldn't let that hold her back.
Guh, this sounds like romance talk to me...
Then he proposes a cosmetics business venture between them through his hospital. Business is the best distraction for people like them, he says. She smiles.
guh. Guh. GUH!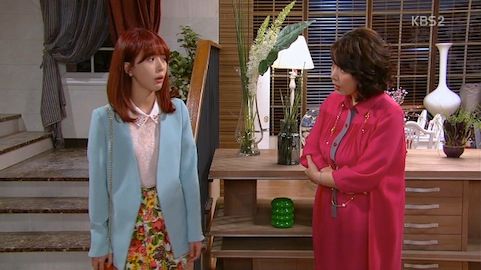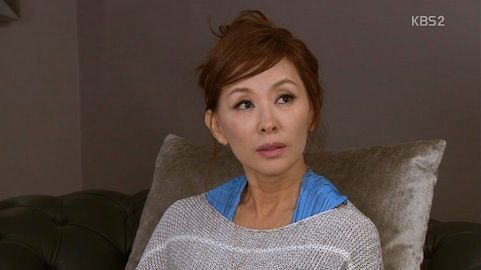 Yi-jung comes home dejected about Chan-woo and refuses to answer her mother's questions. She already ate, too, which makes Soo-jung complain that no one eats the dinner she prepares. Dong-hyuk is out with friends, she supposes, which makes Yi-jung suspicious of what she saw at the hospital. Soo-jung hopes that her husband would hang out with her friend. Yes, she still considers Mi-ryeong a friend. Yi-jung sneers and leaves. She's good at that.
Mi-ryeong is studying her script when Hwang comes in and asks where she was. She was with Dong-hyuk who she gets on with famously now. Hwang suggests they move out of the house, but she doesn't want to. She also ignores yet another call from Soon-shin. I think she may look a little depressed, but then she calls Joon-ho to have him take care of Soon-shin's incessant calls.