by: Raine

---
I'm torn about this show. What's good is really good. The cute. The couples. But the mom BS is way past my tolerance level.
AGB Nielson Nationwide had this episode coming in at 21.7%.
"Lee Soon-sin is the Best" is directed Yoon Seong-sik by and written by Jeong Yoo-kyeong and features IU, Jo Jung-suk, Go Doo-shim and Lee Mi-sook.
Episode 17 recap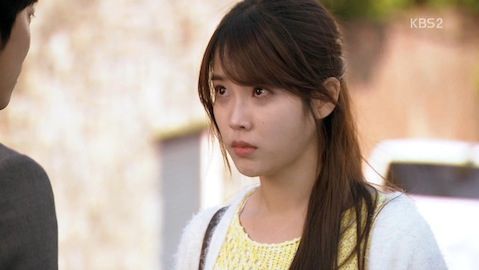 Joon-ho drags Soon-shin away from Mi-ryeong's house where she was just humiliated and shoved to the ground. Once they're near his car, she shakes off his arm, but he's intent on making her understand: don't talk to Mi-ryeong. Soon-shin blames herself, as she is wont to do. Joon-ho seems nearly broken by her words and finally breaks the cold truth to her in order to snap her out of it: Mi-ryeong is a selfish woman who didn't have any expectation from the beginning. She was insincere.
Soon-shin does not take it well and defends Mi-ryeong. Joon-ho lords the contract over her to ensure that she'll listen to him. At least his intentions are pure, but it's not the best way to win and mend a broken heart.
He assures her that if she listens to him, she can be a great actress without Mi-ryeong's help.
Yeon-ah and Mi-ryeong have an evil actress powwow. Mi-ryeong advises Yeon-ah to stop the bet because Joon-ho is acting all suspicious-like. He seems to care about Soon-shin too much and Yeon-ah could lose him. When Yeon-ah expresses confidence, Mi-ryeong reminds her that you never know what can happen between a man and a woman. Yeon-ah should just admit she likes him and stop the bet. Why do things that will affect her negatively later?
Guh, I hate agreeing with Mi-ryeong.
Mi-ryeong warns Yeon-ah that Soon-shin is smarter than they think.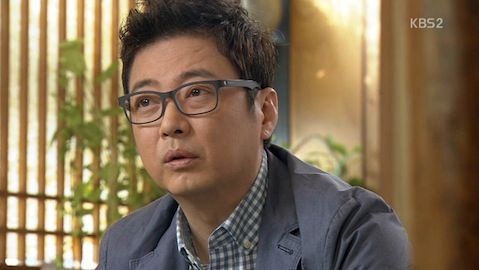 Hwang calls Bok-man and calls him "hyungnim". So they knew each other from the good ol' days, huh? He asks to meet and they greet each other amicably, laughing like the old friends they supposedly are. Hwang says he "heard" about Chang-hoon's passing and asks with "concern" if there are witnesses. Bok-man asks if Kyung-sook knows about it and Hwang lies that she doesn't; it would break her heart.
…
Hwang finally gets to asking if Chang-hoon raised the baby. Bok-man lies that of course he didn't take care of the baby. He heard Chang-hoon took the baby to an orphanage and can't remember which one. He asks if Kyung-sook is looking for the baby now and Hwang assures Bok-man that she's not; she hasn't seen him since she gave the baby to him. Bok-man mutters that he heard they met before he died. Hwang lies that it isn't true.
After the meeting, he sends someone to research the orphanages in the location Bok-man lied about.
More mopey Jung-ae. Moping session gets interrupted by Bok-man who has come to report that Kyung-sook's manager is looking for Soon-shin. Jung-ae starts to panic but he tells Jung-ae that he lied about them sending Soon-shin to an orphanage. This doesn't appease her either. She wanted the whole truth out.
OMG! I AGREE!
But then, she keeps talking and says to tell him that Chang-hoon's wife was stupid enough to raise Song Mi-ryeong's daughter.
Ah, so now raising Soon-shin was stupid, huh? You're pathetic.
Seeing Soon-shin reminds her that her husband deceived her all of Soon-shin's life. She wants Mi-ryeong to find out and take Soon-shin from her so she doesn't have to be nervous about it anymore.
Dude, what if Soon-shin hears you say this? OMG YOU SUCK!
Bok-man has to REMIND her that she loves Soon-shin and that Soon-shin loves her back. Jung-ae says if Soon-shin loved her she wouldn't be going around with Mi-ryeong.
Wait, is this conversation really happening? Hold the show. Writer, seriously?
Bok-man says that it's in Soon-shin's blood to hang with Mi-ryeong, which brings tears to Jung-ae's eyes.
No comment. *eyeroll*
Wait, yes comment. If you don't want to lose Soon-shin, tell her the truth and work together you fool.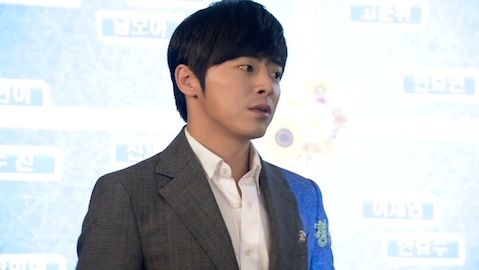 Joon-ho holds a meeting about Soon-shin's image. The managers want to bench her image on well-known actresses like Moon Geun-young (which is funny because IU is also called the nation's little sister.) Joon-ho doesn't like it. If Soon-shin can't be the best at something, she should at least be the first with the image idea.
He declares that Soon-shin's image will be "pure, innocent girl with a mysterious appeal". Hrm, that sounds strangely like how you feel about her...
He assigns his men to find a film or MV for Soon-shin to be in that enhances this image. The managers think it will be difficult, but Joon-ho shushes them. Stars are made - and he will personally make this one.
So he is still motivated by the bet, huh? I wonder what fuels this desire now. Before it was Yeon-ah. I'm guessing now he wants Soon-shin to succeed and that he wants to show the person who crushed his ego that he isn't pathetic.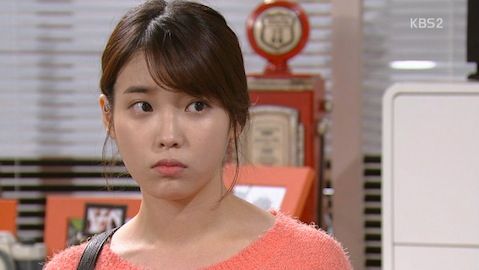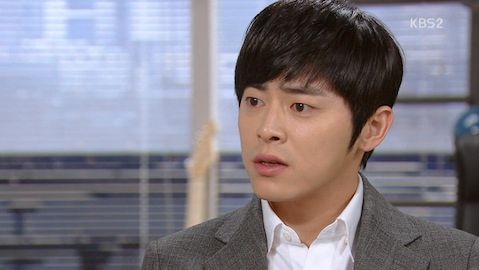 Joon-ho shows Soon-shin her image and tells her one key to becoming a star is exposure. Soon-shin immediately covers her chest declaring that she won't take anything off. Joon-ho scoffs that there's nothing to see and she refutes that adorably. Then he corrects her assumption and tells her they need to expose an image that will appeal to the masses. He explains the importance of having the right image at the right time and promises he'll take care of it. All she has to do is what he tells her.
She has to throw away the old Lee Soon-shin for this new image.