by: Raine

---
IU was SO CUTE! She really had a chance to shine this episode. Too bad there was some serious mommy nastiness to counteract my happiness. But then again, more sister romance in this episode, too, which equals more happy Raine.
AGB Nielson Nationwide had this episode coming in at 26.2%. Dropped to 2nd place. Not surprised. The moms ruined it.
"Lee Soon-sin is the Best" is directed Yoon Seong-sik by and written by Jeong Yoo-kyeong and features IU, Jo Jung-suk, Go Doo-shim and Lee Mi-sook.
Episode 18 recap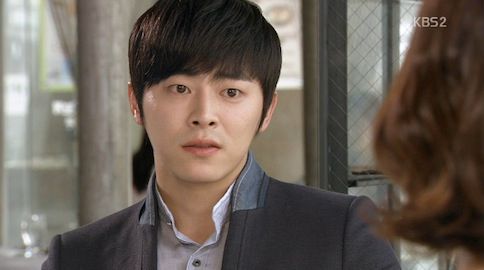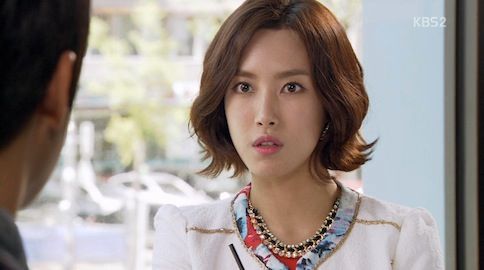 Yeon-ah wants to call off the bet. She'll sign with Joon-ho's company. He doubts her sincerity and wonders what mischief she's trying to make. She looks genuinely surprised, but she shouldn't be. That's what happens when you use a person, woman!
He asks if she regrets losing him and she freezes for a moment before changing the subject to the music video. Rumors spread quickly. Yeon-ah warns him against going up against Mr. Han, a man who knows the industry inside and out. But Joon-ho isn't worried about completing with a man who works without any plans. Yeon-ah says the two men aren't much different from each other.
Joon-ho grows suspicious and wonders if Yeon-ah incited Mr. Han to sue his company. Han is short-fused but not smart enough to think of that. Yeon-ah is pissed he thinks she'd do that over a little girl like Soon-shin.
Soon-shin sees them in a heated discussion and watches curiously.
Yeon-ah doesn't answer him directly so Joon-ho assumes she did suggest that Han sue. He says she would do anything to get what she wanted and she doesn't care about hurting others. Her face pales as he declares he won't let her hurt him again. He warns Yeon-ah not to touch her or she'll be in trouble.
Nice warning, wrong person. But at the same time, now Yeon-ah knows exactly how she hurt him.
Soon-shin asks Young-hoon about the relationship between Yeon-ah and Joon-ho. they've known each other for a long time, is all he says and Soon-shin watches Yeon-ah stew. She remembers Joon-ho's confession at that broken heart meeting, about the girl he couldn't forget because she was everywhere.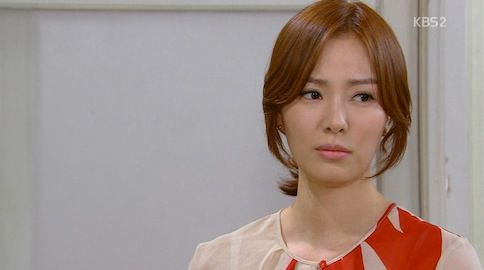 Woo-joo is doing homework and Granny wonders what she wants for Children's Day. Jung-ae asks if Woo-joo talks to her dad often and if he'll come back for Children's Day. Then badmouths him under her breath. She questions the little girl about her parents' relationship, but is saved by Hye-shin's arrival.
Woo-joo stalks upstairs, upset and Hye-shin follows her.
Honestly, Hye-shin shouldn't ask a kid to keep that kind of secret. That's terrible.
Jung-ae tries again to call her son-in-law, but he doesn't answer. I'm guessing this secret will come out relatively soon.
Chan-woo and Yoo-shin eat lunch and she gets a call from Jung-ae. Chan-woo tries to feed her while she's on the phone and she bats his hand away. Jung-ae asks about Hye-shin and her husband and Yoo-shin feigns ignorance and promises to come home early today. Instead of dating. Heh.
Chan-woo asks about what's going on, but Yoo-shin doesn't want to talk about it and cites the contract. Then she turns him down to go out that night and leaves lunch early. Poor guy must be so frustrated. But you chose her!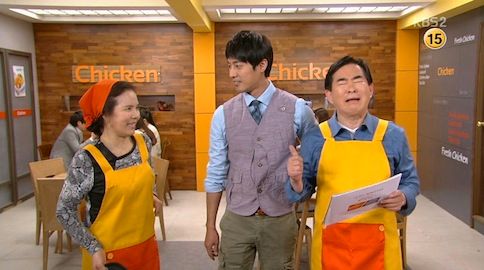 The chicken restaurant is busy and Chan-woo offers to help. he sets his things down and a brochure for a car falls out. His parents fawn over him and his decision to buy a car, but we all know that he wants a car to impress the girl. What a guy. He even calls to ask her what color she likes, but they get cut off by Soon-shin's arrival. Yoo-shin is weirded out by Soon-shin's jondae speech and polite mannerisms that have started as of late. They continue into dinner, causing the whole family to stare.
Granny wonders if she's sick and Soon-shin drops the act as Yoo-shin explains that it's part of acting class. She has this image she needs to project before she debuts in a music video. Everyone but mom is impressed. They have to tell Granny what a music video is, but once she understands, she is impressed and says that she's finally doing something good after making her mom worry so much.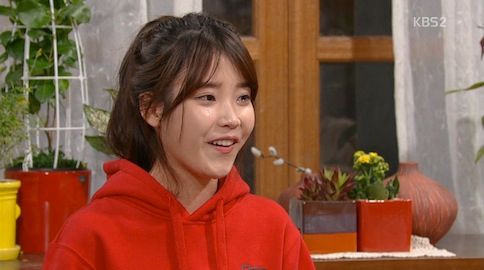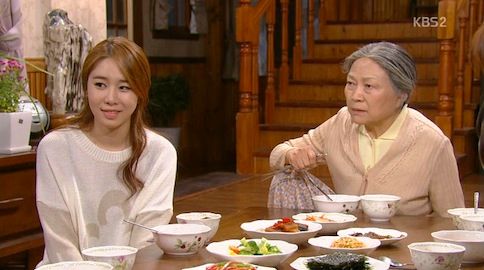 Then Granny asks Soon-shin to show them some acting and the others (sans Jung-ae) clap and encourage her. Soon-shin is embarrassed and tells them not to laugh. Then she does the scene from Mi-ryeong's movie, tears and all. Everyone is super impressed, again, except for mom, who is pissed it was Mi-ryeong's movie. Jung-ae thinks there are better actresses and if she was good Mi-ryeong wouldn't have stopped teaching her. She only has a month to do well.
Nasty bitch.
A small note: Yoo-shin slaps Soon-shin's arm proudly as her mother leaves. Yay! Approval!
In her room, Jung-ae calls Soon-shin a bad daughter. I prepare my sledgehammer.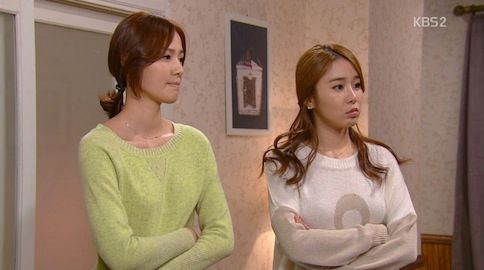 The three sisters congregate in the hall. Yoo-shin wants to know how Joon-ho plans to make her succeed in a month and thinks he's unworthy. Soon-shin defends him, which does not go unnoticed. Hye-shin offers to talk to their mother, but Yoo-shin thinks she should focus on herself and tells Hye-shin that Jung-ae called earlier about the ex. Yoo-shin urges her sister to tell the truth and Soon-shin wonders what this truth is. But Hye-shin doesn't want to tell anyone else yet.