by: Raine

---
So I think, thus far, I'm enjoying this show. There are some points I greatly dislike, especially the really obvious setups, but at the same time, it has a nice beat to it and the leads are engaging.
AGB Nielsen Nationwide had this episode coming in at 24.3%, 1st overall. I think it deserved it. Nothing was new or surprising, but it was nicely put together, well-paced and engaging. That's pretty good for a second episode!
"Lee Soon-sin is the Best" is directed Yoon Seong-sik by and written by Jeong Yoo-kyeong and features IU, Jo Jung-suk, Go Doo-shim and Lee Mi-sook.
Episode 2 recap
The fake President Shin greets Lee Soon-shin while the real president remembers that she's the one who made a fool out of him in front of Choi Yeon-ah. Joon-ho's buddy, Kim Young-hoon, wonders if he knows the woman with the imposing name.
Then Joon-ho tells Yeong-hoon he's meeting Yeon-ah, which shocks the hell out of him.
Fake President Shin works his magic on Yoon-shin and Jung-ae, telling them that Soon-shin is special and she'll be a star in a matter of years. When Jung-ae starts to protest, he brings out a contract that requires the signer to pay 20 million won (about $18,000 USD).
That should've had both women running away at high speeds, but instead, they freeze, allowing President Fake to convince them that it's not what they must pay, but what they will receive.
So fishy.
In the bathroom, Joon-ho primps nervously and tells himself to "relax". Gah, I love this insecurity. It totally undermines cold chaebol. On his way out he runs into Lee Soon-shin and calls her "100 Won", which is the coin that Admiral Lee Soon-shin graces. (picture)
That's kinda funny, heh.
Anyway, he's wondering if she's stalking him as a protest for being fired. She tells him he's not that special with quite the admirable bit of attitude. He warns her to never appear before him again, still calling her "100 Won". He is still completely humiliated because of that day.
But plucky Soon-shin tells him she doesn't want to see him either. And why does he keep calling her "100 Won?" Her name is Lee Soon-shin, like the national hero! Didn't he go to school?
Then he rudely points out that the national hero Lee Soon-shin is on the 100 won coin.
Yeah, female Lee Soon-shin, you get minus 1,000,000,000 points for missing that reference. I know she's supposed to be dull, but...come ON now.
Soon-shin, however, isn't phased. She tells him she'll let him call her whatever he wants because she doesn't have the time to waste on him. (Okay, she gets a few thousand points back for being so cool.) She tells Joon-ho that her luck got better since he fired her. Maybe she'll come to thank him later.
Then she walks away, leaving him stuttering for her to stop. He gives up and turns away...and then slips and bonks his head on a railing.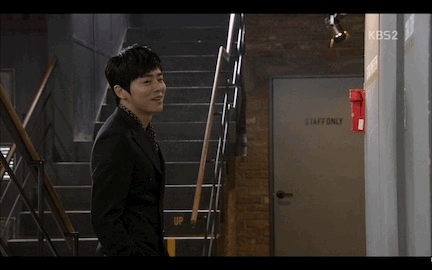 YAY! SLAPSTICK! BWAHAHA!
Cue entrance of Choi Yeon-ah and the appearance of a huge red welt on Joon-ho's forehead. Yeon-ah inquires about the welt, but Joon-ho awkwardly denies anything. She notes that he's still the same, completely uncoordinated.
Omigosh? This has been a long-term thing? OmiGOSH there is going to be more clumsiness?! YES!
Ridiculously embarrassed (again) he denies his clumsiness and takes her to his office, not wanting to be near 100 won.
And...he wants to show off his swanky office and how cool he is as the president. His show is so ridiculously cute.
They are greeted by In-sung and Yeon-ah is intrigued by his name, the same name as actor winter wind-tastic actor Jo In-sung. Assistant In-sung wanted to become an actor and gave up because of his name. Joon-ho and Yeon-ah walk away before the poor assistant can explain.
In his office, Yeon-ah glances around and spots a picture of Joon-ho playing guitar and singing. She says he was the coolest when he sang. That makes him self-conscious so she turns the conversation towards business. He wonders if she came to meet him today because she is now a free agent. He tells her to name her conditions and he might even consider it - major names are in his company now, like Song Mi-ryeong. This, of course, makes her laugh.
The little power game they play is kinda funny, especially as more of his goofy character has now been exposed.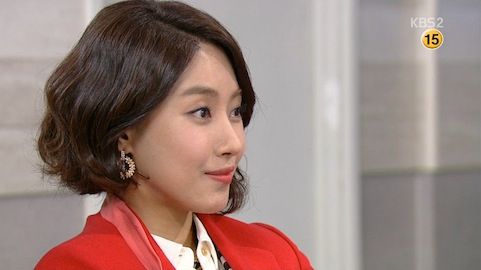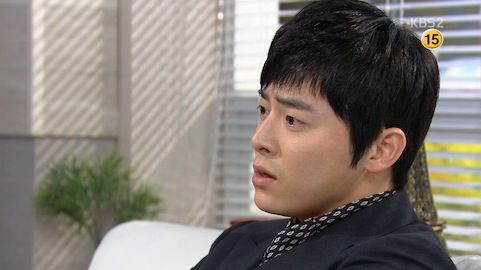 Yeon-ah suddenly asks for Song Mi-ryeong and that she'll pay the penalty for breaking the contract. She explains to a confused Joon-ho that she wants to open her own management agency because she's sick and tired of being stifled. She wants Song Mi-ryeong because the woman is alike a mother to her. As a fellow actress, Yeon-ah thinks she could take care of her best.
Okay, just because you act as well doesn't mean you know how to manage...does she realize the difference? Probably not.
Anywho, Yeon-ah says Mi-ryeong signed with him because of their good relationship, but he shouldn't destroy her future prospects.
Joon-ho scoffs incredulously and so do I.
Seriously lady? You're nucking futs!
Joon-ho leans forward and demands to know if Mi-ryeong is the type to sign a contract based on a past relationship. Also, she's not the motherly type. Yeon-ah must be dreaming.
Yeon-ah smirks and Joon-ho warns her that business isn't for everyone.
Soon-shin and Jung-ae are riding the bus home and Jung-ae is all smiles. But Soon-shin thinks it's too good to be true. How does something like this happen to someone like her? Jung-ae thinks he was exactly right and Soon-shin just has to work hard. Don't be meek like Jung-ae was as a child.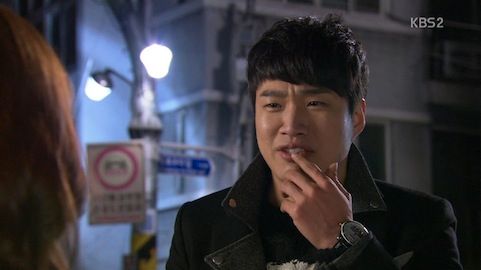 Now we get to Yoo In-nah (yay!)...wait...I mean Lee Yoo-shin who is being followed by her drinking date from the first episode. She coldly tells him it's over; how many times does she have to tell him that she's not interested. The guy pathetically wonders why they went on a date and held hands and even kissed.
Hrm, I'd like to know that too.
As Yoo-shin rolls her eyes at the guy's antiquated dating ideas, Park Chan-woo shows up to witness her cruel explanation. She can hold hands and kiss with lots of men. The guy doesn't believe her and she scoffs and wonders what kind of girl he thinks she is. "Pure like a lily". Besides, she's his first kiss.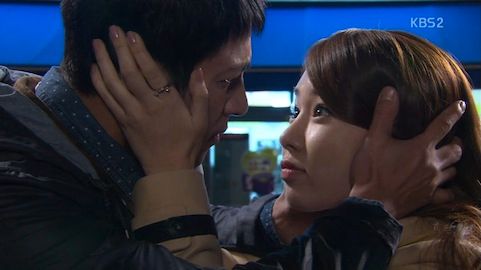 Yoo-shin is annoyed by him and then she spots Chan-woo. She runs to him and hugs him, asking him to stay like this for a while. Then she grabs Chan-woo's face and tries to kiss him, but he's holding her off. Hehehehehehe.
She pulls away and asks the guy if she's still like a lily to him and he runs away crying.
Okay, last episode, the bitchy was just annoying even though I love Yoo In-nah, but this little bit was kinda funny.