by: Raine

---
This episode is most definitely a turning point in the show. Feelings are made known (sorta), Jung-ae is finally only despicable instead absolutely loathsome and Soon-shin gets knocked to the ground and has to pick herself back up again. The question is: will she?
AGB Nielson Nationwide had this episode coming in at 27.6%.
"Lee Soon-sin is the Best" is directed Yoon Seong-sik by and written by Jeong Yoo-kyeong and features IU, Jo Jung-suk, Go Doo-shim and Lee Mi-sook.
Episode 20 recap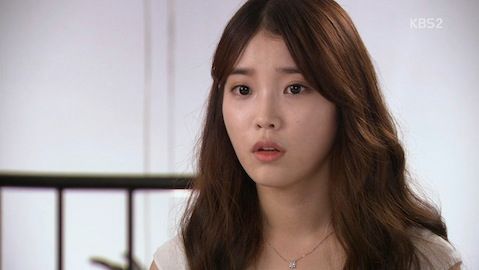 Soon-shin struggles to absorb the information Mi-ryeong has just cruelly imparted: Joon-ho had made a bet with Yeon-ah to turn a nobody into a star. Then Yeon-ah would sign onto his agency. Mi-ryeong explains that the bet is the reason for having Mi-ryeong teach Soon-shin and for paying the huge cancellation fee for the other actress. He wanted to win the bet to have Yeon-ah.
Wow, this woman can twist the truth real good.
Mi-ryeong says that the two got back together and so there is no reason to keep going with Soon-shin. He'll tell her the truth soon so she shouldn't be devastated when he tells her.
Wooooooow. Can I smack her?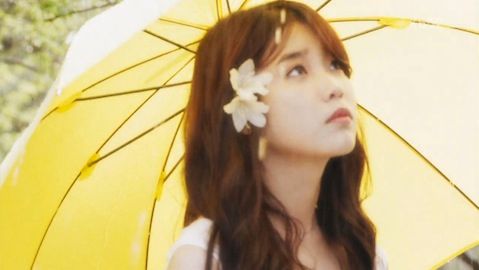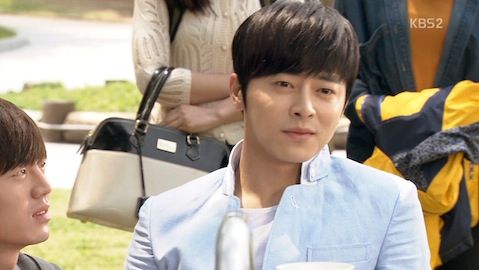 Soon-shin films for the music video with a white flower in her hair and a yellow umbrella to keep the rain away. She's strolling along a beautiful pathway and looking quite lovely herself. Joon-ho watches beside the director who calls cut and gives her a few instructions. She turns around and remembers Joon-ho's comforting words the night before: he believes in her. The words ring heartbreakingly false in her ears and bring tears to her eyes. She turns back to the camera with tears falling.
The director approaches her and Joon-ho watches with concern. The director tells her to relax and gives them a ten minute break.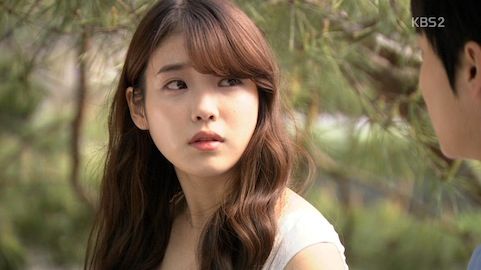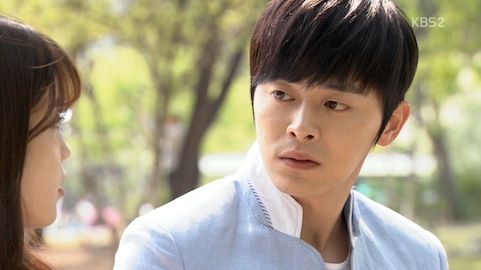 Joon-ho finds her and Soon-shin is unusually cold towards him. He tells her she looks nervous and needs to relax, especially if she wants to see him play guitar.
Aw, he's so into her and doesn't really her heart is breaking. He better do the right thing by her. No one has thus far. Well, maybe Chan-woo, but he doesn't count!
Soon-shin asks Joon-ho why he's nice to her and he's surprised by the question. He thinks she's really nervous. She sighs and he encourages her. We, the audience, know that he's sincere. But she can't believe it anymore and nor can I blame her.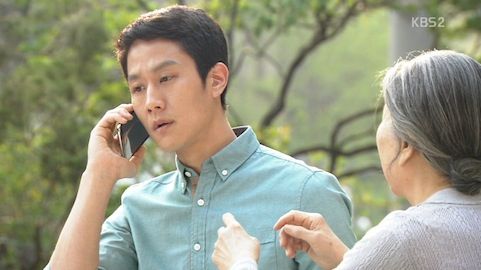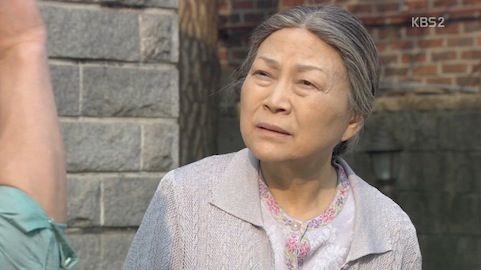 Sexy baker Jin-wook finds Granny in the garden and she asks him a favor: she wants Jin-wook to help her make an international call to Hye-shin's ex. Jin-wook dials and tells the ex that Granny wants to talk to him. The man hangs up like a douche and Jin-wook pretends that the call was dropped and that he's having trouble connecting.
Aw, he's so sweet to Granny. I like this relationship. She lost a son and Jin-wook is kind and doting, as a son would be. He's also a lonely soul. I hope they further develop.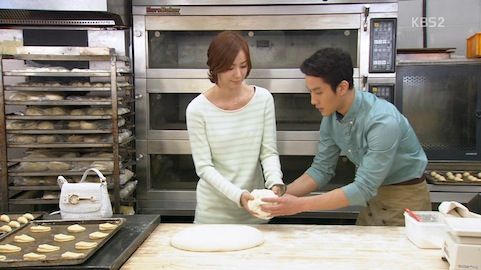 At the bakery, Jin-wook notices Hye-shin passing by looking rather like a zombie. He goes out to talk to her and makes an excuse to bring her inside. He notices how down she and decides to lift her mood. He asks her for help since his assistant is too busy dating. Pffft, yeah right.
Anywho, he leads her into the kitchen and asks for help kneading some dough. When he shows her how to knead it, by throwing it violently against the table, he fakes arm soreness.
Is he doing what I think he's doing? Distracting her? AWWWW!
He has her put her purse down and tells her to slam the dough down onto the table. The first time was a little wimpy. He teases her that her arms are weak and that she needs to use more strength. Then, the clincher: she probably has someone she hates. She should imagine that person and slam the dough down onto the table.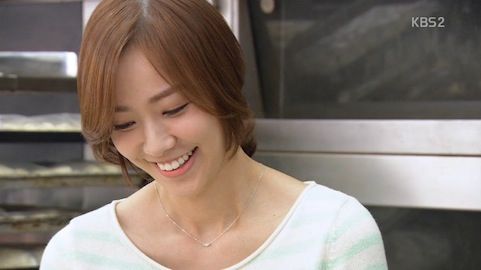 OMG Jin-wook, you're amazing. She totally gets what he's doing, but she follows along, following his coaching and loud encouragement. The last time she gets flour all over him and it makes her laugh. He is mesmerized by her smile and tells her that her smile is pretty. he starts babbling about how that doesn't mean she's NOT pretty when she doesn't smile and she smiles again at his adorable dorkiness.
Jung-ae visits Gil-ja to ask for a job at the chicken shop. She can't stay at home anymore and confesses that Hye-shin got divorced. Jung-ae wonders what she did wrong in her life. Men always pretend to love their wives but don't mean it. She admits that seeing Soon-shin makes her furious even though Soon-shin hasn't done anythign wrong.
WAIT. A. SECOND. You openly acknowledge this and STILL treat her like dog doo under your shoe? AAAAAAAAHHHHHHHHHHHHHHHHHHHHH!
AAAAAAAAHHHHHHHHH!
AAAAAAAAAAAAAAAAAAAHHHHHHHHHHHH!
Okay...I'm better now...I think...
Gil-ja suggests genetic testing and when Jung-ae rejects that idea, Gil-ja tells her to either accept the situation or confront the wench about the situation.