by: Raine

---
Oh the agony! Oh the tears! Truths are leaking left and right. Joon-ho is finally starting to see beyond himself and thinking of another person. The same goes for Jung-ae who has been driving me (and I'm sure all of you) crazy for the past ten+ episodes. It's a kind of transition episode. We're moving from the contract that used Soon-shin to Soon-shin really going towards her own future herself. And as for the other romances, they're starting to move a bit.
AGB Nielsen Nationwide had this episode coming in at 29.5%.
"Lee Soon-sin is the Best" is directed Yoon Seong-sik by and written by Jeong Yoo-kyeong and features IU, Jo Jung-suk, Go Doo-shim and Lee Mi-sook.
episode 22 recap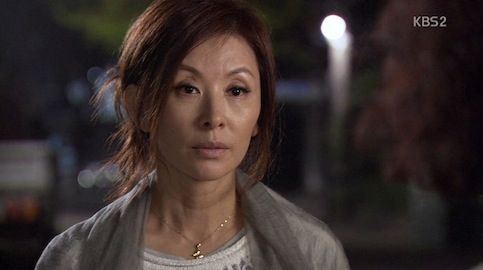 It's time for mommy showdown number 1,322,456. Yes, we've had many supposed mommy showdowns before. Is this one for real?
Well...Jung-ae asks Mi-ryeong why she's in front of her house and Mi-ryeong walks away.
FAKEOUT!
Sort of. Jung-ae remembers what Bok-man told her about Kyung-sook looking for her daughter and chases after the drunk actress. She demands to know why Mi-ryeong showed up; is it because of Soon-shin? Why would Mi-ryeong need to see Jung-ae's daughter? Huh?
Mi-ryeong snootily says she doesn't want to see Soon-shin. The girl is Jung-ae's child and has nothing to do with her. In fact, the real reason she came was to tell Jung-ae that she doesn't ever want to see Soon-shin again. The family should live as before.
Jung-ae, armed with the knowledge of the truth and indignity, ferociously agrees: Soon-shin is her child. She raised her. She doesn't want to see Mi-ryeong again and Mi-ryeong obliges her by walking away.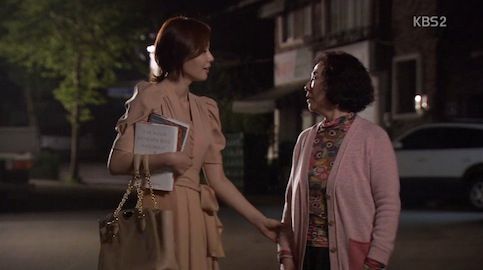 Hye-shin sees the tail end of the conversation and asks if the other woman is Mi-ryeong. Jung-ae denies it, but Hye-shin ain't no fool.
I know I'm still furious at Jung-ae, but I do like that her reason is coming back to her and guilt is starting to eat at her. She's defending Soon-shin and is truly appalled at how Mi-ryeong is throwing her child away. I'm still waiting for an apology from her to Soon-shin, though.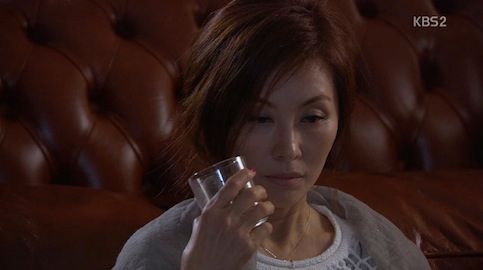 Mi-ryeong drinks and broods like a loser. Hwang enters and takes the liquor bottle from her hand, then sits to inform Mi-ryeong that he hired a guy to tail Reporter Park. Park probably doesn't yet know about Soon-shin, but Hwang is more worried about Soon-shin's family. If they keep quiet, Mi-ryeong's reputation will be safe - should he meet with them? Drunk Mi-ryeong denies having a daughter or ever having had abandoned her. She breaks down though, and wonders if she should apologize to Soon-shin. She didn't want to be poor so she abandoned her daughter.
Mi-ryeong starts to freak out. She doesn't know what to do. She abandoned her past to become who she is now.
Yeah, but it's catching up to you, ain't it?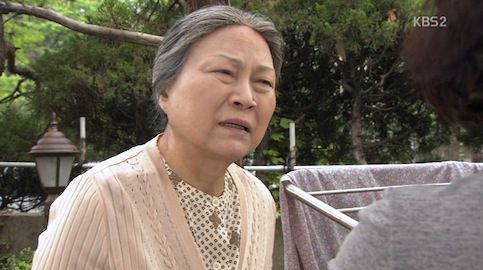 Jung-ae tucks a sleeping Soon-shin in and watches her sleep a bit. She wonders if Soono-shin was attached to Mi-ryeong because she is her biological mother.
And, y'know, she was the first to have faith in her...
At breakfast, Granny stares holes into Soon-shin's face. Yoo-shin calls her on it and Woo-joo wonders if Soon-shin made trouble again. She denies it and Jung-ae looks troubled.
YOU SHOULD BE! LIAR!
Granny confronts Jung-ae about Soon-shin being Chang-hoon's biological daughter. She couldn't sleep because she kept wondering who the biological mother is. Jung-ae, however, doesn't want to talk about it and regrets even telling Granny at all. Soon-shin comes out to leave for work and Granny is unusually doting, unnerving Soon-shin, and me.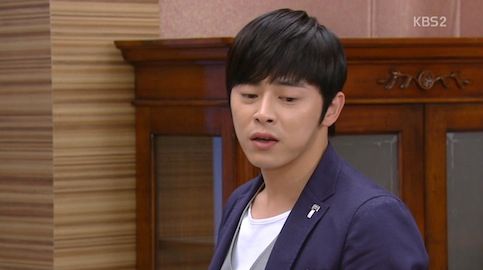 Although Mi-ryeong drank a lot the night before, she's up and ready for the day. She warns Hwang that Reporter Park must be stopped or that's the end of Hwang.
It's Yi-jung's birthday and Dong-hyuk didn't remember. In fact, he says he's too busy to remember. Joon-ho coldly says he's too busy to come home for her birthday dinner.
Okay, I don't like Yi-jung, but that's just mean. On both their parts. I know Joon-ho isn't happy at home and doesn't much like his sister either, but come on. You're the oppa.
Yi-jung asks for a new car for her birthday, but Dong-hyuk ACTUALLY has a present for her. He lied! So it's Joon-ho who needs to shape up. Both Soo-jung and Yi-jung are surprised that Dong-hyuk has a gift for her and therefore remembers her birthday.
Joon-ho leaves for work and when Yi-jung asks for a birthday present he asks, "Why were you born?" earning looks from everyone else. He tells her to reflect on her bad behavior.
I'm going to smack his pretty face. What a jerk. I hope Soon-shin makes him be nice to his sister.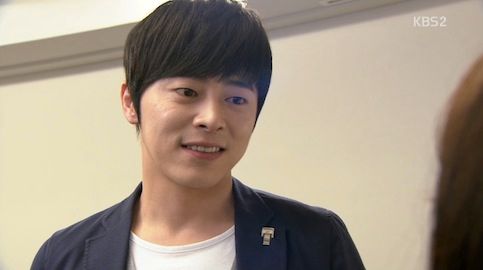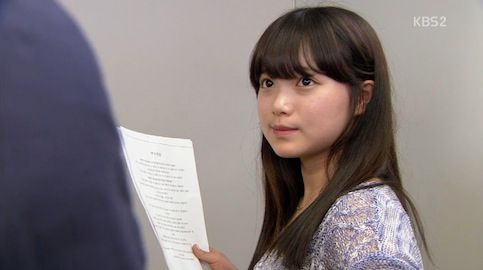 At work, Joon-ho peeks into a practice room and sees Soon-shin practicing. He grins and approaches her to scold her in teh only way he knows how to communicate with her. When he taps her shoulder, it turns out to be a different trainee.
Aw, he misses her. But she needs time away from you and the whole deception and broken dream. I want them together, but, it cannot be...yet...
In his office, Joon-ho checks out all of Soon-shin's exercise photos and wonders why she doesn't contact him, although he's not REALLY curious. Despite how much you supported her, you know why she's not fond of you right now.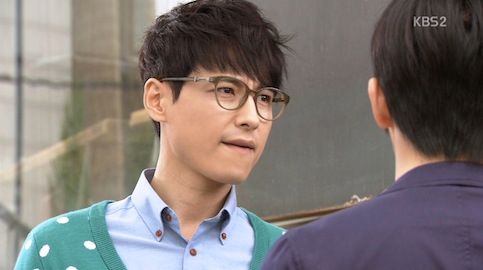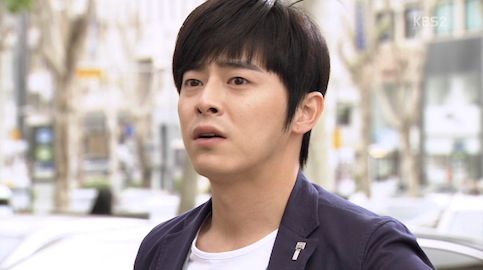 Joon-ho goes to the restaurant and is literally blocked by Mr. Waiter playing defense for Soon-shin. He asks Joon-ho to come another time as per Young-hoon's instructions: do not let Joon-ho in the restaurant. Joon-ho tries to push past him, but is stopped by Young-hoon who ushers him outside for a lecture.
Young-hoon asks if he's trying to make a contract with Soon-shin and Joon-ho immediately latches onto that as a hope: does she want to make another contract.
Pfffft. He is such a fool.
Young-hoon warns Joon-ho not to bother Soon-shin who has nothing to do with him anymore. Joon-ho declares he's not done with her yet and Young-hoon figures it out: Do you like her? Young-hoon tells him not to shake her up just because of his feelings and leaves Joon-ho outside, being an emotional idiot.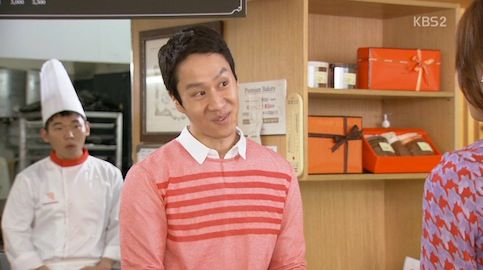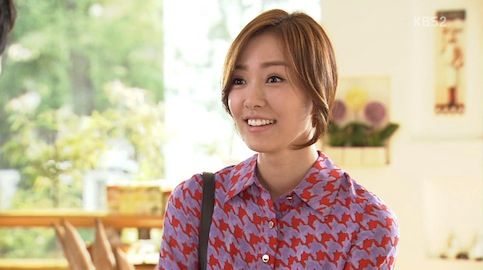 Hye-shin is buying some sweets for Woo-joo and sexy baker Jin-wook's assistant is ringing her up. Jin-wook can't have that and shoves his assistant away to ring her up himself. She compliments his baking and he flirts like an adorable idiot. His assistant makes faces behind him. Hehe.
Jin-wook brings her two trays of 'on-the-house' pastries, one tray of which is shaped like hearts. He denies that they mean he likes her as a woman...they mean he likes her as a customer. He puts two trays of sweets into a bag for her as she tries to refuse. It's too much. His assistant thinks so, too.