by: Raine

---
I have to admit. The way the writer's are weaseling Soon-shin into a corner is pretty clever. However, using Mi-ryeong to do it is driving me bonkers. There is also not enough Joon-ho. I need more Joon-ho. MOAR. Like...yesterday.
AGB Nielsen Nationwide had this episode coming in at 29.6%.
"Lee Soon-sin is the Best" is directed Yoon Seong-sik by and written by Jeong Yoo-kyeong and features IU, Jo Jung-suk, Go Doo-shim and Lee Mi-sook.
Episode 28 recap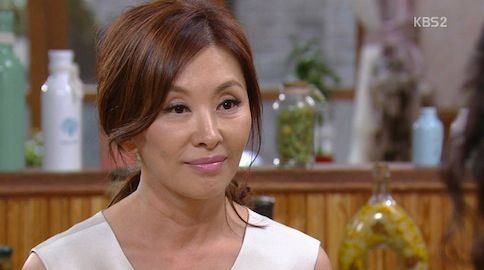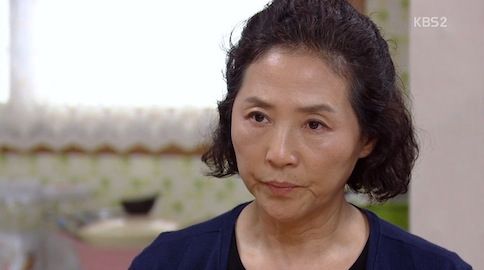 Mi-ryeong offers Jung-ae some cash for taking care of her kid and then decides that she wants to take Soon-shin back. Jung-ae is not happy about this, but Mi-ryeong says that things are different now. When Jung-ae points out that Mi-ryeong abandoned Soon-shin, Mi-ryeong lies that Chang-hoon took her.
This woman is delusional!
Mi-ryeong admits to be strangely attracted to Soon-shin and her talent and wants to nurture it. She also defends herself for treating Soon-shin like dog poop: she had to at that time. If she'd known Soon-shin was her kid she wouldn't have done it. Then she blames Jung-ae for making her quit. Whatever. WHATEVER. This conversation is pointless without Soon-shin there. Actually, a piano should just fall from the sky and crush Mi-ryeong. That would be awesome.
Again, Mi-ryeong brings up that she wants to be a good mother now and wants to fulfill Soon-shin's desperate desire to be an actress.
I know this is true, but it's for the wrong reasons. And I hate it.
Luckily, foul-tempered comes home and hears the last bit of the conversation. Hye-shin has been eavesdropping but says nothing. Yoo-shin, however, is not that sort. She bursts into the kitchen, enraged by the offer of money. She checks the amount and scoffs at the idea that something that little could be adequate compensation. Jung-ae and Hye-shin try to shut her, but Yoo-shin says Mi-ryeong would need to pay at least a hundred times more.
Jung-ae gives back the envelope and says she will forget everything Mi-ryeong just say. Soon-shin is HER daughter and Mi-ryeong shouldn't start acting like a mother now.
Amen!
Mi-ryeong is incredulous and has no choice but to leave. HA! She complains that Jung-ae is impossible to communicate with. Look who's talking.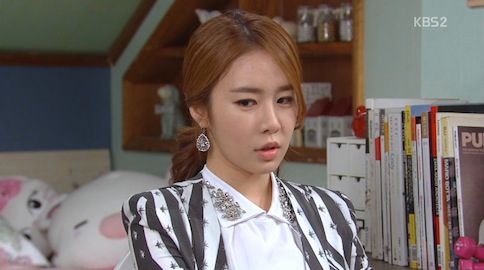 Yoo-shin is furious and wants to send Soon-shin back to Mi-ryeong. Granny and Soon-shin come home, but are told nothing about Mi-ryeong's surprise visit. Soon-shin asks Yoo-shin about it and finds out that Mi-ryeong wants to take her and raise her.
Yeah, she looks as shocked as we are.
Jung-ae lies to Granny about Mi-ryeong's visit, but Granny doesn't buy the lie. Instead she guesses that Mi-ryeong wants her and warns Jung-ae to brace herself. Mi-ryeong will stop at nothing to take Soon-shin.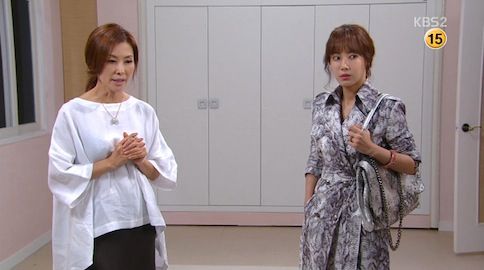 Time for an unwanted Gil-ja scene. Jung-ae tells her about the incident and Gil-ja tells her she should've taken the money. She needs it. Jung-ae snaps that she didn't raise Soon-shin for money and then Gil-ja says it: Mi-ryeong is her real mother. You can't ignore blood ties.
The words totally crush Jung-ae.
And then we see Mi-ryeong planning Soon-shin's room. Guh, this means at some point Soon-shin WILL live there. I hate this. I really hate this. Not only is she planning the room, but she asks Yeon-ah for advice. Now I HATE Yeon-ah, but I pity her for adoring Mi-ryeong. The woman is cruel enough to ignore Yeon-ah when she mentions the article they were in together. She talks only about Soon-shin's room.
When Soon-shin calls, she eagerly agrees to meet and sends Hwang to pick her up. Jung-ae sees her getting in the car. Uh-oh..