by: Raine

---
OMG the cute. OMG Jo Jung-suk sings. So that means watch the first half of the show.
Just skip the second half. It has idiot mothers.
AGB Nielsen Nationwide had this episode coming in at 27.9%.
"Lee Soon-sin is the Best" is directed Yoon Seong-sik by and written by Jeong Yoo-kyeong and features IU, Jo Jung-suk, Go Doo-shim and Lee Mi-sook.
Episode 30 recap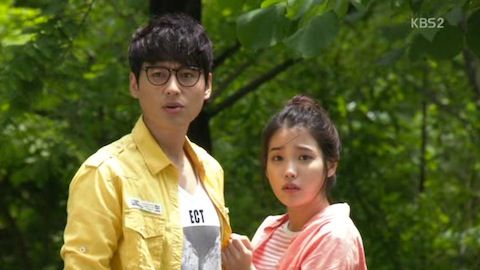 Joon-ho stumbles upon Young-hoon comforting a crying Soon-shin in his arms. Before he has much time to register his jealousy, In-sung shows up and loudly announces their presence. Young-hoon and Soon-shin are surprised and not-at-all pleased to see them. Joon-ho awkwardly explains that he is there for business, but no one's buying his lame excuse.
I missed you, awkward Joon-ho!! *hugs*
He gets a call from Mi-ryeong who impatiently demands to know about Soon-shin and reminds him how important this is. If he doesn't bring Soon-shin, she'll be very disappointed.
Oooooh, disappointment. So scary...not.
Mr. Waiter apologizes to Soon-shin and then gets kicked out of his chair by Joon-ho. He fusses to make sure Soon-shin eats enough. And then Mr. Waiter asks what they're all thinking, "Are you here to sign a contract with Soon-shin?" He fervently denies it.
In-sung tries to liven up the mood by having Joon-ho play guitar for them. At first he refuses, but In-sung forces it on him and the applause of the audience makes Joon-ho smile. When Soon-shin doesn't seem interested, he decides not to sing and Young-hoon takes the guitar.
OMG Lee Ji-hoon singing?! YES! Well, it would've been cool but Joon-ho takes the guitar back when he sees Soon-shin is really interested.
AND THEN IT HAPPENS! JO JUNG-SEOK SINGS! *SQUEEEEEEEE* *Hyperventilation* OMG OMG OMG OMG FINALLY!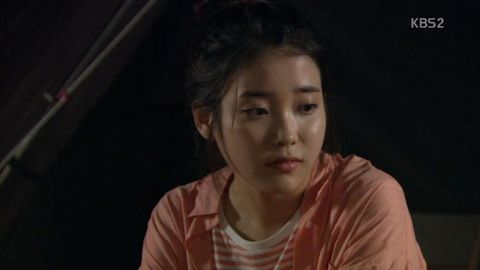 Soon-shin smiles a moment and then remembers the conversation when Joon-ho promised to play her guitar if she did well at the audition. The memory depresses her and she LEAVE BEFORE HE IS FINISHED! *sob*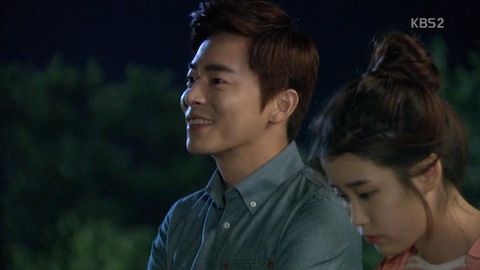 A little while later, Joon-ho finds her sitting on a bridge and joins her. He comments that she doesn't seem impressed by his singing - that's why he failed. But she ignores the comment, instead asking him to leave her be. He won't, and he pushes acting again. He knows she wants to do it and tells her the movie is amazing. She'd be happy doing it.
Soon-shin agrees that she loves to act, but it's not right to make her family suffer so she can be happy. She wants to get back to acting her own way.
YES! That's what I want to hear.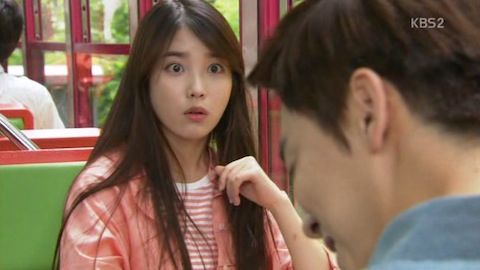 The next morning Joon-ho is very conspicuously lurking in front of Soon-shin's tent. When caught by Mr. Waiter, he pretends he's checking tent safety. Mr. Waiter tells him Soon-shin is going back to Seoul by train, and Joon-ho rushes to the station, barely catching it before it leaves.
He searches for Soon-shin and the HUGEST grin crosses his face when he spots her. She gets all snippy about him following her and he's all like, "I just want to take the train for fun". It's so cute how pleased he is with himself. He rambles on about what good taste Young-hoon has for choosing such a scenic train. Soon-shin jumps on that and agrees, "Unlike someone else, he's very handsome, gentle and has good taste". Oooooh, them's fighting words.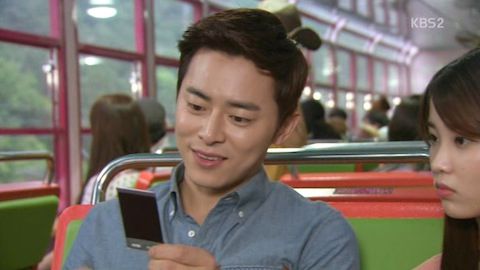 A woman comes by to take their photo and Joon-ho agrees to it and sits next to Soon-shin. He grabs her hand and makes her pose with a "V". HE IS SO CUTE! He's smiling happily and teases her about her funny expression in the photo, but can't stop himself from smiling over it. His smile fades when Mi-ryeong calls, and he ignores her.
GOOD BOY! Ignore the wench! IGNORE!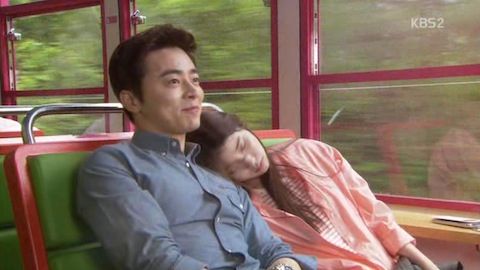 Yeah, they need to be big pictures. This is...CUTE!
Joon-ho notices that Soon-shin has fallen asleep and adorably shields her face from the sun. I'm dying here. It's so cute. I missed you, cute. Where have you been all my life? Of course, her head falls on his shoulder and he is so awkward and adorable and pleased. He can't stop smiling and gets self-conscious all by himself. ACK! CUTE! *cute spaz attack*
When the train stops, Joon-ho makes a snap decision and hurriedly wakes Soon-shin and rushes her off the train. They've disembarked at Gooncheon, which is most definitely not Seoul. She is incredulous that he's dragged her off the train, but he forces her to follow him to take pictures and enjoy the scenery.
Joon-ho, you won back all the points you lost when you were trying to force Soon-shin to act. This is so cute and WISE. Keep her AWAY from the witch!