by: Raine

---
We have some progress regarding Soon-shin and Joon-ho. They're comfortable with each other now, which is very good. He is the only one she can turn to now that she feels cast out by her family and used by Mi-ryeong. Mi-ryeong, Gil-ja, and even Yeon-ah have started to be a little less hateful and a little more understandable because we see some depth of character and reasoning behind their behavior. They're still annoying though.
AGB Nielsen Nationwide had this episode coming in at 23.5%.
"Lee Soon-sin is the Best" is directed Yoon Seong-sik by and written by Jeong Yoo-kyeong and features IU, Jo Jung-suk, Go Doo-shim and Lee Mi-sook.
Episode 33 recap
In a desperate attempt to keep Soon-shin from leaving, Mi-ryeong has just spilled the beans that she is not Chang-hoon's biological daughter. Unlike before, however, Mi-ryeong immediately regrets being a total butthead and begs for the chance to explain. While she is begging, Joon-ho arrives to talk to her about Soon-shin signing with another agency.
The story of Soon-shin's birth is as follows: Mi-ryeong was in hell. She was having an extremely hard time. The man who fathered Soon-shin left her while Mi-ryeong was pregnant. She was so discouraged that she wanted to kill herself, but she just couldn't bear to kill the baby as well. At the last minute, she called Chang-hoon, the only person she could think of at the time.
After that she worked hard so she could repay the sin of abandoning her. Mi-ryeong thinks they're blessed to meet again and wants the chance to be a mother. Soon-shin looks numb from shock and calls her a liar. She storms out and Joon-ho chases after her. Mi-ryeong doesn't look happy that he heard her sob story.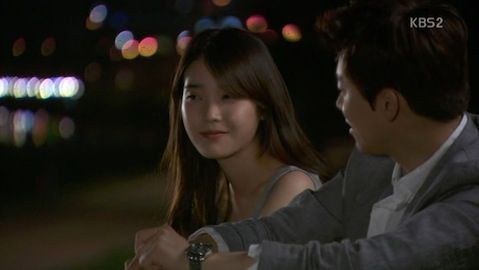 Joon-ho wants to talk to Soon-shin who insists that she is fine. He doesn't believe her and has to stop her from walking away again. He says that he isn't fine; he is extremely worried about her. Aww, concern for her doesn't stop her, but the fact that it's bugging him stops her. So. Cute.
Back at Mi-ryeong's, Hwang sees that Soon-shin left her bag and wants to return it. Mi-ryeong is still smarting from Soon-shin's rejection. She seems more human now, but I still don't like her. Grr. *gnashes teeth*
Anywho, Joon-ho takes Soon-shin to a riverside park and I'm so happy to see that they are really comfortable around each other now. He teases her for wanting to go to the park rather than any number of beautiful places in the country; then he asks if she wants to visit one and she laughs. She assures him she's fine and he jokes that she's like a monk, always okay. But an actress should be honest with her feelings.
They fall silent and he pats her shoulder reassuringly. When she looks at him curiously, he awkwardly explains that he was shooing a mosquito. She scoffs at him, but smiles. Aww, why so cute?
Soon-shin says that this park is where her family camped a lot. Her father drank beer with her, too. Before Joon-ho can delve further into the subject, Soon-shin wants him to buy her a drink.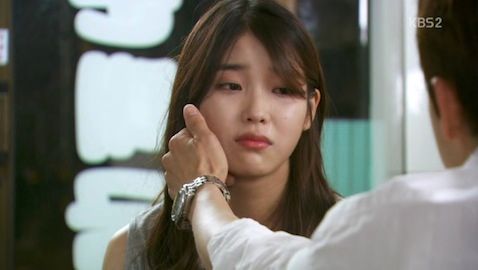 She drinks in earnest and admits that she doesn't know who she is anymore. Joon-ho declares that she is Lee Soon-shin, innocent and trusted (the meaning of her name). She smiles at that. Then Joon-ho makes her eat some. He notices that she's nearly ready to cry and tries to play it off as the foods fault. So sweet. But then a teary Soon-shin looks him in the eye and asks what has been weighing her down: how is she supposed to face her family again? He fervently defends that her family always knew she was a foundling and that nothing will change.
I love him with her. He does what's best for HER. Not himself. Not anymore. He's growing up and I so happy.
Joon-ho continues, "Live life for yourself, stupid". Then he wipes her tears away.
*SQUEE*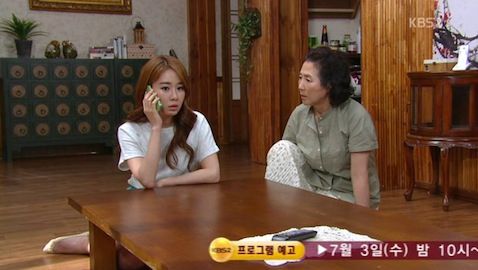 The next morning Yoo-shin wakes up and Soon-shin isn't there. So she calls Soon-shin's phone and Mi-ryeong picks up. She says that Soon-shin came to the house and Yoo-shin hangs up in shock. She feels betrayed. Granny walks in and Jung-ae tries to make her understand that Soon-shin has another mother and is allowed to see her. Since she can't win that battle, Granny starts in on Yoo-shin: you can't marry Chan-woo without Gil-ja's permission.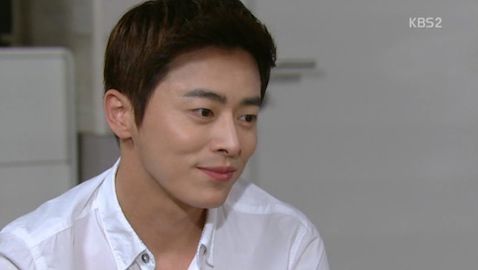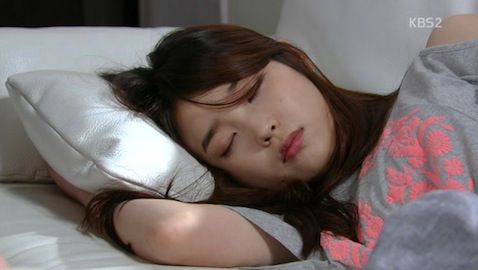 Soon-shin stayed the night at Joon-ho's office. He covers her with his jacket and brushes her hair back while...THE TRACK JO JUNG-SEOK SANG FOR THE OST PLAYS! *freak out**spaz attack**fangirl 'splosion* OMG OMG OMG OMG Jung-seok oppa is singing! FINALLY! EEEEEEEEE!
Okay I'm done. Joon-ho goes out to buy her some grub and some supplies, all while smiling. While he's away, In-sung walks in and is startled by Soon-shin on the sofa. She wakes up with a headache. Joon-ho walks in and In-sung wants to know the gossip. Why did they drink together? Did they stay here together last night? LOL, nosy bugger. Joon-ho distracts him with questions about Soon-shin's audition, but she wants to head home. She doesn't want to eat the juk he bought her, so he decides to take her home, leaving poor In-sung wondering about their relationship.