by: Raine

---
When this show is cute, it is SUPER cute. When it's annoying, it makes me want to pull my hair out. I don't know what to say that I haven't said before. Stop being contrived, show. Be natural, like Soon-shin and Joon-ho.
AGB Nielson Nationwide had this episode coming in at 24.0%.
"Lee Soon-sin is the Best" is directed Yoon Seong-sik by and written by Jeong Yoo-kyeong and features IU, Jo Jung-suk, Go Doo-shim and Lee Mi-sook.
Episode 35 recap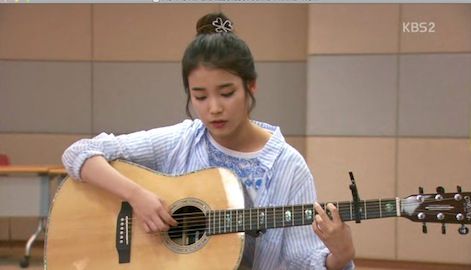 Lee Soon-shin sings and she captivates everyone in the room. Afterwards, the director tells Yeon-ah that he was going to feel Soon-shin, but found that she has the capability to touch hearts. Yeon-ah pretends to be happy and pushes the director again to hire Soon-shin. This is the director that hates that kind of stuff.
Yeon-ah is going to be stupid and stoop low enough to interfere with Soon-shin, isn't she?
Soon-shin returns home and pretends to be asleep when Mi-ryeong comes looking for her. When i-ryeong leaves, Soon-shin continues to get ready for bed.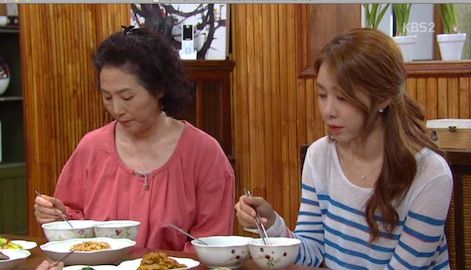 Soon-shin's family is having breakfast and talking about her. Granny thinks Soon-shin looks down on them, but she thinks that about everyone. I'm chalking it up to her being an irrational old lady. Yoo-shin actually defends Soon-shin by saying that it's hard to come home when Granny is so angry all the time. Then Granny turns on her and blames her for the current stress.
Sexy baker Jin-wook comes out when Hye-shin and Woo-joo do. Things are awkward between them with a capital "A". He takes his brooding session to the bakery where he decides to move out of Hye-shin's house.
Soon-shin rushes out of the house, turning down every single one of Mi-ryeong's requests to hang out. When Mi-ryeong goes to the gym, Dong-hyuk is there. He joined the gym because of her. Guh, this relationship will cause Joon-ho and Soon-shin trouble, won't it? I wish they would forget this romance and deal with Dong-hyuk and Soo-jung's marital issues. That could be interesting and relevant. They should explore matched marriages and the results of them. Not make problems for the only enjoyable couple on screen....
The two reminisce about their country childhoods and laugh and go eat lunch. Blah.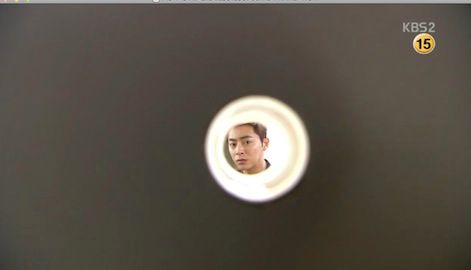 Joon-ho paces his office, nervously waiting for the casting results, but they haven't come out yet. Then he goes to pace in front of Soon-shin's practice room, looking very conspicuous in the hallway. He peeks through the peephole at her and finally decides to go in. She immediately asks if the results came. He advises her to just pretend that she failed and not be disappointed. He seems ten times more nervous than her.
And then he has a great idea. He knows how they can find out if they got in: a fortune teller.
BWAHAHAHAHA! Really?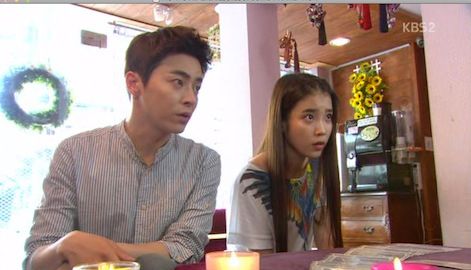 The fortune teller starts to spout on as they tend to do and Joon-ho gets impatient, ordering a real answer. So the fortune teller tries another tactic: Soon-shin's love life. A man is very close to her, which makes Joon-ho self-conscious and Soon-shin curious. Again, Joon-ho orders an answer and gets fortune-telling mumbo jumbo.
When they're through, Soon-shin wonders who the man who is close to her could be. Joon-ho steps a little closer and straightens up. Soon-shin meets his gaze, "Maybe...it's Young-hoon?" Joon-ho deflates and it's so adorkable. Soon-shin hits her mouth, regretting it. She can only think of one man close to her and doesn't even consider Joon-ho, who is currently annoyed at her. He talks crap about the fortune teller who was supposedly supposed to be the best.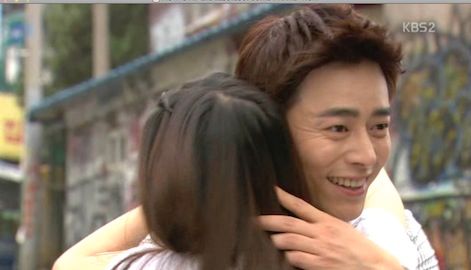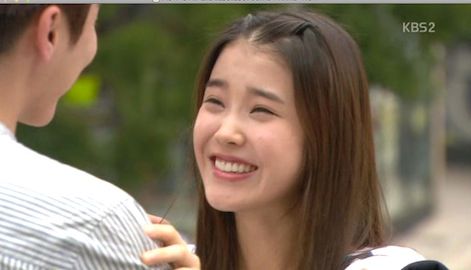 Then Joon-ho gets a call. He hangs up, looking rattled. Then he smiles at her, walks over to her, and envelopes her into a hug: You passed the audition! Soon-shin can't believe it at first, then she freaks out and jumps into his arms. AW! They celebrate together, holding each others arms. AW!
Then they go for beer and snacks at Young-hoon's restaurant. Soon-shin and Young-hoon compliment each other and converse easily. Joon-ho listens, becoming gradually more irritated that Soon-shin doesn't even look at him. Because the character is a cook and would-be singer, Soon-shin asks for cooking lessons to look more real. When Joon-ho cuts in, he gets a dirty look and then ignored again. HA!
Yeon-ah finds out Soon-shin got the role and has to pretend to be happy. She just wastes her own energy hating on Soon-shin. That girl needs a life.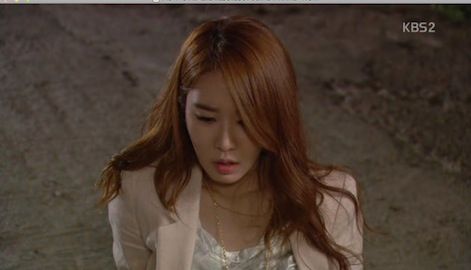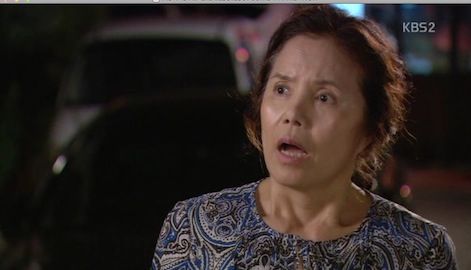 Yoo-shin heads towards Gil-ja's with wheat buns as a gift. Gil-ja catches her and tells her to stop the act. When Yoo-shin tries to guide her into the house, Gil-ja pushes her away and Yoo-shin falls and the buns fall to the ground. Gil-ja snaps at her and she obviously feels guilty. Chan-woo has seen the whole thing and firmly sends Yoo-shin home.
Then he goes inside for a chat with mom who is very nervous. He decides to marry Yoo-shin without permission from Gil-ja. He doesn't have enough money for a place, but he can rent or live with Yoo-shin's family. It's the only option for him because neither he nor Gil-ja will change their minds. Then he heads into his room, leaving his mother reeling. Bok-man has heard the whole thing and basically tells her, "I told you so".
Soon-shin heads to a meeting with the director, smiling like a fool. She calls Jung-ae on the way and tells her that she passed the audition. Jung-ae is really happy, but she's busy so has to hang up. Then Yeon-ah greets Soon-shin, smiling like the Fakity Fake she is and asking if it's okay to talk to her in banmal. Guh, just don't talk at all...
Yeon-ah tells her to do well to not embarrass her or Mi-ryeong and says it with a smile. Grr. Then she accompanies Soon-shin to see the director. Yeon-ah sucks up to the director, playing the good unni role and the director falls for it. Soon-shin doesn't.