by: Raine

---
There is no payoff to watching this show. Every time something good happens, Mi-ryeong or Yeon-ah blast the warm, fuzzy, glowing feeling to smithereens.
AGB Nielsen Nationwide had this episode coming in at 29.9%.
"Lee Soon-sin is the Best" is directed Yoon Seong-sik by and written by Jeong Yoo-kyeong and features IU, Jo Jung-suk, Go Doo-shim and Lee Mi-sook.
Episode 36 recap
Jung-ae goes to Mi-ryeong's to drop off tea for Soon-shin. She watches Soon-shin sing Chang-hoon's favorite song, heartbroken. Then Mi-ryeong walks over to gloat and I see all sorts of family understandings lining up. I'm sick of contrived problems that would be fixed by listening and talking rather than assuming.
Anyway, Mi-ryeong invites Jung-ae in and acts disgustingly thankful, but Jung-ae refuses. She leaves before Soon-shin can get a good look at her. She goes after who she thinks is Jung-ae and Mi-ryeong stops her.
Jung-ae trudges away and is seen by Joon-ho who is coming to the party. She tells him not to tell Soon-shin that she was there. WHAT?! Why are you being so passive?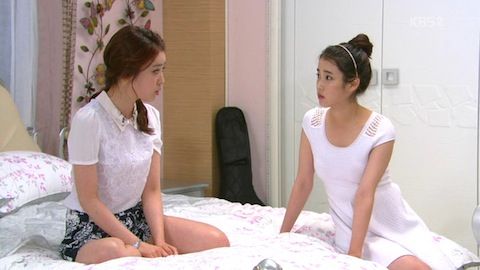 Mi-ryeong brags about Soon-shin and sweet talks the director who does not enjoy it. Soon-shin is disgusted by is and walks away. Chan-mi accosts her and asks to be shown her room. At least it allows Soon-shin a short escape from Mi-ryeong's disgusting schmoozing.
Chan-mi fawns over her room and Soon-shin accepts it as usual oblivious Chan-mi behavior. Then Chan-mi tells her about Yoo-shin's marriage issues and about all that's going on at home. They're probably too busy to acknowledge the audition. Great, so much interference that both sides think the other doesn't care. Communication, people. Assumptions are bad.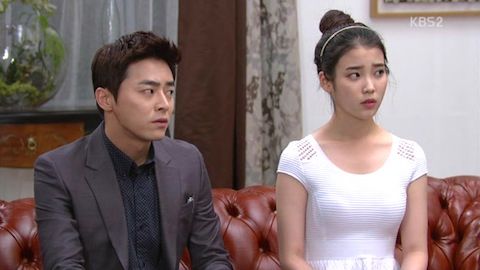 Mi-ryeong is working on the director and writer and trying to get Soon-shin's character beefed up. Finally, they leave and the other people follow, annoyed by Mi-ryeong. Yeon-ah pretends to try and stop them, but loves that Mi-ryeong's ridiculous efforts are backfiring. On their way out, the director bumps into Joon-ho and tells him that he wouldn't have come if he'd known Mi-ryeong would ask favors.
HA! Mi-ryeong's actions are backfiring! Joon-ho scolds her and Mi-ryeong says my least favorite line, "What did I do?" Seriously? You're back to that? You can't see what's right in front of your face? In any case, Yeon-ah pretends to be on Mi-ryeong's side as Joon-ho tries to set the idiot straight. But the idiot is worried about her pride and the fact that HER daughter is playing a small role.
Uh...so what? Anyway, Mi-ryeong tries to get Soon-shin to read lines with Yeon-ah and neither girl wants to. Soon-shin begs her leave and then Joon-ho mentions Jung-ae's visit. Mi-ryeong, of course, denies knowing about it.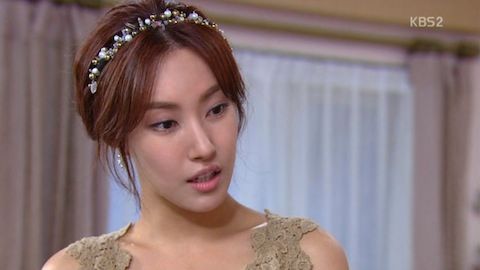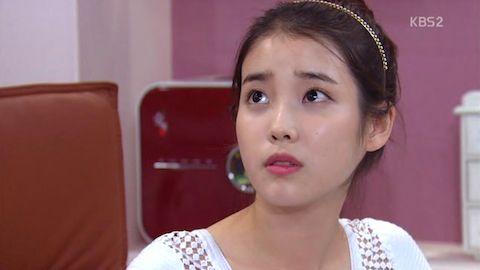 Then Yeon-ah, playing nice, goes to see Soon-shin in her room. Soon-shin is unfriendly and asks why Yeon-ah came. She offers to read the script and Soon-shin turns her down. Then Yeon-ah turns on her, saying that she only got the role because of Mi-ryeong. She needs to stop using Mi-ryeong to get work.
Grr, you jealous !@#$@#$%@#$!@#$. Grow up and stop fighting her when you already have your own career.
Yeon-ah goes downstairs and assures Mi-ryeong that Soon-shin will be fine. You fake. You fake. Mi-ryeong asks Yeon-ah to continue to take care of Soon-shin. Oh she will...
Jung-ae returns home and the family is mad she didn't show up. After dinner, Yoo-shin asks Jung-ae what she would think about her living with her in-laws. Of course, Jung-ae looks surprised and Yoo-shin denies that it will happen. She heads upstairs to brood over Gil-ja's contract.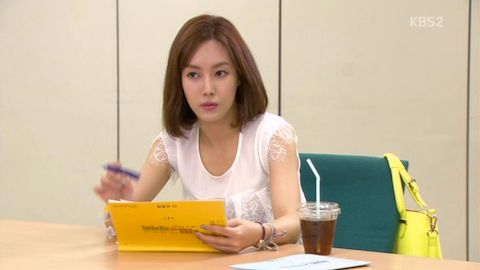 Soon-shin heads to work and Mi-ryeong picks on her outfit, saying that Soon-shin will humiliate her. She leaves before Mi-ryeong can say anything else. In-sung arrives to drive her to the first reading and they get stuck in traffic. She's late for the first reading, which makes Yeon-ah smirk. The older actresses scold her for making them wait and Yeon-ah defends her. The older actresses then say that the director never used to fall for lobbying. They hold high expectations of her. Yeon-ah smirks again like she thinks Soon-shin will fail.
Boo. Hiss.
They start reading and Soon-shin does very, very well. She shocks the hell out of the actresses and the director smirks, happy to show that he didn't cave to Mi-ryeong, but chose based on talent. Yeon-ah scowls. Heh. Scowl away.
After the reading, Soon-shin speaks with the director who is pleased with her performance. The older actresses who approve of Soon-shin and tell her when to arrive and not to be late.
Yeon-ah glares and approaches Soon-shin who is now chatting with In-sung. She warns Soon-shin not to rely on her connections and to depend on her skill. Also, she shouldn't embarrass Mi-ryeong or her.
Why are you so two-faced? This is purely spiteful and annoying. This is not what I want to watch. The bad stuff in this show far outweighs the good. We had two seconds of Soon-shin kicking ass and then we get...this?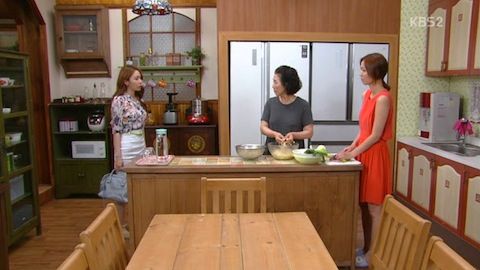 Yoo-shin walks home and runs into Chan-mi who sympathizes with her. Then she brings up Soon-shin's audition and the congratulatory party. Yoo-shin is furious and storms home to ask Jung-ae if she knew about the party at Mi-ryeong's. Hye-shin is shocked and Jung-ae merely says things like that happen. Part of this is Jung-ae's fault for not following up. But it doesn't matter. The family has now turned on Soon-shin.
Soon-shin heads home after the reading, but doesn't want to go in. Instead, she heads to her real home...but she can't make herself go in either. She leaves and Jung-ae watches her go without chasing her, feeling betrayed.
RAWR.