by: Raine

---
Yeah, Soon-shin and Joon-ho are cute. All the people conspiring to keep them apart are not. But seriously, I could watch them take pictures in a sticker booth ALL DAY LONG!
AGB Nielson Nationwide had this episode coming in at 25.2%.
"Lee Soon-sin is the Best" is directed Yoon Seong-sik by and written by Jeong Yoo-kyeong and features IU, Jo Jung-suk, Go Doo-shim and Lee Mi-sook.
Episode 41 recap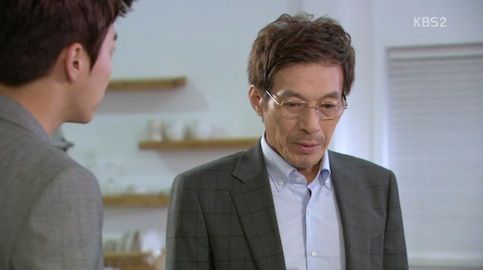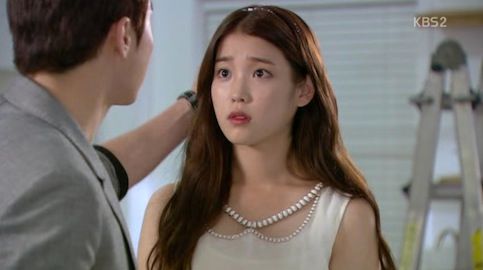 Soo-jung slaps Dong-hyuk in front of the entire set and then runs away. He chases her and she beats him with her purse, calling him a liar. He is embarrassed, but she is broken-hearted and furious. He demands to know what he did. She walks away.
Joon-ho stops his father and asks what's going on. He sounds like a child. Poor thing. Then, Soon-shin comes to ask Joon-ho what just happened and he assures her that it's nothing. His parents have been like that lately. He caresses her hair and tells her he has to leave. He does NOT look okay.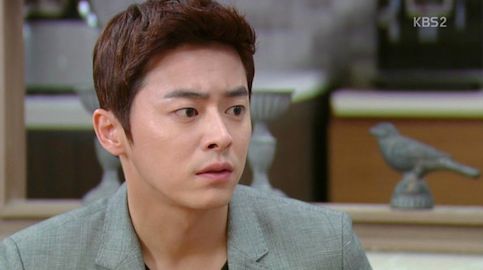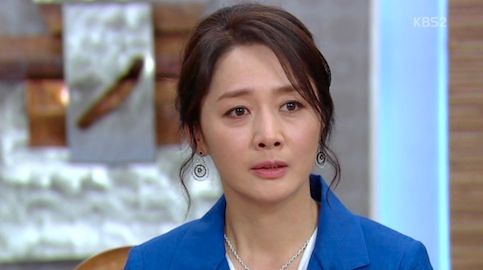 Joon-ho goes home to confront his mother. He admonishes her for making a public display and shaming Dong-hyuk. Soo-jung says she's going to divorce and Joon-ho tries to convince her that Dong-hyuk doesn't have a girlfriend - he asked him.
It's really not your place, Joon-ho. But I think it's less about who is right and wrong and more about the fact that a boy doesn't want his parents to split up.
He asks who the woman is and is shocked and incredulous to hear it's Mi-ryeong.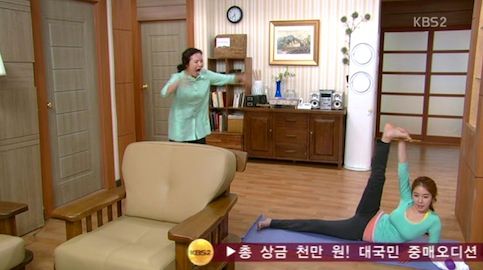 Yoo-shin and Chan-woo wake up in the tackiest newlywed bedroom ever. Bright pink bedding, hearts and cute pictures everywhere. Blech.
When Gil-ja comes out, she's expecting Yoo-shin to still be asleep, instead she is shocked to find her in a yoga pose. She changes poses to a more risque one and embarrasses Gil-ja and Bok-man. Gil-ja is even more surprised to find Yoo-shin has made breakfast and it's edible. She doubts this good behavior will last very long.
She's still grumpy at the restaurant and makes Jung-ae call her by name instead of the formal title for in-law. Gil-ja wonders when Jung-ae taught Yoo-shin house work and Jung-ae says that Yoo-shin never learned. In fact, she's worrying for Yoo-shin because of it. Before Gil-ja can chase the new scent she's caught onto, Bok-man comes in singing Yoo-shin's praises.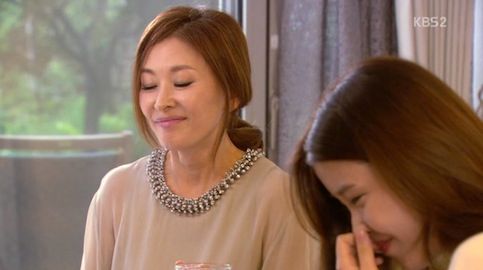 Mi-ryeong has made breakfast and Soon-shin and Hwang come in, surprised to find she's cooked. She decides to make breakfast from now on. It's not tasty, but Soon-shin lies and says that it is. Then Mi-ryeong tastes it and makes a face. Hehe. She says that if Soon-shin likes it, then it's good. They all laugh. Aw, the first laugh since Soon-shin moved in!
At the company, Soon-shin runs into Joon-ho who was looking for her. She asks about his parents and he lies through his teeth that they're fine. He asks about Mi-ryeong and confuses Soon-shin who has no idea about the love triangle.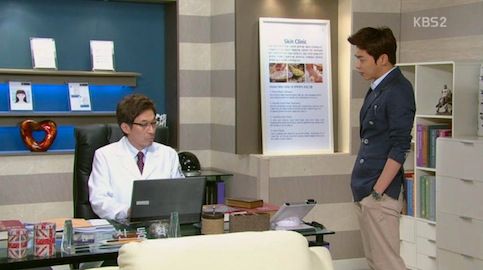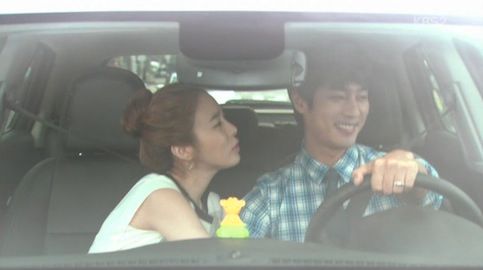 So Joon-ho goes to the source and asks point blank: What relationship do you have with Mi-ryeong? Dong-hyuk denies it and says Soo-jung is being sensitive. Joon-ho double checks and assures his father he trusts him. He wants him to come home and pacify Soo-jung who wants a divorce. Dong-hyuk is fine with that - he tells Joon-ho to thank her for suggesting it.
Guh. Immature.
Adorably devoted husband picks Yoo-shin up from work. They act all cute and she asks him to drop her off. She buys all the banchan that she served up that morning! HA!
Gil-ja finds a bag under the sink and figures out that Yoo-shin didn't cook. Just then, Yoo-shin comes home with a bag from the same place. Gil-ja confronts her about buying instead of making the banchan. Yoo-shin admits it readily. She doesn't know how to cook and it's easier for a working wife to buy than cook. She promises to make Gil-ja's life easier and even tries to feed her a taste. Hehehehe. Gil-ja: foiled again!
The Ex gets caught hovering by Jung-ae and he gets presented to Granny. Woo-joo glows, but Granny hates that he's there. He offers expensive gifts, but they don't want them. The Ex tries to say that it's all a misunderstanding and he didn't want to divorce. He broke up with the other woman because she was a bad woman. Uh...and dating another woman is not a reason for divorce because...???
Woo-joo invites him to eat dinner with them and the Ex rides on his daughter's affections to stay longer.
Hye-shin notices that sexy baker Jin-wook wears the shirt she got him a lot. He says he washes and wears it every day. Awwwwww. Then she spies a bit of dough on his shirt and takes it off for him, making him all hot and bothered by the minimal contact. His stuttering is adorable. What is he gonna do when they kiss? Pass out, probably.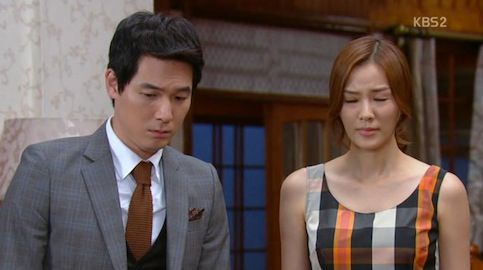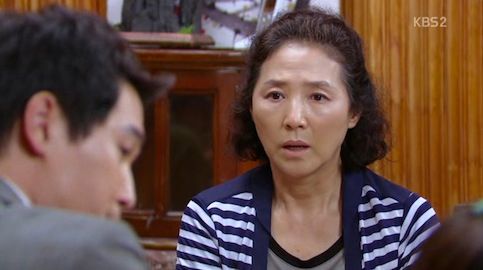 The Ex weaseled his way into dinner and is somehow not keeling over from Granny and Jung-ae's death glares. He mentions taking Woo-joo and Hye-shin back to Hong Kong to start over. Hye-shin comes in just after the proposal and is livid to see him. She drags him up and orders him to leave. Granny tells Hye-shin to calm down during dinner and Jung-ae tells the Ex to finish his food. BUT HE POUTS LIKE A CHILD and says he'll get a stomach ache if he finishes now.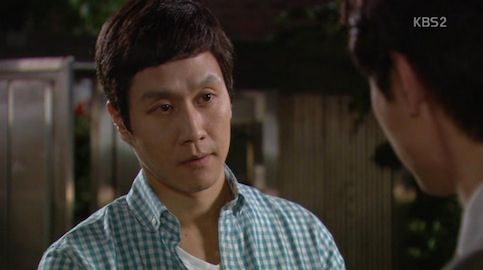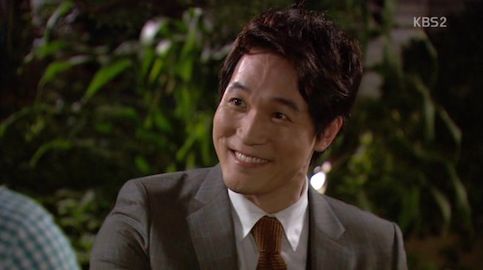 So he heads out with Hye-shin behind him to keep him from dawdling. They bump into Jin-wook and the Ex decides to have a dick-waving contest. He insults where Jin-wook lives and wants to exchange cards. When Jin-wook reluctantly shakes his hand, the Ex squeezes it ridiculously tight, but Jin-wook doesn't take the bait. If he did, the Ex would be TOAST!
Once outside the gate, the Ex realizes that the shirt Jin-wook is wearing was the same one he saw with Hye-shin the day he duped her into having coffee.
Hye-shin and Jung-ae talk. Jung-ae is disgusted by his immaturity and pities what Hye-shin went through. Then Granny comes in and scolds Hye-shin for kicking him out because he's Woo-joo's father.
Okay, I get fatherhood is important, but all the Ex ever did was knock-up Hye-shin, then buy Woo-joo presents. He isn't a real father.
Granny wants Hye-shin to reconsider her Ex for Woo-jojo's sake and insists she understands how Hye-shin feels. If you understood, you wouldn't suggest getting back together with a cheater, Granny. Hye-shin refuses to get back together with him.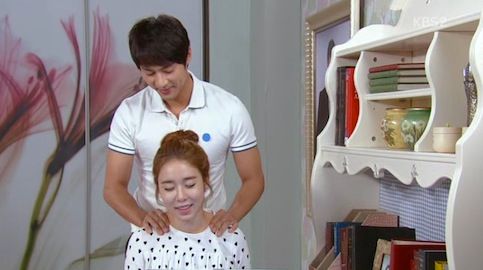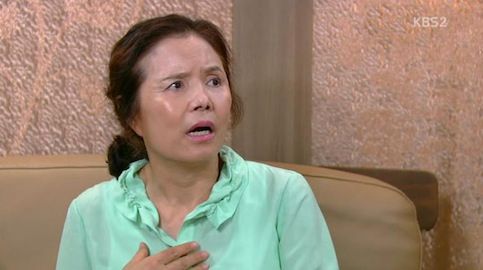 Yoo-shin is working and Chan-woo rubs her shoulders for her. Gil-ja comes in with laundry and has a fit when she sees them being affectionate. So petty. You should be happy he's happy! Chan-woo goes out to make Yoo-shin tea while she works and Gil-ja gets even more frustrated. Bok-man just laughs at her. Heh.