by: Raine

---
I like that there are no secrets between Joon-ho and Soon-shin. I hope it stays that way as the tension ramps up. I also want to see Yeon-ah stop being pathetic. But I'll settle for cute.
AGB Nielsen Nationwide had this episode coming in at 27.1%.
"Lee Soon-sin is the Best" is directed Yoon Seong-sik by and written by Jeong Yoo-kyeong and features IU, Jo Jung-suk, Go Doo-shim and Lee Mi-sook.
Episode 42 recap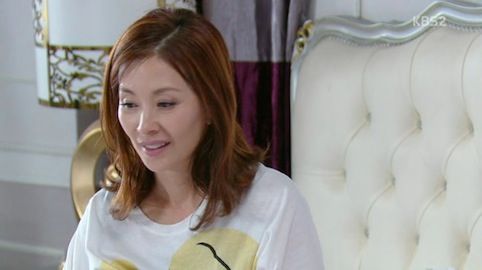 A drunken Mi-ryeong talks to psychotic Yeon-ah as though she's Soon-shin. She sobs and swears that Chang-hoon didn't die because of her. Yeon-ah takes in this information with an evil glint in her eye, then she hauls Mi-ryeong home. Hwang and Soon-shin help carry her upstairs while Yeon-ah watches.
The next morning, Mi-ryeong wakes up to a worried Soon-shin who looks like she kept a vigil. Aw. Soon-shin asks after her health and asks her downstairs to eat juk, a food they both love. After an awkward moment, she decides to bring it up to Mi-ryeong instead. The older woman enjoys it and looks at the pin. Then she remembers the nosy Reporter Park - he could completely destroy the tentative relationship they just started to build.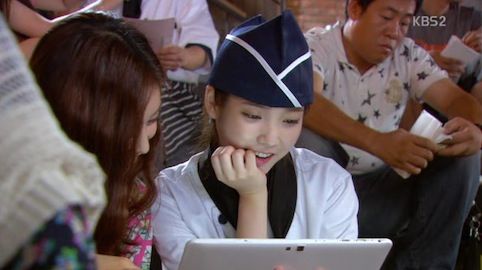 Chan-mi shows Soon-shin a positive article that came out with good comments from netizens. Soon-shin reads it with disbelief and her good mood gets SQUASHED by insincere congratulations from Yeon-ah. Lucky for her, she has to go film. Unluckily for Chan-mi, she gets questioned by Yeon-ah about Soon-shin's father. Chan-mi lets it slip that he died in a car accident, but then she tells Yeon-ah never to ask her questions about Soon-shin's privacy because she's not sincere. The pensive look on her face let's me know that Yeon-ah ain't planning to do anything nice with the information she's gathering. In fact, she decides to have her manager dig up even more dirt on Chang-hoon's car accident.
Mi-ryeong asks Hwang to silence Reporter Park who could put a total stop to the happiness she's been enjoying with her daughter.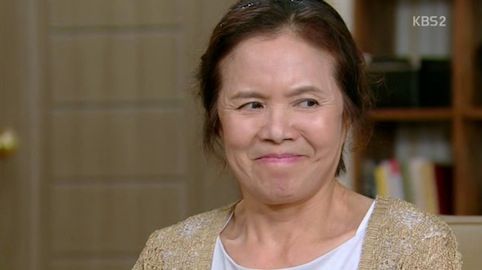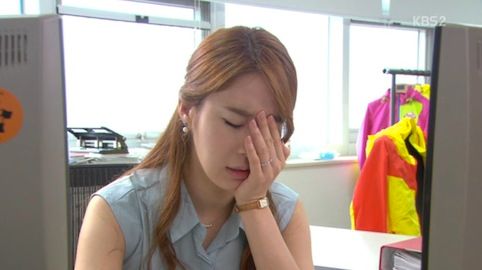 Gil-ja makes breakfast because she doesn't want to see Yoo-shin wasting money on banchan. Her husband comments that the purchased banchan was more delicious...heh! The newlyweds come to greet them and then leave early, making Gil-ja sputter with jealousy.
Gil-ja, you're married to your husband. Not your son. Let him go already!
Then she heads into the newlyweds' room and finds that it's a mess and complains about all the cleaning. Um, why do you have to clean their room? Apparently, she comes to the same conclusion and decides to strip the bed and make Yoo-shin do it. She lies that her back hurts and gets Yoo-shin to come home early to help, grinning evilly all the while.
Bok-man comes home to Dalshabet's "Supa Dupa Diva" blasting from the bathroom and Yoo-shin dancing on the laundry. She convinces him that dancing on laundry is fun and good exercise and invites him to try it. Soon, they're both dancing and laughing. It's cute, even though she's devious.
This is what Chan-woo comes home to: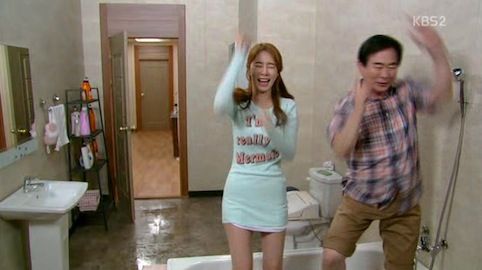 He is invited to join in and Bok-man is all for it. By the time Gil-ja comes home, Chan-woo and Bok-man are dancing on the laundry. Chan-woo asks his mom to take the laundry to a laundrymat next time so Yoo-shin can work. HA! Bok-man wants to do it because it's fun and good for dieting. HA!
Gil-ja checks in on Yoo-shin who is asleep and snoring on her work. Heh.
After filming, Chan-mi and In-sung want to go for beer, but Joon-ho shows up to make eyes and Soon-shin. In-sung doesn't notice that the new lovebirds want some alone time and invites them out. Joon-ho leans in and tells him to get lost. HAHAHA! Then Joon-ho hauls Soon-shin off on a date.
He takes her for food and she chooses to eat sundae instead of some fancy food. She silences him by shoving food in his mouth. It's so cute.
And THEN!...a cute young guy comes up and says he loves her drama and that she's prettier in person. He asks her for her autograph leaving her utterly flabbergasted.
Check it. She's so cute: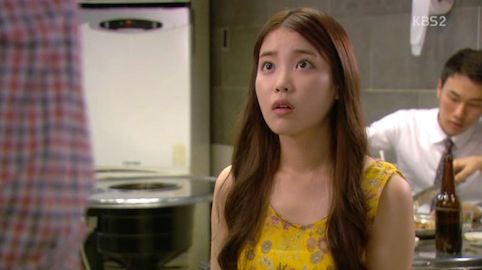 Joon-ho is enjoying her shock and has to tell her to sign her autograph - she does it in the most adorable plain script. When her first fan leaves, she marvels at her very first autograph. Joon-ho congratulates her and enjoys her adorableness. Then he advises her to wear a hat and sunglasses because people are now staring at her. He don't want no one checking out his woman! RAWR!
And then....a couple of girls come over to ask for her autograph and Soon-shin can't stop smiling, which means Joon-ho can't stop smiling, which means they're still smiling in the car. ACK! CUTE! She wants to make a new autograph and starts planning for signing events and regretting how she signed her name before. She teases him about being jealous of her popularity and warns him to get her autograph now before the line gets too long. So he does the cheeky boyfriend thing and points to his cheek and says: sign here. He leans towards her and closes his eyes.
She grabs his face in his hands and plants one on his lips, leaving them both happy, speechless and very, very awkward. KYAAAAA!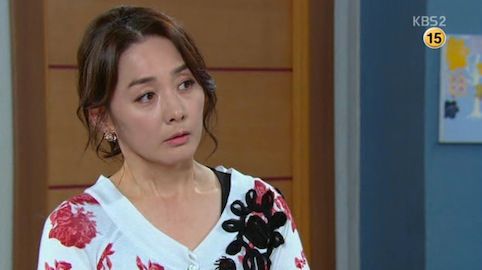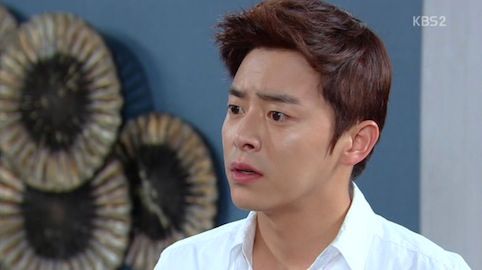 Next scene is party-pooper Soo-jung mommy with a jealousy complex. She asks if Joon-ho was out on a date with Soon-shin. He freely admits it and says he won't break up because of Dong-hyuk. Besides, Joon-ho defends, father isn't cheating. He asks Soo-jung to understand Dong-hyuk because he seems lonely lately.
Honestly, that's probably a good idea although suggesting that he's not cheating is probably not the best way to go. The two are lonely because they don't' communicate.
Soo-jung points out that Dong-hyuk still hasn't come home and he cheated on her with her friend. She feels backstabbed by the both of them and by Joon-ho. She tells him that going out with Soon-shin is looking down on her. She bets Soon-shin flirted with him like Mi-ryeong did Dong-hyuk.
Guh, seriously????
He admits he liked Soon-shin first, a one-sided love, shocking his mother. He offers to talk to Dong-hyuk, but she wants to divorce.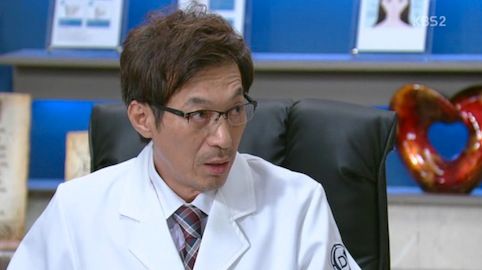 At the hospital, Dong-hyuk is looking at the advert that Mi-ryeong and Soon-shin shot and smiling like a lovesick fool. Joon-ho asks him what the hell is wrong and Dong-hyuk compares his time out of the house to the time when Joon-ho ran away. He just needed to get away. Joon-ho points out he's the head of family and that Soo-jung only has him and only wants his love. Dong-hyuk says he needs time for him, not away from Soo-jung. Joon-ho wonders if he can trust his father. Just the question itself means that you DON'T trust your father, baby boy.
Joon-ho admits to dating Mi-ryeong's daughter and Dong-hyuk gapes...not a good sign.