by: Raine

---
Secrets are coming to a head and there will be some definite fallout soon. This is good because our couples are stagnating (although Joon-ho and Soon-shin are adorable.)
AGB Nielsen Nationwide had this episode coming in at 22.9%.
"Lee Soon-sin is the Best" is directed Yoon Seong-sik by and written by Jeong Yoo-kyeong and features IU, Jo Jung-suk, Go Doo-shim and Lee Mi-sook.
Episode 43 recap
Yeon-ah pretends that she's not going to threaten Mi-ryeong; she disguises her threat as a plea. She begs Mi-ryeong to break Joon-ho and Soon-shin up. In return, she won't tell the world about Mi-ryeong's role in Chang-hoon's accidental death.
We go from Yeon-ah's annoying face to utter cuteness: Joon-hon won't let go of Soon-shin's hand. She asks him to release her hand, but he reminds her of her promise to never run away. She points that people are staring and might take pictures. He teases that it's because he's so handsome. TRUE DAT!
Then his mother calls, guh, and he cuts off the call. He lies to Soon-shin that it was an employee and proceeds onto more cuteness.
Mi-ryeong is reliving the night when Chang-hoon died and is so shaky that she takes out a bottle of pills to calm herself. She really is a self-medicator. Luckily, Soon-shin comes home and takes the sedatives from her. She asks her to stop taking them and invites her downstairs to eat to relieve her stress.
But Mi-ryeong is too preoccupied to eat and she outright asks if Soon-shin is dating Joon-ho. She admits it hasn't been for long. Hwang congratulates her because he knew Joon-ho couldn't be dating Yeon-ah. He wonders who spread the rumor. Mi-ryeong worries about what will happen if people find out; a star's life isn't her life. She has to focus on her image. Soon-shin understands and promises to be careful.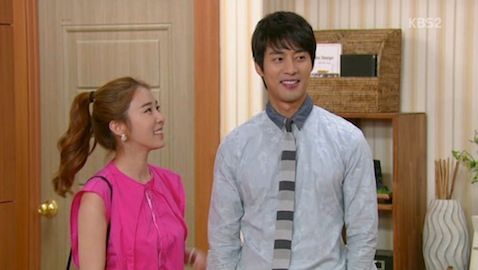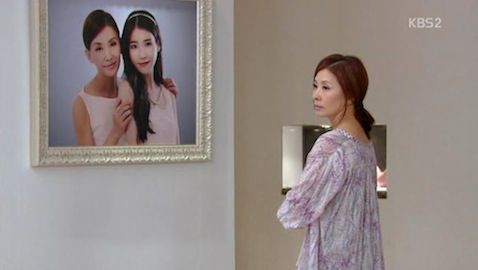 Chan-woo and Yoo-shin come out to go to work. Gil-ja reminds her that tonight is kimchi making night and Yoo-shin adorably promises to be there. Which totally means that she WON'T.
I am proved right at work when a work problem comes up that she has to take care of.
Mi-ryeong struggles over what to do about Yeon-ah. Hwang brings juk that Soon-shin made for Mi-ryeong and Mi-ryeong finally admits Soon-shin was raised right. He is happy they are getting closer and advises her to start being a good mother to her daughter.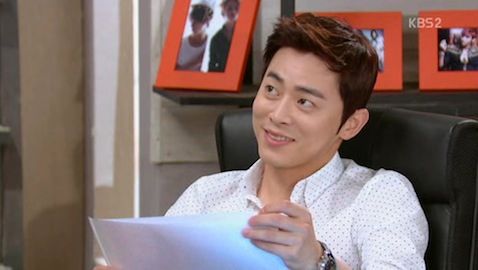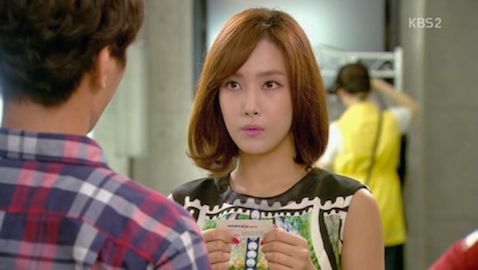 In-sung reports that Soon-shin's role in the drama is getting bigger. Also, she got a movie offer. He advises that Joon-ho make his relationship with Yeon-ah clear: there is no relationship; then make his relationship with Soon-shin clear or else it will be bad for her.
Hoity toity actress points out that Soon-shin's getting more lines and pities Yeon-ah. She points out that Yeon-ah isn't as close to Mi-ryeong anymore. Nice, lady. That's nice. I don't like Yeon-ah, and I thought that was mean. Then she brings up Joon-ho dating Soon-shin and Yeon-ah goes out to avoid it. She runs into the annoying Reporter Park and they go for a chat. He asks her about being Mi-ryeong's daughter and not being as close as before. He wants to know everything about Mi-ryeong, especially about an accident.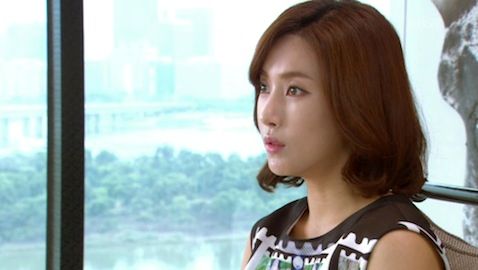 Next thing we know, Mi-ryeong sees Yeon-ah walking out with the reporter and they go for a chat. Why must everyone always relocate to the most random places for a chat? They seem to be in a restaurant, but isn't Yeon-ah...filming?
Anywho, Mi-ryeong asks Yeon-ah why she's threatening her. Yeon-ah denies it and says she should understand her if she ever thought of her as a daughter. Guh. Mi-ryeong wonders if Joon-ho would return to Yeon-ah who is in complete denial. Mi-ryeong wonders when she became so spiteful and Yeon-ah says that she's always been that way, just like Mi-ryeong. I see gears turning in the older woman's head. Does she finally get how horribly she acts?
She tells Yeon-ah to do what she wants because she won't be afraid. She regrets not noticing how horrible Yeon-ah is.
YES! That's the best thing she's done thus far! Now she needs to take care of it before Yeon-ah does, but that was the best thing she's done thus far. YAY!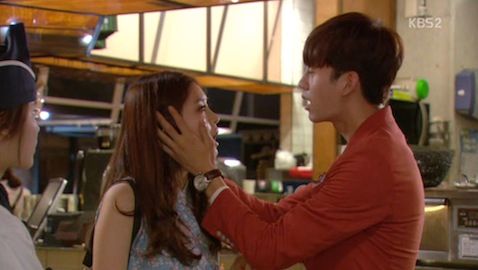 As the cast and crew leave the restaurant, Young-hoon overhears the two gossipers talking about Soon-shin stealing Joon-ho from Yeon-ah. Young-hoon stops the gossiping and kicks them out. D'aw. You rock. Soon-shin tells him he didn't have to do that and that she'll take it as a penalty for her popularity. Then he mentions that he heard about her relationship with Joon-ho and promises to be there for her if Joon-ho is mean. Aw.
Boyfriendless Chan-mi teases her for smiling too much around a single person and In-sung steps in to say there are plenty of men available. He might be near her. Then he takes her face in his hands to make her look at him. Hehe. They are cute.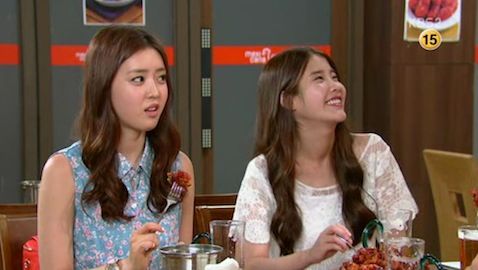 They all go for beer at the chicken place and Bok-man fusses over Soon-shin (while B2st's "Shadow" plays in the background!!!! Because I'm shadow! Shadow! Shadow! We'll miss you on Inkigayo IU! Sorry, didn't mean to mention SBS during a KBS2 recap!) So In-sung tries to score points with Chan-mi's dad by having him sit and calling him "abeonim" much to Chan-mi's chagrin. He also sits Jung-ae down who asks about filming. Before they can talk long, Joon-ho calls and she goes outside to answer it. Chan-mi mutters something about her dating but stops herself, leaving Jung-ae curious.