by: Raine

---
There was ridiculously juicy character development in this episode. Probably one of the best episodes in, like, 30 episodes. I approve. *stamp*
AGB Nielsen Nationwide had this episode coming in at 26.0%.
"Lee Soon-sin is the Best" is directed Yoon Seong-sik by and written by Jeong Yoo-kyeong and features IU, Jo Jung-suk, Go Doo-shim and Lee Mi-sook.
Episode 44 recap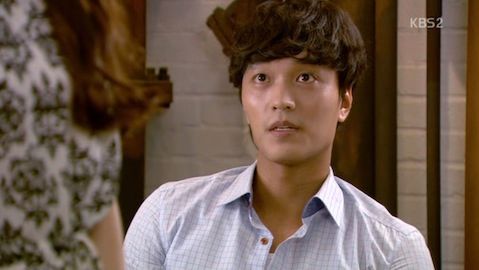 Reporter Park tries to get Soon-shin to talk crap about her mother by saying that Mi-ryeong is a shady person with a shady past. But that doesn't open Soon-shin up; it just pisses her off. She shuts down and glares at Park. IU is just one big ball of impressive in this scene. Park says someone witnessed her father with Mi-ryeong on the night that he died. Soon-shin's face falls and she immediately says her father was on his way to see her. Park tries to interject but she refuses to let him insult her father that way. GO SOON-SHIN! On her way out he asks if Chang-hoon is her biological father and she says that he is.
But she is uneasy and when she runs into Hwang at home, she asks him if he knows Reporter Park. Hwang quickly says Park is out to get Mi-ryeong and warns Soon-shin not to meet him again. She agrees.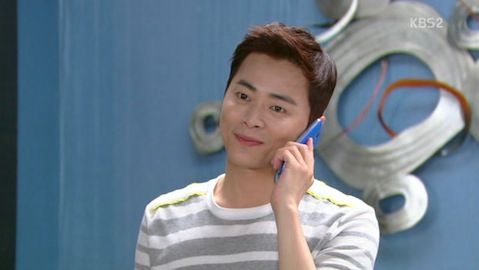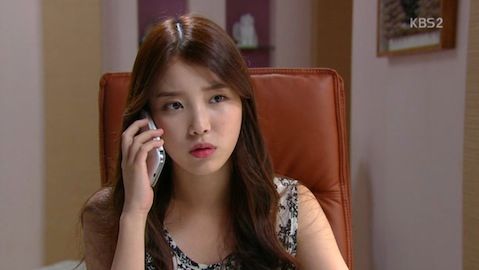 Joon-ho broods over what Yeon-ah told him: Chang-hoon died saving Mi-ryeong and she left him at the scene. No one knows about it. Yeon-ah threatens to turn Soon-shin into a Misfortunate Cinderella. She suggests he confirm with REporter Park if he doesn't believe her.
Soon-shin calls because she's worried about Joon-ho's mother. He re-directs to her, asking if she's okay, but she is ignorant and happy. She's been paid and wants to treat him.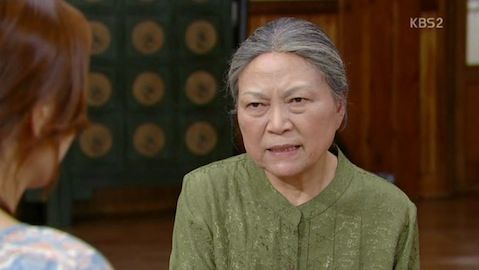 Granny asks Hye-shin about her relationship with Jin-wook because of the Ex's nasty gossip. Hye-shin denies it and Jung-ae is relieved. Then Granny brings up his record and Hye-shin is disgusted by her ex. She defends Jin-wook. He got into a fight as a kid and is a good guy now. But that shows her more-than-passing interest, which worries the elders. Granny is disappointed in him and warns Hye-shin not to be nice to him and start rumors.
Joon-ho meets with Reporter Park about Soon-shin. He wants to know what Park is writing about and Park is all smirky. He wants to know why Chang-hoon and Mi-ryeong met and if it was just coincidence that Chang-hoon died just after they left. Park plans to keep investigating and wants Joon-ho's help. Grr. Jerk.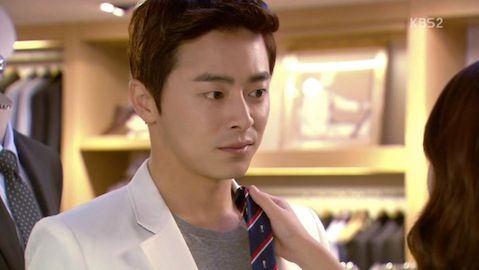 Joon-ho waits for Soon-shin and is all broody. I don't like him broody. Smile! Soon-shin grants my wish by scaring him into smiling and they head off to spend her first paycheck on gifts for her family.
At the mall, Soon-shin chooses a tie that would look good on her dad. Joon-ho thinks it's for him, but she's considering it for her late father's birthday. Joon-ho's face drops. Poor guy. He must be so burdened. Soon-shin wishes her father could see his youngest daughter finally making money.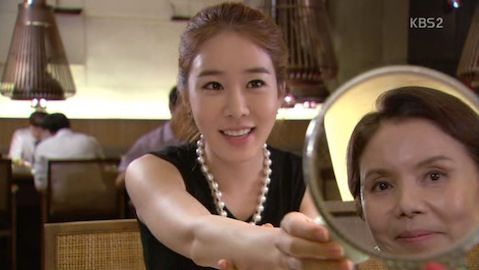 Yoo-shin worries about coming home drunk the night before and angering Gil-ja. So she decides to have mother-in-law/daughter-in-law bonding time. She takes her shopping, for a makeover and some delicious food. Gil-ja is adamantly opposed, but Yoo-shin's enthusiasm gradually wins her over. That, and Yoo-shin acknowledges that Gil-ja has worked hard in her life, which is a sore point for the old coot.
Gil-ja is really happy with her makeover and is really receptive to Yoo-shin during dinner. Yoo-shin feeds her and smiles and is really flippin' cute. Finally, Yoo-shin admits she knows she's not a good daughter-in-law and she'll try harder. Gil-ja fights her words, but is secretly pleased. Yoo-shin piles on the flattery and says Chan-woo gets his good looks from Gil-ja.
Cut from nice dinner to:
Yoo-shin and Gil-ja stumble in singing like a pair of drunken fools. Gil-ja comments on the messy house and that's why she has rough hands. Yoo-shin scolds the boys for making things hard on her. The boys stare at the unlikely pair. Yoo-shin orders them to apologize, but Gil-ja just wants to drink more. Hehehe. Love it.
Soon-shin gives Hwang and Mi-ryeong gifts with her first paycheck. I really love how Hwang is getting into the family thing, too. Don't think I forgot his jerkiness though! Mi-ryeong gets a scarf for her delicate throat. She is touched and Soon-shin helps her to put it on.
Then Soon-shin tells Mi-ryeong she's going to Jung-ae's house and it's a nice moment, when both women are awkward about it, but they accept that Soon-shin has that other family that means a lot to her. Finally.
The family gets their gifts and everyone is really happy that she spent her money on them. And in Jung-ae's room, Soon-shin gives Jung-ae allowance. Aw! She's always wanted to do that. Jung-ae asks about the boyfriend and gives her approval. The topic jumps from Joon-ho to Mi-ryeong. Soon-shin says she pities her because of all the hardship she's suffered. She takes pills to sleep and suffers gossip. To change the mood, Soon-shin decides to give Jung-ae skin care.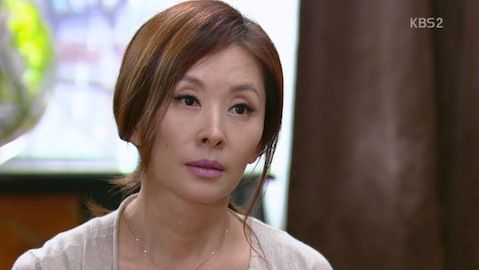 A very sober-looking Joon-ho visits Mi-ryeong who is still happy over her scarf. But Joon-ho jumps in and asks about the accident. Mi-ryeong brings out her hated attitude: So what if it's true? Whatcha gonna do about it? Joon-ho is baffled and asks how she could take Soon-shin from her family after that. Doesn't she feel burdened being that spiteful? Mi-ryeong only asks if Yeon-ah asked him to break-up and Joon-ho swears he won't. He says she'll have to fix her mistake on her own and leaves.