by: Raine

---
As Joon-ho ventures into the land of noble idiocy, Mi-ryeong reverts back into her narcissistic self. The annoying amps up as the family drama gears for its close in two weeks. At least the baker gives us something worth watching.
AGB Nielson Nationwide had this episode coming in at 23.7%.
"Lee Soon-sin is the Best" is directed Yoon Seong-sik by and written by Jeong Yoo-kyeong and features IU, Jo Jung-suk, Go Doo-shim and Lee Mi-sook.
Episode 45 recap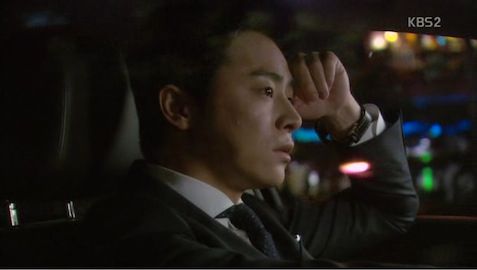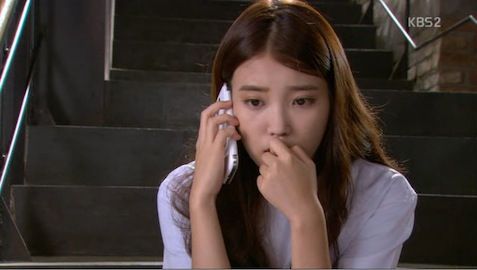 Joon-ho is lame and breaks up with Soon-shin who demands to know why. She grabs his hand in both of hers and tells him that she doesn't want to - they promised to stick together. With tears in his voice, he apologizes for breaking his promise and pulls away, leaving her to go home alone and dejected.
Not cool Joon-ho. You get -10 cool points. No, -20. Not even your tears while you drive home in your car can regain you your cool points.
Soon-shin is depressed on set the next day and won't talk to Chan-mi. She and In-sung gossip about what happened between them. In-sung was put in charge of her entire schedule.
Joon-ho ignores Soon-shin's calls and goes to drink his woes away...with Yeon-ah. MINUS TEN MORE POINTS! You are at -30 right now. He asks Yeon-ah if she's happy that he broke up with Soon-shin. She has enough of a conscience to look guilty. He asks her to stop making trouble for Soon-shin and forget everything she's heard. And then he has a request for Yeon-ah to love herself more without him as she used to.
Barf. He's right and he's the most effective person to say it, but still, barf. That, and it's totally out of character for him right now. Whatever, two more weeks and we're DONE.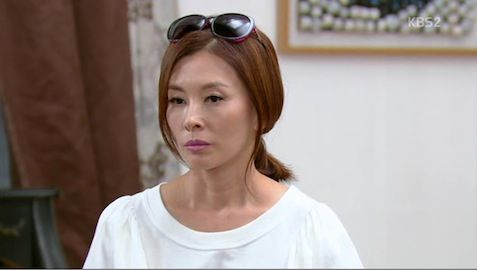 Soon-shin keeps calling Joon-ho who ignores her. Mi-ryeong finds her moping in the living room and is anxious to find her teary. She falls silent when Soon-shin tells her what's wrong. However, Hwang gets angry like a protective father and it's actually kinda cute.
Mi-ryeong looks less cute when she sits down to talk with Hwang alone. She's glad they broke up and says nothing good will come of it. She has that face on, you know the one where she thinks she's always right. However, this time it's a bit harder for her to keep up that facade. I hope she cracks.
Granny worries about being too hard on Jin-wook who she actually likes a lot. Jung-ae feels the same. Granny decides to go see him the next day.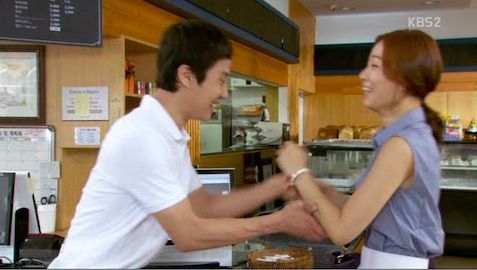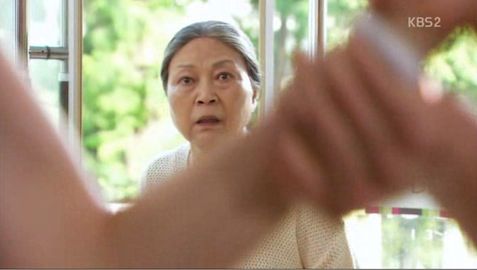 Jin-wook is in a great mood after receiving Hye-shin's confession. Then she comes in and they smile giddily at one another and make idle chatter. He tries to get her to sit for coffee, but she won't. It's just basically an excuse for them to get handsy and for the writer to have Granny see them flirting. She gets mad at Jin-wook and agrees with the Ex. Hye-shin tries to defend Jin-wook, but Granny won't listen. Jin-wook apologizes and begs for a chance. He knows Hye-shin is too good for him. He promises to try hard. Granny refuses and says Hye-shin will get back together with Ex and forbids Hye-shin from coming back to the bakery.
They need to get together. We don't have many episodes left.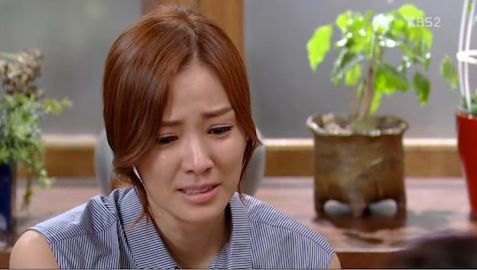 Granny sits Hye-shin down for a scolding, but Hye-shin is firm. She decided to date while thinking of Woo-joo. She doesn't plan to get back together with her ex, which pisses off Granny. What would her father say? Granny wonders. Hye-shin admits that Chang-hoon knew about her divorce and was patiently waiting for her to tell him why. She regrets being afraid to live how she wanted to live. But Jin-wook makes her feel free. He's a good man with a good heart who makes her feel more comfortable than anyone. She just wants permission to date him.
Of course, Woo-joo has heard everything and is heartbroken. Hye-shin had said she didn't like Jin-wook. Woo-joo tells her to live with him and she'll live with her father. She storms out leaving Hye-shin to cry alone in their room.
Jung-ae tells Hye-shin that the Ex will watch Woo-joo, which is good because they haven't seen each other for a while. She also doesn't want her to date Jin-wook and she really needs to consider Woo-joo. Then she says what she should've said to Soon-shin in the first place when the whole acting debacle came up: whatever you choose, I'm behind you 100%.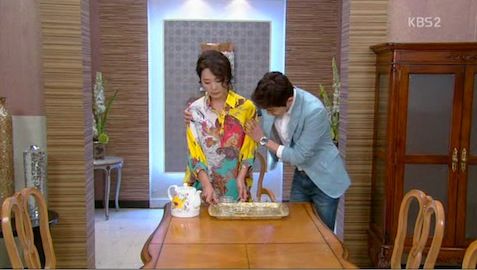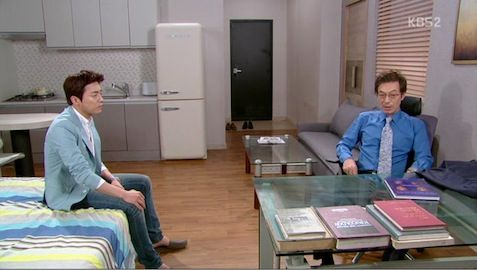 Joon-ho finds his father who is surprised to see him. He asks his father to stop being a child and come home. Then he asks why Dong-hyuk liked Mi-ryeong. He sidesteps the question and says he won't block Joon-ho's love life. He just needed time alone to think. Mi-ryeong has a lot in common with her; it's like looking in a mirror. He assures Joon-ho he'll go home soon.
Now it's time to work on mom who is still pissed at him. She thinks he's trying to change her mind, but he tells her he broke up with Soon-shin. Yi-jung is happy about it, but Soo-jung seems more surprised than anything. He asks his mother to go see his father; they're both lonely and will regret all of this later.
How about suggesting they, y'know, talk?