by: Raine

---
Soon-shin has a lot to say when she learns the truth and I'm glad she gives Mi-ryeong a really hard verbal punch in the gut. Jin-wook continues to be my favorite character - he is total husband and father material.
AGB Nielsen Nationwide had this episode coming in at 26.6%.
"Lee Soon-sin is the Best" is directed Yoon Seong-sik by and written by Jeong Yoo-kyeong and features IU, Jo Jung-suk, Go Doo-shim and Lee Mi-sook.
Episode 46 recap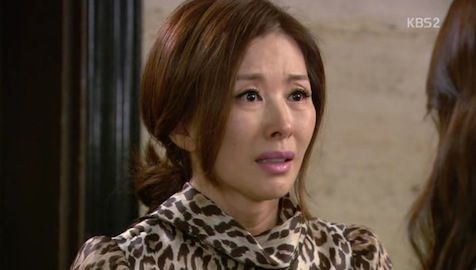 Soon-shin bolts after overhearing the truth and a desperate Mi-ryeong chases her. Soon-shin mumbles an excuse about why she's there and slowly stumbles through her emotions: denial, shock, disbelief. She finally asks if it's true and Mi-ryeong admits it. She says she got scared and ran. Soon-shin still has trouble believing it and runs again. Mi-ryeong chases her, loses and acts all weak so that Hwang has to support her to the car. It's really pathetic. She knew this would happen.
Soon-shin wanders while she tries to absorb the news. She has no one to call and talk to. Joon-ho would be useful right now, but he was a noble idiot a few episodes back and broke up with her. He keeps waffling and wants to go back to her, but he stays firm in his idiocy.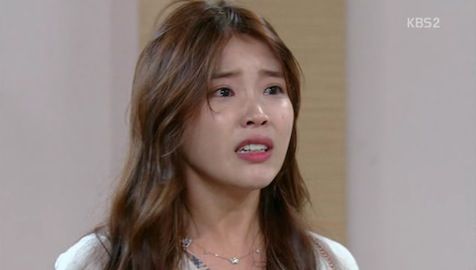 Mi-ryeong mopes at home and has a pity party, thinking it's all over. Soon-shin walks in and Mi-ryeong immediately attacks her, happy to see her. Soon-shin won't let Mi-ryeong touch her and storms upstairs.
Upstairs, Soon-shin furiously knocks things from her desk and dresser. Mi-ryeong tries to stop her, but Soon-shin turns from physical outbursts to verbal: how could a person do that and Act so shamelessly? You had so many opportunities to tell me the truth. Mi-ryeong tearfully apologizes. It doesn't go over well. The lie hurt too many people. Soon-shin's father meant everything to her. Mi-ryeong kneels and apologizes and admits to being greedy, but Soon-shin kicks her out.
This may be the emotional blow Mi-ryeong needs in order to become human. I don't pity her at all.
Hwang checks in on mopey Mi-ryeong who has no idea what to do now.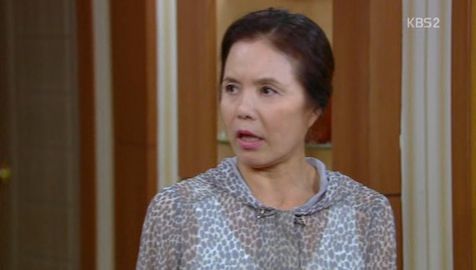 Chan-woo and Yoo-shin leave for work and Gil-ja is awkward as she says her greetings. I love it. She gets cranky at Bok-man who loves having Soon-shin around. She says that she is charming and Bok-man tells her she never way. Ha! They fuss and Gil-ja refuses to do Yoo-shin's laundry (that Yoo-shin didn't ask her to do). She decides to go on a trip for a few days and he laughs at her because she won't be able to book the plane ticket. Gil-ja takes the challenge and off she goes.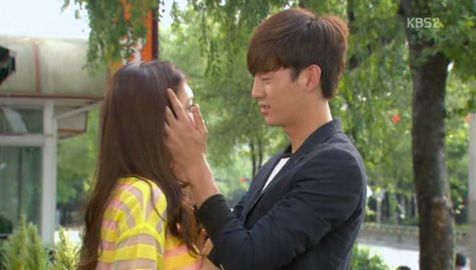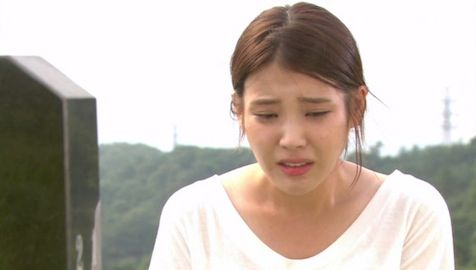 Chan-mi can't get ahold of Soon-shin and In-sung takes a moment to flirt with her before he hears about Soon-shin's AWOL status. Soon-shin is at her father's grave to apologize and pour out her grief.
Granny couldn't sleep the night before because of a nightmare involving Chang-hoon. She thinks it's because she didn't visit the grave and that he's worried for his kids. Hye-shin tries to reassure her but Granny snaps that she is very disappointed in her. Later, Jung-ae warns Hye-shin to be careful dating Jin-wook because of Woo-joo. Even if he's a bad father, the Ex is still her dad and it's hard on Woo-joo.
So true. It's why the dating should NOT be done in secret. I really hope they don't do that.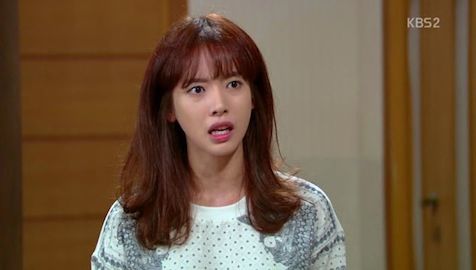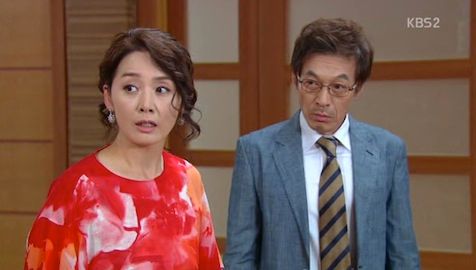 Dong-hyuk worries about Soo-jung and tries to call her. Wait, where did that come from? He remembers Yi-jung crying that he never gives them any time. I guess the situation with Mi-ryeong and Soon-shin got to him. He heads home and Soo-jung is secretly pleased to see him, but she acts all prickly. She tries to shove him out and he pouts that he came to get some clothes. They fuss more and then Yi-jung comes down to tell them to grow up. They've both been waiting for each other and should just apologize.
Yi-jung the immature is scolding her parents. There is something wrong with this scene.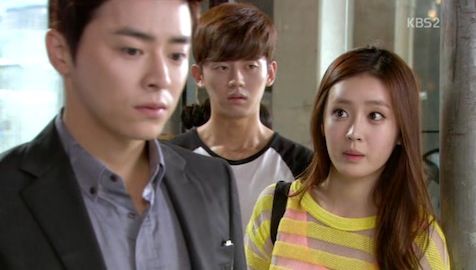 Soon-shin is missing from set and In-sung and Chan-mi are freaking out. They lie that she's really sick. Yeon-ah overhears everything and I can't tell if she feels bad or if she's constipated.
In-sung reports to Joon-ho about Soon-shin's disappearance. We cut two the two gossip-y employees talking about Soon-shin. They say that she didn't show up because she got dumped for meddling in Joon-ho and Yeon-ah's relationship. Joon-ho overhears it and cannot stand to hear them badmouth Soon-shin any longer. He addresses them and tells them there is no relationship between him and Yeon-ah. They don't believe him, so he loudly calls to Yeon-ah across the room and in front of everyone asks her to explain that they aren't in a relationship. He raises his voice more, angry and fed up. He wants her to explain that it's a ridiculous rumor.
How long did it take for him to do that? He should've just done that in the first place. Then he goes searching for Soon-shin who won't pick up her phone. He leaves her a message after some hesitation.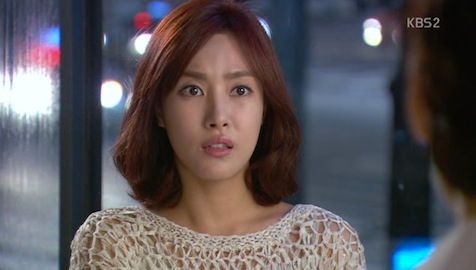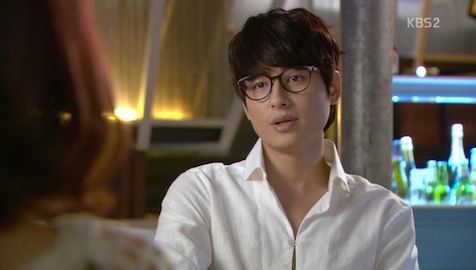 Yeon-ah sits in Young-hoon's restaurant and wallowing in her own patheticness. She thought she'd succeeded because she had a good job and money, but she realizes that she's PATHETIC Young-hoon calls her out on sabotaging Joon-ho and Soon-shin. Yeon-ah says it was Joon-ho's choice. She demands to know how Young-hoon doesn't have any greed in him. She just wanted to have what she wanted to have. What's wrong with that?
You and Mi-ryeong deserve each other. Go run away together. Leave Soon-shin alone.
Young-hoon asks if she's happy now. Dating Joon-ho now would be nothing. She admits she knows that now. Only took you 46 episodes...
Hwang comes back without Soon-shin, but Mi-ryeong doesn't have to worry for long because Soon-shin comes in and heads upstairs to pack. Mi-ryeong goes after her and asks her not to go with a flimsy apology. She promises to do anything Soon-shin asks so Soon-shin orders her to apologize to and beg forgiveness from her family. She should also find the suspect who hit her father. She hear Dong-hyuk has a black box that could help. Mi-ryeong refuses in a blind, chickenshit panic. She says they are both going to be finished; their lives depend on secrecy. She doesn't want to lose everything and doesn't want Soon-shin to either.
Soon-shin scoffs and demands to know if all of that is worth more than her father and her family. Mi-ryeong says that they are. Soon-shin's face hardens and she won't let Mi-ryeong touch her - it disgusts her. She's also embarrassed and ashamed to be her daughter. She leaves and I want to cheer.