by: Raine

---
Warning: Heavy, heart-wrenching episode. Get the tissue box ready and prepare for high emotional stakes, hot tempers, and our main storylines starting to emerge from the texture.
AGB Nielsen Nationwide had this episode coming in at 22.3%.
"Lee Soon-sin is the Best" is directed Yoon Seong-sik by and written by Jeong Yoo-kyeong and features IU, Jo Jung-suk, Go Doo-shim and Lee Mi-sook.
Episode 5 recap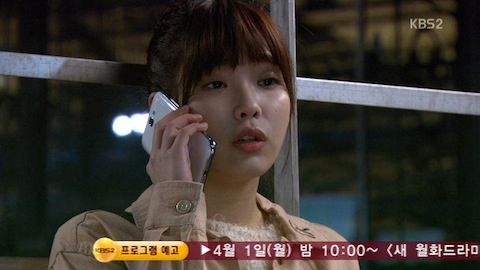 Chang-hoon has pushed Mi-ryeong out of the path of an oncoming car, which hits him instead. Mi-ryeong stares in abject horror and the car driver zooms away(!!!!). Hwang Il-do just happens to be walking by and runs to Mi-ryeong who is paralyzed with fear. He quickly assesses the situation and leads Mi-ryeong away from the scene. They hide behind some foliage and watch as another car finds Chang-hoon and calls 119.
Soon-shin is still waiting for her daddy to pick up the phone and she's starting to get annoyed. Ack, ack, stop tears. Stop!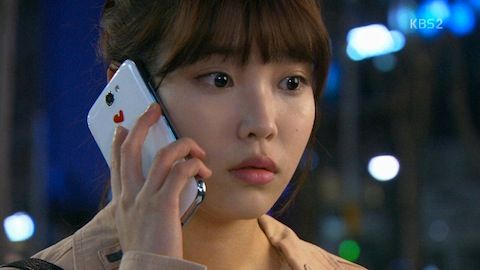 At home, Woo-joo and Hye-shin are doing homework while Jung-ae is ironing. They get the call that Chang-hoon was in a car accident, which Jung-ae has a hard time processes. She rises clumsily and burns herself with the iron. She asks Woo-joo to stay with Granny and Hye-shin to accompany her to the hospital.
Hye-shin calls Soon-shin and gives her the news and IU's face is absolutely heartbreaking. She runs to the hospital and meets Yoo-shin there.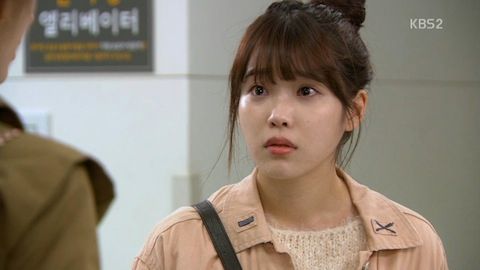 In front of the surgical door, Jung-ae and Hye-shin are talking to the police who say that there are currently no eyewitnesses. The police will review the CCTV and call them if they find anything. Yoo-shin and Soon-shin find them as Hye-shin asks why her father was in the area anyway. Soon-shin realizes that it was because of her; he was going to meet her.
Oh no. You're going to take the blame for this, aren't you? NO!!!
Yoo-shin blows up at Soon-shin, demanding to know why they were meeting and Hye-shin stops her.
I know that Yoo-shin is pretty hateful, but having just gone through a death myself, the way she reacts is so normal. She needs someone to blame and it's already an inherent part of her personality to be spiteful.
The surgeons come out and deliver the bad news and leave the family reeling. Jung-ae collapses and Hye-shin and Yoo-shin kneel beside her. Only Soon-shin stands, unable to even cry, feeling the weight of guilt and the blinding pain.
Hwang delivers the news of Chang-hoon's death to Mi-ryeong and tries to comfort her by saying the accident was a blessing in disguise. WHAT?! He tries to say that she doesn't have to worry about the rumors anymore because a MAN DIED. Although she tries to silence him, he forcefully says that he'll take care of everything.
I don't like him. I didn't before, but now I really don't.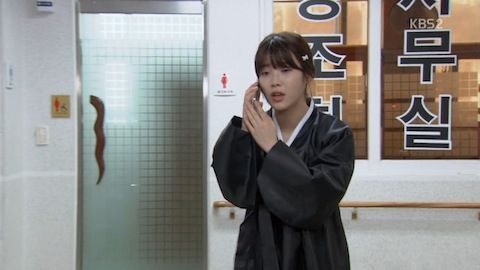 Granny has hurried to the funeral hall, sees Chang-hoon's flower wrapped picture and collapses when the truth hits her. She passes out and a freshly arrived Chan-woo piggybacks her to help.
While running behind the train of worried people, Soon-shin receives a call from Mr. Waiter who snootily demands where she is. She apologizes and tells him she won't be in for two days and hangs up.
Mr. Waiter the drama queen runs to Young-hoon to complain about Soon-shin and how he knew she was no good from the start. But Young-hoon cares more about why Soon-shin is taking off.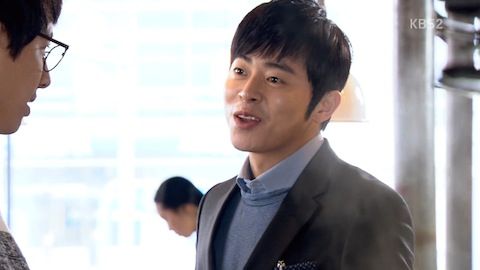 Mr. Waiter gets to work and Joon-ho joins Young-hoon. He, too, wants to know where Soon-shin is: he's going to train her. To do that, he needs her number and after a doubtful pause, we see Joon-ho sitting in his office holding Soon-shin's number.
Even though it's not romantically, how much do I LOVE that he's chasing her?
She doesn't pick up the phone.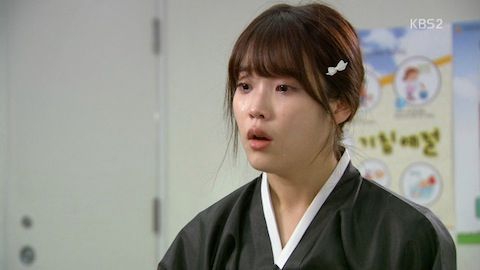 The bereaved stand over Granny's bed and Chan-woo joins them with the news that she will be fine. He offers to stay with her so they can prepare for the funeral, but Soon-shin volunteers instead.
Again, she's isolating herself. Soon-shin, you need to stop doing that!
Chan-woo's family has come to mourn with their friends and greets them with loud wails.
There is something I find really sadly beautiful about people who mourn together. It's one of the rawest emotional connections that people can have.
Bok-man tearily asks why Chang-hoon was out and Hye-shin explains that he was going to meet Soon-shin. Yoo-shin's eyes narrow and she marches in front of Soon-shin and coldly accuses, "He died because of you".
Soon-shin's face falls and the family ushers a fuming Yoo-shin away.
I am not making excuses for Yoo-shin, but she is a blamer and she's in pain. She needs someone to blame and who better than the one she always picks on. I really hope she learns to open up and stop causing other people, AND herself, pain.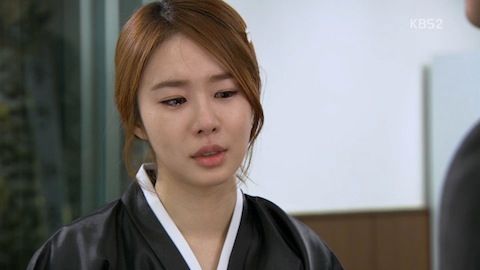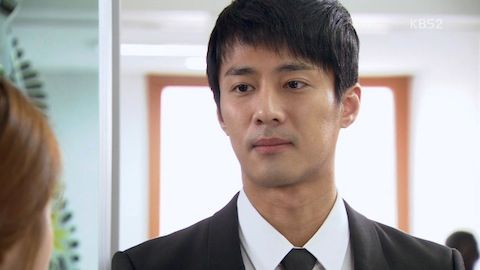 Jung-ae, Hye-shin and Yoo-shin are greeting the guests in the funeral all when someone comes to gather some paperwork. Chan-woo accepts it. Yoo-shin stomps over to him, still needing to release the anger fuel by pain. She tells him to stay out of their business. Is he looking down on them because they don't have a son in their family.
Unlike Soon-shin, Chan-woo doesn't crumple under Yoo-shin's scathing tongue. He tells her not to be stubborn. Then he realizes no matter what he says she won't hear him right now.
Okay, I liked him before, but he just got cooler.
Chan-woo tries to comfort her by saying Chang-woo is in a better place and Yoo-shin starts to break down. How does he know, she demands. Has he been there? Who is he to comfort her?
And then it comes out: she fought with him until the end. I.E. She thinks her father doesn't know she loves him.
But wise Chan-woo gently says that her father knew and sends her back inside. He sees her sharp tongue for what it is: a defense mechanism. What is she defending against I wonder? Insecurity, obviously. But why?
Granny is grieving for her son while Soon-shin watches her, apologizing. DON'T APOLOGIZE!