by: Raine

---
And the ball is rolling folks! Things are happening on all fronts. Our characters may not know exactly where they are going, but Chang-hoon's death is catapulting them forward. Death tends to do that. It causes massive amounts of change and for this huge family, it's pretty exciting. At least for me to watch. Heh.
AGB Nielsen Nationwide had this episode coming in at 26.2%.
"Lee Soon-sin is the Best" is directed Yoon Seong-sik by and written by Jeong Yoo-kyeong and features IU, Jo Jung-suk, Go Doo-shim and Lee Mi-sook.
Episode 6 recap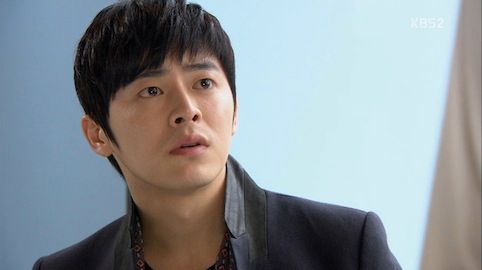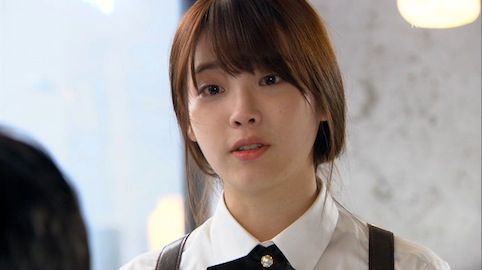 Soon-shin can't keep from crying when she hears Joon-ho's name and sees the card that started everything. She sobs for several minutes while Joon-ho looks awkwardly on. He thinks she's overreacting and tells her that he udnerstands that she's touched, but people might think he made her cry.
She suddenly stops crying and says she's not the least bit interested in becoming an actress. She's busy and doesn't want him to disturb her anymore. He tries to go after her, but she shakes him off. He seems baffled by her ardent refusal.
But we can all understand her, right?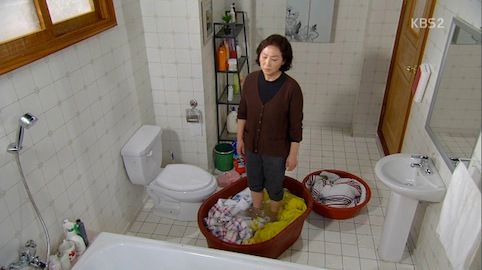 Jung-ae has made a huge lunch, probably drowning herself in house chores to dull her pain. Yoo-shin comes down and immediately asks where Soon-shin is. Jung-ae informs her that Soon-shin is at work and that she needs to stop scolding her.
When Hye-shin asks her mother to go with her to the police station later, Jung-ae freezes and says she doesn't want to go; there are too many house chores that have been left to the wayside. But it's obvious that she's avoiding everything related to her husband's death. Both Yoo-shin and Hye-shin see it.
Jung-ae brings Granny some juk, but Granny doesn't want to eat - she's too depressed. Jung-ae forces her to sit up and Granny comments that she has a lot of energy. She agrees - she should use it to do the wash.
Ack, so sad. No probably about it. She IS drowning her sorrows.
On her way back to her room, Jung-ae finds her husband's shirt that she was ironing when she got the news. No need to iron, she says. That's good. Then she heads to the bathroom to do the wash and sings a song while she stomps on the laundry. The OST joins her and it's such a quiet, sad, beautiful moment.
Jung-ae does chores to stifle the pain and Yoo-shin does exercise: rock-climbing. But she can't focus and ends up slipping. Another climber notices that she's not as quite on her game as usual. Their conversation is interrupted by Chan-woo, calling to see if she's okay.
Aw, this one has started, hasn't it? He's already concerned for her and we know where concern goes...
She tells him to stop meddling and he feels better to hear her scolding him; means she's back to normal. Then he brings the refund from the clinic and tells her that he'll help her with it. She defensively denies that she ever asked for a refund and wonders if he's pitying her. He tells her to stop pretending to be fierce. If she's sad she should say it. If she needs to drink, he'll go with her. She refuses: she wouldn't drink with him even if she had the time, which she doesn't.
You are such a prickly thing, but luckily Chan-woo knows it's just for show. He tells his receptionist not to worry about the refund.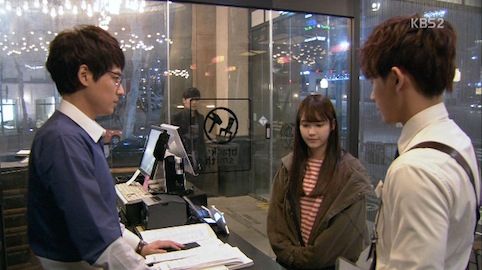 Young-hoon invites Soon-shin to have a welcome party and Mr. Waiter crankily asks why. Soon-shin politely refuses, saying she needs to go home early for the next few days. Mr. Waiter scolds her for missing her own party. Then Joon-ho comes to find her. She merely says her goodbyes and leaves both cranky men and her nice boss.
Young-hoon sits Joon-ho down for a chat, but of course Joon-ho starts in first. He wants help convincing Soon-shin to sign the contract and assumes she's too shocked by the offer to do so. Or too afraid, but he understands that.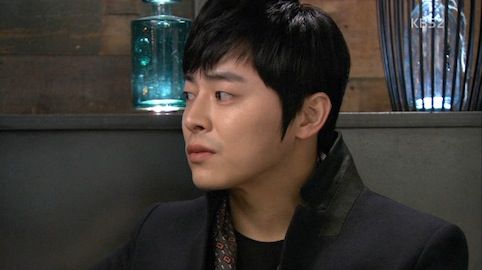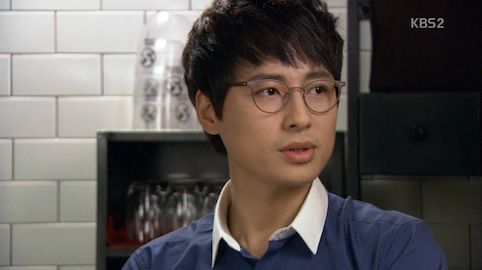 Young-hoon finally stops Joon-ho's babbling and asks her again not to play with her and get her hopes up. Joon-ho says he's giving Soon-shin an opportunity that hundreds covet. Young-hoon points out that Joon-ho doesn't have pure intentions; why does he have so much free time to chase Soon-shin? Is Yeon-ah that important? Did she hurt him that badly.
The questions drastically change the mood and Joon-ho tersely tells Young-hoon to mind his own business.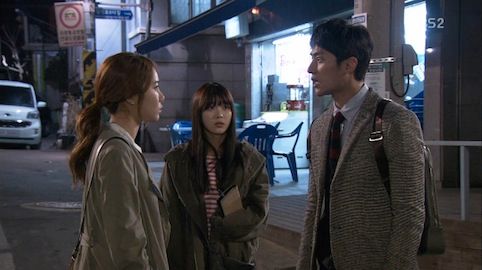 On her way home, Soon-shin is checking out posters for part-time work when Chan-woo walks by. He notes that she must be tired and that he hopes an eyewitness appears soon. Then comes Yoo-shin who glares at Soon-shin and strides right past them. Chan-woo grabs her arm and offers to buy them dinner. She coldly reminds him that she doesn't eat dinner; she also reminds him that Soon-shin got a huge deposit so she should buy him dinner.
Girl, you know I'm understanding your pain, but damn, get over yourself. You let the steam off, now lose the 'tude.
Chan-woo defends Soon-shin and again, Yoo-shin wonders how it's his business; is he her oppa? He says that he's her oppa and he can't stand by and let her unni treat her this badly.
Go Chan-woo!
Yoo-shin feels the blow, and probably a little guilt, and comments on how happy her father would be to know Soon-shin has a brother to watch over her. But oh yeah, her father's dead. She forgot.
Soon-shin tries to quiet her sister, but Chan-woo is furious. Is it Soon-shin's fault their father died? It was an accident. Why is Yoo-shin doing this? he asks. Can't she consider someone else's feelings? Yoo-shin says that she can and leaves.
Soon-shin follows her home where Yoo-shin explodes again, throwing Soon-shin's things all over the floor. She orders her to get out. Share a room with Granny. Or since dad's dead, she can share a room with mom. Soon-shin begs her not to do this but Yoo-shin throws her out, looking extremely conflicted.
It's like she can't stop herself from being mean even though she wants to. But I'm seriously unhappy with her behavior. She's in pain, but so is everyone else. I know from experience that you can control yourself enough not to treat people that way.