by: Raine

---
All three sisters' romances are now firmly set on their paths. We got to dress up IU Lee Soon-shin. And finally...finally...she's on the road to being an actress...this means IU will sing soon...hopefully. Please? Pretty please?
AGB Nielsen Nationwide had this episode coming in at 23.3%.
"Lee Soon-sin is the Best" is directed Yoon Seong-sik by and written by Jeong Yoo-kyeong and features IU, Jo Jung-suk, Go Doo-shim and Lee Mi-sook.
Episode 7 recap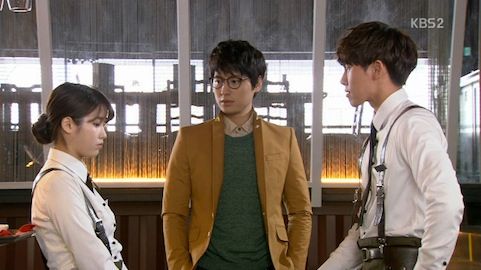 Yi-jung is pitching a massive toddler's fit when Mi-ryeong comes in and puts a stop to it. Maybe she would've been a good mother after all...hrm... I'm KIDDING.
Anyway, Mi-ryeong drags a surprised Yi-jung away as Mr. Waiter tells Soon-shin that she's one lucky girl. Young-hoon joins them, confused as to why his restaurant is in chaos. Mr. Waiter explains that goddess Song Mi-ryeong saved Soon-shin.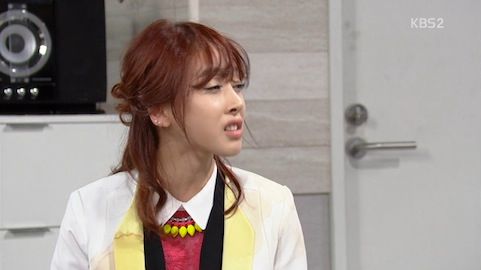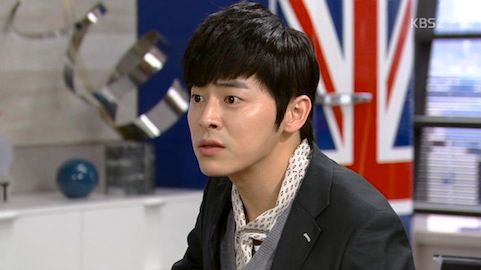 In Joon-ho's office, Yi-jung is blaming Soon-shin for spilling stuff on her in her most obnoxious voice ever. Mi-ryeong tells her to use the opportunity for acting instead of fighting. Then they're joined by Mr. Hotness himself (JO JUNG-SEOK!) who is not happy to hear that his sister fought with Soon-shin. Yi-jung is incredulous that he is scouting someone like Soon-shin. The news peaks Mi-ryeong's interest - she wishes she'd known so she could've paid more attention. Sadly, Joon-ho does not look happy about it.
That means you're doing this for the wrong reason! But since it means I will get to hear IU sing in a drama, I will bear with your idiocy..'.cause that also means you will sing, Jung-seok oppa!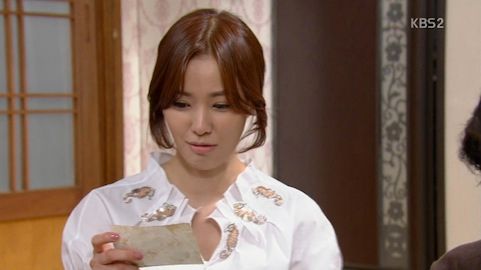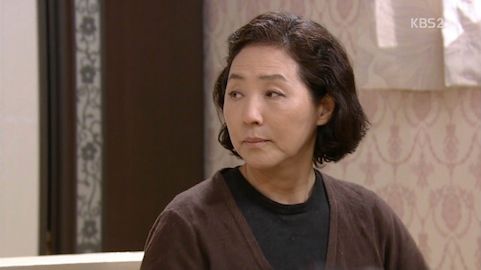 Jung-ae is packing up Chang-hoon's clothes with Hye-shin for company. Hye-shin spies the old photo of Chang-hoon with a pretty woman. They wonder who the woman is - we know it's Mi-ryeong. Jung-ae jokes that he had a lot of women before he met her.
Then Hye-shin asks about money: do they have the money to pay back Soon-shin's debt. Jung-ae says there will be a way, but Hye-shin isn't so sure. She wishes they hadn't used Chang-hoon's retirement funds for her wedding. Jung-ae shushes her daughter's worries and warns her not to tell her husband so he won't worry about them. Cue Hye-shin's guilty face.
Jung-ae heads to the bank for a loan and considers using the house for collateral. Then she goes shopping for groceries and buys cheap. She asks the fish ahjumma for any job openings and the ahjumma suggests cleaning.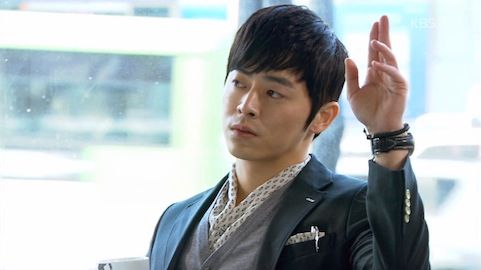 Then we have Joon-ho sitting in the cafe trying to catch Soon-shin's attention by waving hs coffee cup around, dropping his fork and even changing seats. She oh-so-nonchalantly ignores him. I love this little power play. Finally, he calls for service very loudly and gets Mr. Waiter (whose name is Jae-yong. I'm still working on his family name! But Mr. Waiter is so fun to type...) Anyway, Mr. Waiter heads over and is annoyed when Joon-ho asks specifically for Soon-shin.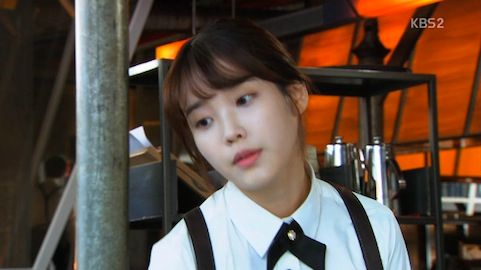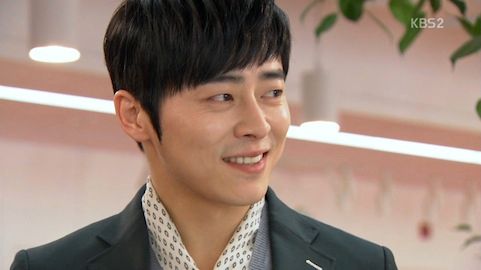 Well guess what, she's annoyed, too. She's not very happy to hear him apologize on his spoiled sister's behalf. But she thinks they are perfect together: she assumes that when Yi-jung referred to him as "oppa" she meant romantically because of the whole hugging him in her bathrobe thing. Hehe.
He follows her as she stalks off to refill his coffee. But his ever loyal servant, In-sung, stops him and reminds Joon-ho of an investor's meeting. In-sung manages to get Joon-ho to go back to his office and on the way, realization strikes: In-sung has seen Soon-shin before. She was swindled by the con man who was pretending to be Joon-ho and had come to the Gabi office.
Joon-ho realizes that Soon-shin believes him to be another swindler and...smiles. *SQUEEEE*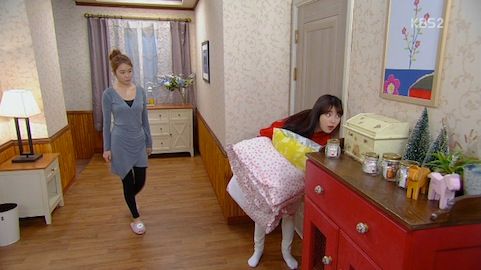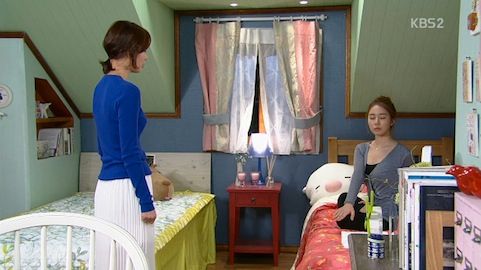 Soon-shin is setting up camp in her old bedroom where Hye-shin and Woo-joo are staying. She's been staying there since Yoo-shin kicked her out. Woo-joo doesn't like it and complains. Hye-shin comes in and reminds her daughter that they're camping out in Soon-shin's room. But Soon-shin, ever afraid to stand up for herself and make people hate her, takes her leave. She says it's okay 'cause Yoo-shin has already calmed, but it's obvious she hasn't when Soon-shin leans her ear against the door and she gets snapped at by Yoo-shin.
What are you going to about your debt? Yoo-shin demands angrily and when Soon-shin doesn't answer, Yoo-shin sneers that she knew Soon-shin didn't have a plan. Yoo-shin pushes past her sister and Yoo-shin heads downstairs. Hye-shin comes out right after, angry at Yoo-shin. She confronts her and tells her to stop treating Soon-shin badly or she and Woo-joo will feel badly. Nice Yoo-shin replies that they should just leave then. Hye-shin tries to convince her to be nice because the family is having a hard time, especially Granny and Jung-ae, but Yoo-shin refuses.
I have a feeling this is going to get to Yoo-shin later. She's a slow learner on the "be nice to your family" front. Actually, I'm not sure she ever learned anything on that front...
Soon-shin sets up her bed in the living room. For all Hye-shin is defending her, she didn't ask her to come back into the room with her and Woo-joo. Being nice is as good as being effective. Grow a pair! If you want to affect change, then DO it. Don't just want it.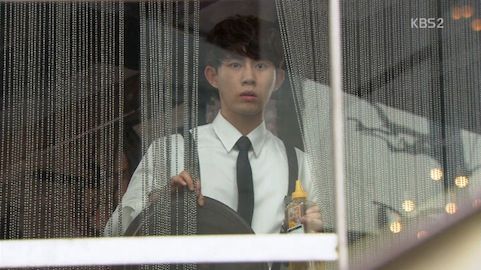 The next day, Soon-shin asks Young-hoon to work until closing from now on. She needs the money. He agrees and watches her leave thoughtfully.
Downstairs, In-sung braces himself to greet Soon-shin and formally greets her and hands her his business card. She doesn't remember him until he says that he is Shin Joon-ho's secretary. He asks Mr. Waiter to borrow her and promises to compensate him for the loss. Then he drags Soon-shin away, but not before she shoves a bottle of honey into a very confused Mr. Waiter's hands. Mr. Waiter watches as In-sung shows her into a fancy black car, hands her into the back seat and drives away.