by: Raine

---
Things are moving along and we have the big meet between Soon-shin and Mi-ryeong, which will bring along one of the parts I'm most interested in: the mentoring relationship. I'm also happy to see the other relationships go beyond a foot in the door, even if it's not romantically.
AGB Nielsen Nationwide had this episode coming in at 26.9%.
"Lee Soon-sin is the Best" is directed Yoon Seong-sik by and written by Jeong Yoo-kyeong and features IU, Jo Jung-suk, Go Doo-shim and Lee Mi-sook.
Episode 8 recap
Joon-ho isn't happy to see Soon-shin in his lobby until she tells him that she'll sign the contract. He gives her a once over and then allows her to read the contract in his office. He wonders why she changed her mind and she asks how much the signing bonus is. Joon-ho scoffs that it was about money in the end so why did she decline at first? Then he offers her enough to cover her debt if she signs the contract that is valid for 6 months. She'll get part of it every month.
I'm sitting here wondering how much cash he has to spend. She has a 10 million won debt plus interest. He's offered her 12. ?!!! Guh, rich people.
She asks what she has to do and he basically says: do what I tell you to (duh!). She gets confused by the vocabulary he uses, including the name of his company. Pfffft. But she's thinks the signing bonus is too much. She wants to pay it back while working at the restaurant. He doesn't see how she'll have the time and just orders her to move into the dorms. She, of course, refuses and promises to work hard. If she doesn't, he threatens, she'll pay back three times the amount. Her little brain goes into overload figuring out the amount. Hee.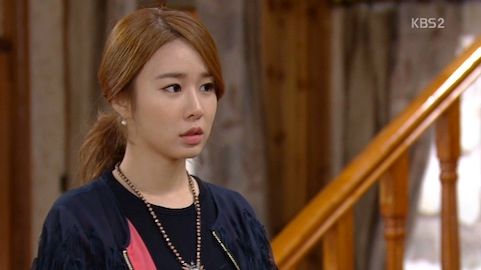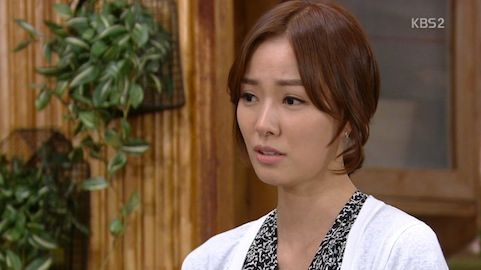 Jung-ae comes home from work and Yoo-shin comes downstairs. She puts her bank book on the table and tells her to use the money for Soon-shin's debt and the left over for living expenses. Then she orders Jung-ae to quit work and stomps out. Before Jung-ae can protest, Hye-shin stops her: use the money, she says. It's for Yoo-shin's wedding, but immediate expenses are more important.
Aw, Yoo-shin, the first nice thing you've done for someone else. Even if it's only indirectly for Soon-shin and mostly for mom, the living parent. Yoo-shin is definitely starting to appreciate, even if only a little, and for that I am grateful.
Hye-shin is going to donate their father's things to church and invites her mother. She refuses, but its so understandable.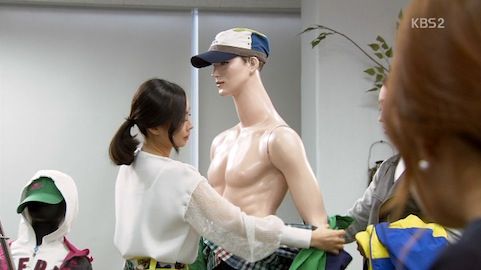 Yoo-shin is at work and in a meeting over a line of clothing. She mentions that Hye-shin is really into clothes, especially children's clothes and her subordinates are surprised to hear that Hye-shin is living in Korea.
She has her co-worker change the outfit of a mannequin, a very, very, built mannequin which makes her think of a nekkid Chan-woo in her bed. She blushes and a male co-worker calls her on it. She's baffled as to why she would think of a nekkid hot guy in her bed...silly, silly woman.
Over lunch she pulls the, "This is my friend's story" thing and explains that her "Friend" had a one night stand with an old classmate. She wants to know how to deal with it. Her co-workers say it will be awkward and there is no going back to "Just Friends?". Cue her awkwardness. And I have to say I love it.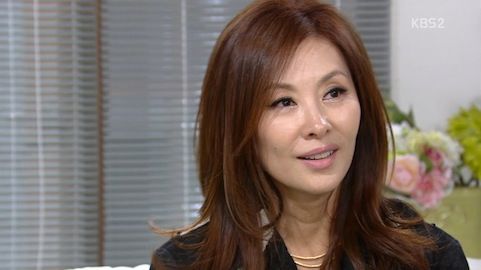 Mi-ryeong is brooding over the fact that Dong-hyuk saw her and Chang-hoon together that night. She asks Hwang if he's heard of any eyewitnesses and he tells her not to worry. He has a policeman friend keeping an ear out.
Back to the clinic she goes to meet Dong-hyuk who is, as per usual, unhappy to see her (or anybody. He looks unhappy breathing.) She asks him what he saw that day. He tells her that the man he saw her with passed away. Mi-ryeong puffs up her chest and says she's not afraid. He can do what he wants.
Dong-hyuk smirks and asks her if he really can do whatever he wants. Mi-ryeong says that he can, but his son will suffer if he attacks her. Dong-hyuk, happy to have the upper hand, tells her to leave it alone. If she pushes anything, then there will be trouble. He sends her on her not-so-merry way and walks out to perform a surgery, but not after telling her to get treatment for her wrinkles. Hehehehe.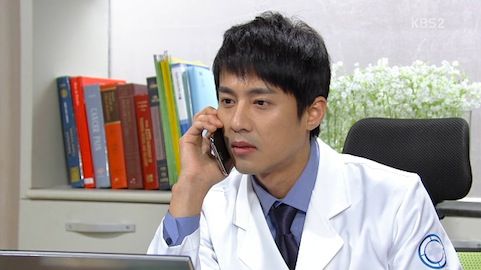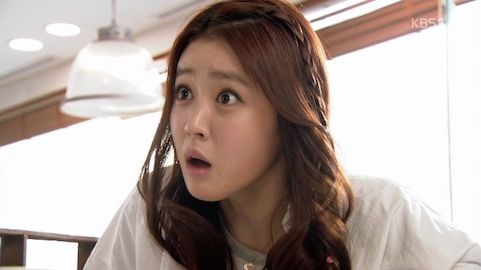 Chan-woo is trying to contact Yoo-shin when Soon-shin calls him. He answers with Yoo-shin's name, disappointing Soon-shin. She called to get his opinion on something (the contract) and but he doesn't have time until tomorrow. Disappointed again, she hangs up.
Then she gets a call from Chan-mi and doesn't seem too happy. Shouldn't you be happy to get a call from a friend? Anywho, they grab some coffee and Chan-mi gapes over the fact that Soon-shin has a real contract from Gabi. She laughs mockingly that Joon-ho chose her of all people. Maybe he felt sorry for her.
Wow, you're such a great friend. Soon-shin...you can do better.
Soon-shin scoffs that Joon-ho is not nice enough to offer her a condolence contract; he merely wants to test his own abilities. Time and money make people strange, she concludes. I concur.
Chan-mi wonders if she can really succeed and Soon-shin seems doubtful. She won't dream of becoming an actress. She'll treat the money as a loan, pay it back by working at the restaurant and bear with the six months. Then she can be rid of the loan and her mom will stop being depressed. And then she futilely warns Chan-mi to keep her mouth shut. Let's see how long that lasts.