by: Raine

---
Feelings are made more obvious and made me all mushy inside. Time is also running out, which ups the ante and heightens emotions. This episode's potential liver donor explores the kind of men who should only be viewed from a distance because up close they are all sorts of icky.
Oh yeah, we have a slight improvement at 4.6% according to AGB Nielsen Nationwide. I would personally rate this show much higher. But what do I know?
You've also never seen a fox look so sexy. What do I mean? Read on.
"The Thousandth Man" features Kang Ye-won, Hyomin and Lee Chun-hee.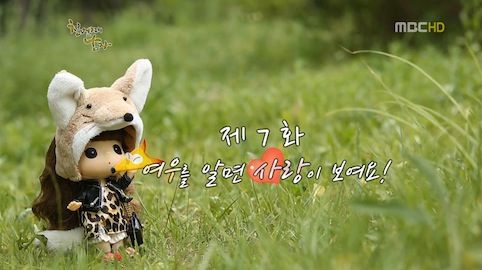 Episode 7 - Know a fox and you'll see love!

Episode 4 recap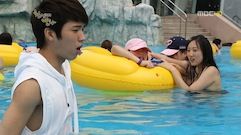 We begin with a very unhappy gumiho lounging by a public pool with her mother. Gumiho's prefer caves to happy sunshine. But sister Mi-mo is happily splashing in the water doing water aerobics with Woo-hyun. A pair of pretty girls watch in amusement and Woo-hyun is thoroughly embarrassed. Since Mi-mo is playing hard to get, he teases, he needs something to fall back on.
Heh.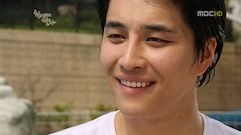 Mi-jin has had enough of pools and sun and stands by the pool to call her sister. A few clumsy idiots knock Mi-jin into the pool. W00-hyun and Mi-mo debate whether or not to save her as she kicks and chokes in the very shallow water. (Pfffft.)
But never fear, a man comes to save her, carried by the triumphant Superman theme music. He lifts her from the water and she shakes off like a fox. When she finishes, she glances up at the man who is simply gorgeous.
(If anyone knows this actor's name, you get a virtual gumiho-shaped cookie. )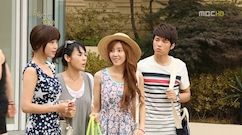 After the magnificent rescue, Mi-jin accepts her savior's card; he is Han Dong-il.
(Her nails have panda's on them. Shouldn't they have foxes?)
Mi-jin doesn't know how to thank him and he suggests that she buy him lunch. Then he speeds off leaving Mi-jin to be attacked by her mother and sister who are ever vigilant for a potential thousandth liver donor.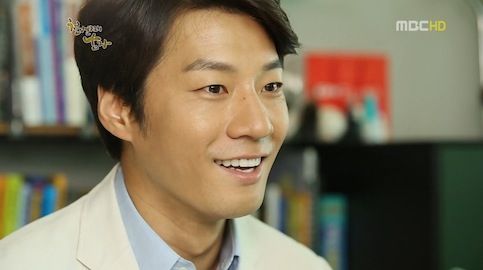 Eung-suk is at a doctor's office looking at brain scans. The doctor says that "it" has gotten smaller. (I'm assuming "it" is a tumor.) Doc wonders what's changed in his life and guesses that Eung-suk has fallen in love making his will to live very strong. Eung-suk fervently denies it but remembers agonizing over whether or not to bring Mi-jin the fruit basket.
Love all you want, the doctor suggests. So Eung-suk contemplates calling Mi-jin with a silly grin on his face.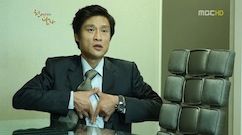 Secretary Park has prepared a Powerpoint presentation for Mi-sun on savior Han Dong-il. He has nice manners, no grudges, no current girlfriend. But he has had a lot of accidents with his girlfriends: one was attacked by thugs; one was in a car accident. Dong-il took good care of his girlfriends.
Mi-sun doesn't care about anything about the accidents, only about the fact that he cared for his girlfriends.
Like me, Park says and annoys Mi-sun. She reminds Park that he scared away her last secretary with his ardor for her. Park pulls open his shirt and makes a heart on his chest. "You're ignoring my feelings", he declares to which Mi-sun promptly replies, "Your button is loose". Surprisingly, fastidious Park doesn't care but his cold love waves him away.
At Last, Eung-suk is making some delicious-looking pickle wraps when Chef Seo comes in. Seo immediately deduces that Eung-suk, who never cooks, is making a meal for a woman. Eung-suk immediately says it's for a tired friend who needs a boost, but Seo calls him on it, guessing that it's Mi-jin, the only friend who comes without a reservation (which he says with a ridiculously funny French accent!) Eung-suk reminds Seo that Mi-jin is terminally ill. Seo is guilty for a minute and then makes fun of Eung-suk for admitting it!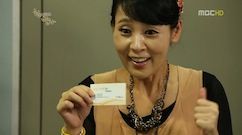 Mi-jin is happily primping herself for her lunch with Eung-suk (and it's a secret from Mi-mo.) Then Mi-sun brings the disappointing news: she has made a date with Han Dong-il for her daughter.
Ruh-roh!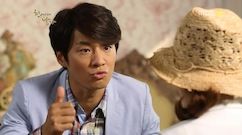 Eung-suk is setting up a beautiful lunch with a smile. He is so cute. Mi-jin appears silently behind him and scares him. She checks her watch as he pulls out her chair for her - he excited beyond belief; she nervous about her double-booking.
The entire meal was planned to help her feel revitalized and Eung-suk is extremely excited to present his delicious (vegetable-based) spread. He's actually ridiculously cute as he explains each food's purpose. He first offers her pickle wraps, which she, a fox and a carnivore, attempts to each without gagging. She fails.