by: Raine

This episode is the pivotal point of the drama. The end is in sight and I have a few ideas about what that ending holds.
Episode 6 came in at 4.2% according to AGB Nielsen Nationwide.
"The Thousandth Man" features Kang Ye-won, Hyomin and Lee Chun-hee.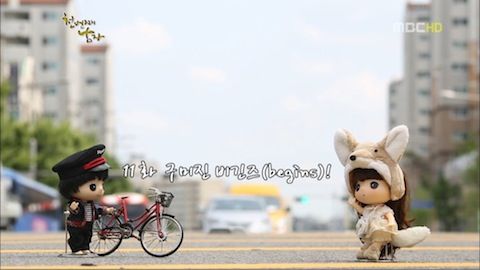 Episode 11 - Gu Mi-jin begins!

Episode 6 recap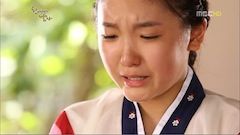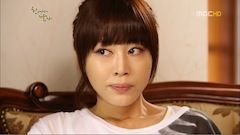 A class of young gumihos learn the best ways to choose livers. While young Mi-mo excels in concocting schemes to steal men's livers, Mi-jin is concerned with making the men fall in love with her. Teacher says: FAIL! Mi-jin must bring out her tails to be beaten by a bamboo stick; then teacher wants to tell mom how bad her kid is. Mi-jin cries and begs for forgiveness.
Present day: Mi-jin begs her mother for forgiveness because once a trouble maker, always a trouble maker! Mi-sun thinks her daughter screwed up in choosing to date Eung-suk (who Mi-sun calls "Beanpole") for love rather than for his liver. Mi-mo wants Eung-suk to live and wants her sister to pick a different liver donor love interest.
Still harping on choosing murder over love, eh mommy dearest?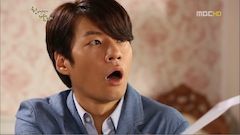 Chef Seo slides a white envelope over the single dining table in Last. He thought he was more than just a chef to Eung-suk; he thought he was a hyung. Eung-suk, of course, is horrified by this apparent resignation. He knows he hasn't been paying enough attention to Seo, but still, "this" is wrong.
Seo points out that Eung-suk has been leaving the restaurant all the time, staying out late and being overall girl crazy. He wonders if Eung-suk likes "the bold one" or someone else. Eung-suk isn't quite ready to divulge his crush and asks his hyung to be patient. With reluctance, Seo agrees and rises. Eung-suk offers him the white envelope back, which Seo scoffs at. It's the receipts for the cabbages.
BWAHAHAHA! Nice play, Chef Seo.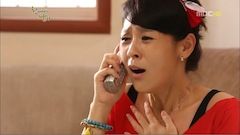 Mi-sun sits in her office worrying over what to do about her daughter who has fifteen days to live. She remembers watching the 2002 World Cup semi-finals between Korea and Spain. She is alone, excitedly banging a pot and spoon as Korea wins the game. Just then, Mi-mo calls. She has become human. Overwhelmed with relief and pride for her country, Mi-sun cries.
A little while later, Mi-jin comes home, excited about Korea's win but Mi-sun is now sober. Although Mi-jin has ten years to find her last liver, Mi-sun still worries. Each time she sees Mi-jin's tails come out every full moon or each time she sees her daughter consume raw meat, she is deeply troubled. Mi-jin reminds her mother that what is important to her is not that she become human, but HOW she becomes human.
She promises her mom she will become human and be a good daughter to her.
Why does this promise give me a feeling of dread?
In the present, Mi-sun assures herself that the decision she made was the right one. Secretary Park enters and questions the decision, but immediately scurries away at her orders.
What. A. Pansy.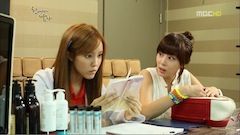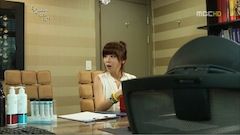 Mi-jin comes to work only to find that everyone, including her mother and sister, is ignoring her. Why? Mi-sun's plan is to pretend that she doesn't have a daughter like Mi-jin - Mi-jin shouldn't appear before them again. Then she and Mi-mo leave her shocked and alone in the office.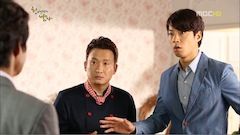 Secretary Park carries out Mi-sun's plan by brining all of Mi-jin's things to Last. Eung-suk and Chef Seo are surprised and Park is purposefully vague as to whose belongings these are. But the Last staff guesses that its Mi-jin's.
When Park leaves, Seo wonders if Eung-suk has done something he should take responsibility for. Kekekekeke! But Eung-suk shushes him so that he can think.
Mi-jin goes home and sees her room has been cleared out. Mi-sun has gone all out to bring her daughter to her senses.
For once, I don't absolutely detest a mother's interference. This is literally a life and death situation and Mi-sun is doing what she believes will push Mi-jin towards her last liver.