by: Raine

---
And here we have it, the finale. It's all done and I feel a little empty as I always tend to feel after a drama that I enjoy finishes. It definitely brought everything to a close in a way I can accept.
But the episode was also a lot weaker than the others. I think they could've spaced some things out over a few of the earlier episodes.
However, my favorite moment of the entire series is in this episode and it makes up for everything. It was so beautifully done that even thinking about it brings tears to my eyes. *sob*
We end the series at 3.2% according to AGB Nielsen Nationwide. Ignore that!
"The Thousandth Man" features Kang Ye-won, Hyomin and Lee Chun-hee.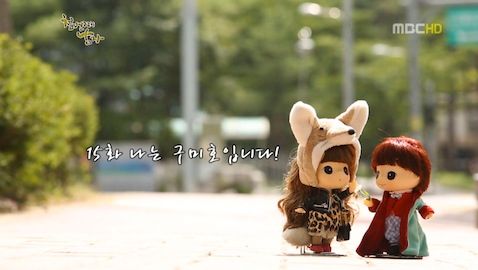 Episode 15 - I am an evil fox!

Episode 8 (final) recap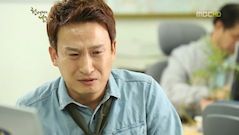 After Mi-jin scared Chef Seo, he drops the phone and leaves Eung-suk hanging. Then he runs to the police station to speak with a very unsympathetic cop.
Chef Seo recounts his tale: he was on the phone and that woman appeared upside down on his car. When he ran away, he saw a shadow with multiple tails on the wall.
Then we see Mi-jin raiding his car for her documents.
Seo ran to the police station and the cop thinks his story is a result of alcohol or a game. When Seo protests the cop's skepticism, he gets rather heated until he sees Mi-jin and flips out, hiding behind the desk.
So he's the fear monger of the show, eh?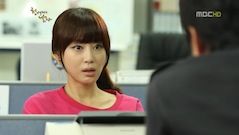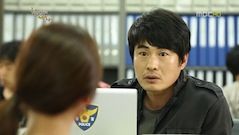 Mi-jin is let inside the station and let's a very worried and surprised Eung-suk where she is. The cop asks to see her I.D., which states that she's 51.
Hahahahaha!
The cop accuses her of forgery but she states that it's not. After telling him where she works and that she just knows Chef Seo as "some ahjussi" (even though she's older), Eung-suk walks in.
All three leave but Seo wants to stay longer (to avoid Mi-jin). He keeps stealing sidelong glances at Mi-jin who does the same. Eung-suk leaves with Mi-jin.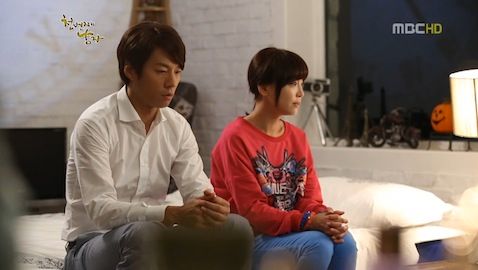 At home, he asks her what happened and tears pool in her eyes. Does he really want to know the truth? She doesn't think he'll believe it, but she tells him anyway because she doesn't want to lie to him anymore. Chef Seo is right; she is a gumiho. He is confused and she explains that she wanted him to remember her as a human until the end; not like this.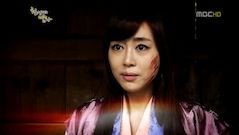 She flashes back to the day her Goryeo Dynasty husband discovered that she was a gumiho. She is backed against a gate, bleeding. He wants to know if it's true. Then, Mi-jin continues in a voice over: she didn't want it to end like this; she wanted him to remember her as a human until the end.
The guards come and spot the blood trail and chase her off, leaving her husband to stare incredulously after her as it begins to rain.
I'm interpreting this to mean that she thought the same thing during her last day with her husband as she said to Eung-suk. I'm guessing she never got to say the words she wanted to say to her husband. It's like she's fulfilling a cycle now.
(That clock was a really good set touch.)
Eung-suk remembers Chef Seo telling him that he clearly saw Mi-jin with tails. Then he tells her that it doesn't matter if she's human or gumiho, he'll never leave her. Then he hugs her and tells her not to worry.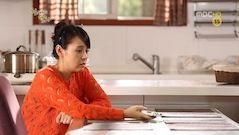 Mi-sun is at home looking tired and ragged when Mi-mo calls. Turns out Mi-mo snuck out to let her mother sleep because she seems to sick/tired to come to work. Mi-mo tells her that she can't stay up all night anymore and Mi-sun says she never worried like this as a gumiho.
Welcome to being human, sista. We worry like nobody's business.
Mi-sun wonders if Eung-suk will be Mi-jin's last man and Mi-mo hopes so. Then she encourages her mother who will be to work shortly. After they hang up, we see how exhausted and anxious Mi-sun truly is.
Uh, the family aspect of this drama kills me. KILLS ME.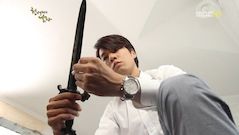 Mi-jin watches Eung-suk sleep but when he wakes, she's gone. He searches for her and then ends up nosing through her box. He finds the husband's knife - he seems to find it curious.
When Mi-sun enters her office, she finds Mi-jin huddled in the corner, brooding. She told Eung-suk everything and Chef Seo saw her true form. Mi-sun flips out and runs out of the room.