By Raine
Take a trio of gumihos, throw in sexy Lee Chueon-hee, one thousand livers, top comedian Suh Kyung-suk, some moral quandaries and you have MBC's special, "The Thousandth Man". It's fun, sassy, dark and promises to pack a whole lotta somethin' into eight episodes. At least I hope so.
Episode 1 received an AGB Nielsen rating of 6.7%.
"The Thousandth Man" features Kang Ye-won, Hyomin, Lee Chun-hee and Jeon Mi-sun.
Episode 1 - Why does love not last?
episode 1 recap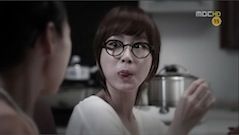 "A thousand year old fox must eat one thousand livers of men before the end of the millennium. This is the legend of Gumiho".
A woman (Kang Ye-won) transforms into a deadly, liver-eating gumiho. Then, she is shown hanging out in regular house clothes with her mother (Jeon Mi-sun) and younger sister (Hyomin). Their family motto declares that only the strong survive.
Close-up on the gumiho who is aptly named "Gu Mi-jin". She only eats livers offered voluntarily. However, if she doesn't find one more liver, her thousandth, in one hundred days, she will turn into foam. The question is: will she be able to find it and therefore become human?
Dun, dun, dun!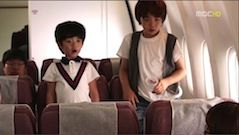 On a plane, a pair of kids are fighting over a drink and spill it on the passenger in the seat in front of them. That passenger is none other than our gumiho, Mi-jin, who gumiho eyeballs them.
A total aside, but if a gumiho eyeballs you, is it called a gumiball? Kekeke...
Anywho, the kids get gumiballed and they gape at her as their mother apologizes for their transgression.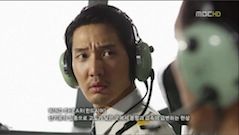 A whiny man needs medicine for a headache and a Caucasian couple makes out. Mi-jin can't stop staring at the lovebirds and pulls out her wing-adorned cell phone to peruse through several pictures of her and Caucasian men.
I wonder if those dudes donated their livers to the cause...
Anyway, he plane hits turbulence. The whining man flips out. The pilots panic over windshear. Stewardesses are flying everywhere. Even our gumiho bemoans that it's not yet her time to go.
It's basically a huge disaster.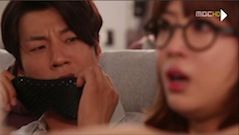 While everyone freaks out, one man sleeps peacefully with a polka-dot eye mask on.
Mi-jin remembers the men who sacrificed themselves for her. "There's only one more!"
The turbulence causes her to drop her phone and she crawls after it. Another bump of the plane sends her careening into the seat beside the peacefully sleeping man with the eye mask. The sleeping man removes the mask and reveals that he is a total Hottie McHottiepants (Lee Chun-hee). He's also really annoyed at being disturbed and covers his eyes to get some more shut eye.
And you'd think the plane would've disturbed him...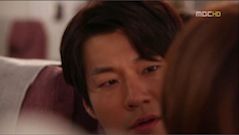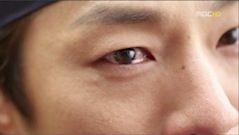 The whiny man starts to shout that someone needs to tell his family that he lived well until the end. This inspires Mi-jin to leave a message for her family as well. She starts to desperately beg the cranky hottie to tell her mom that she has always wanted to be human. Hottie yanks off the blindfold in annoyance. Mi-jin finally sees his face and it shocks her into a flashback.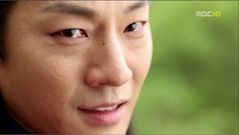 She and Hottie are standing on the edge of a cliff dressed in period clothing: he as a general, she as a married woman. He is holding a sword to her throat. To one side is a long drop into a lake. On the other is a line of archers with bows and arrows set. Mi-jin tells Hottie, who in this time period is her husband, that she always wanted to be human and she is glad to die by his hands.
The second-in-command informs the general that the woman (his wife) is a gumiho.
Really kids? I think he knows that...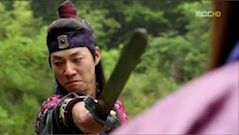 (I really love the variety of expressions Lee Chun-hee uses as an actor. The first screencap is him calling off his men. The second is just after he was shot protecting Mi-jin.)
Anyway, the general says that he'll deal with the gumiho himself, but his men don't want to risk it. The second-in-command orders the archers to shoot. The general throws himself in front of shocked Mi-jin, taking multiple arrows in the back.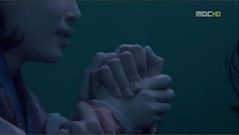 The wounded general falls slack and both he and Mi-jin fall off the cliff into the water. They stare at each other, knowing this is the end and he reaches out to touch her face. "Sorry, my husband", she thinks.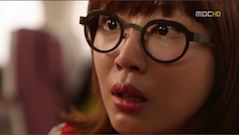 Back to the real world where she and Hottie are on the malfunctioning plane, Hottie requests that she let go of his hand. It takes Mi-jin to register the fact that she has returned to reality and then whispers, "You're exactly the same".
Hottie stares incredulously at her, tells her that her pick-up line sucks and that she really does need to become human.
Another aside (because I love asides). I really like the Korean play on the word "human". It's not quite the same usage as it is in English. But in Korean, it really lends itself to this particular bout of wordplay. She says "human" and means the physical embodiment of the word. He says "human" and means the social aspect of the word - like not hitting on a man on a failing airplane.
The eye mask goes back on until the turbulent plane throws her across his lap. Hottie removes the mask long enough to flash Mi-jin a look of annoyance and shove her off of him. Then back on it goes.
Hottie, whose name is Kim Eung-suk, arrives at Last, a beautiful restaurant nestled in verdant foliage. His arrival shocks Chef Pierre Seo (Seo Kyung-suk) who seems less than thrilled to see him. Eung-suk is glad to be home and suspicious of Chef Seo's skittish behavior. Did Seo accept reservations without Eung-suk's knowledge.
Seo practically starts twitching with nerves. "Of course not", he replies.
Uh-huh. Sure. And I'm betting that accepting reservations without Eung-suk's approval is a "no-no".
Then it's time for Seo's sob story. Eung-suk is so picky about choosing their customers, which makes it very difficult for Seo to make a decent living. With the most adorable smirk, Eung-suk says, "Sounds like you took a reservation".
Hrm, I wonder why Eung-suk is so picky about reservations. Aren't restaurants just supposed to, y'know, accept them?
Chef Seo complains about Eung-suk's lack of trust in people but doesn't get very far because three young women barge in calling, "Oppa!" Hastily, Seo herds them out, saying they only accept customers with reservations. The women are confused because he invited them.
Hehe. Caught.